Home design and decorating websites continue the race to build the ultimate virtual room designer. In choosing our top 10 we looked for ease of use, variety of design options, and how well the finished result helped design or decorate our own room.
There is a difference between free online planning tools and the paid software and typically you get many more options with the software versions. You can save, export, and share your software created rooms whereas many times that's not an option with online tools. Go and design!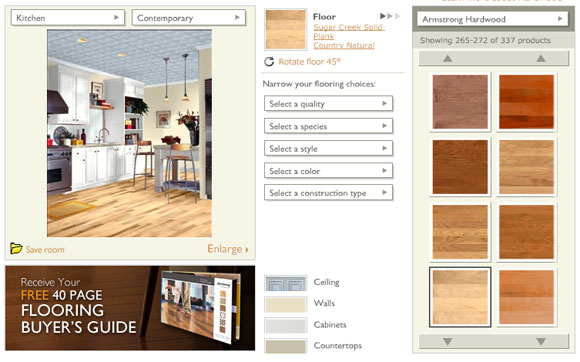 10. Virtual Room Planner – This virtual room planner gives our list a bit of international flair. Brought to you by the BBC this is the only room planner that comes with someone in it. We can't figure out of this is a celebrity or a helpful reference to compare what a person would look like in the room. You'll have to see for yourself.
9. This Old House Digital Designer – This tool used to be free and was one of the first virtual room designers that allowed you to upload your own photos. It's now available for $10.99 so considering the plethora of other free options you should probably look elsewhere.
8. Design a Room – This product from iVillage has some great options but the photos are very small and the interface looks a bit dated. There is a focus on flooring which can be explained by it's main sponsor Armstrong.
6. and 7. HGTV Kitchen Designer and Room Planner – HGTV shares the 7 and 8 places with the best Kitchen Designer online and a Room Planner that falls a bit short. The 2D aspect of the Kitchen Designer may turn off some but it's highly detailed and provides a look that is easy to read and compare to most designers plans.
5. Arrange-a-Room – We hate the BHG pop-up ad which kills some of the goodwill it's newly designed website brings to the table but their room tool is quick and easy and allows you to enter room dimensions which provides the spatial requirements that some virtual designers overlook.
4. PointClickDesign – This virtual room designer works quickly and doesn't overwhelm with too many choices or intrusive product placement. But there is less detail and it is only 2D. (no longer available)
3. Plan3D – This online room planner is more of a whole house design solution and is available for $2.95 per month which may be a nice alternative to paying the steep cost of some home design software. Expect comprehensive 3D interior and exterior designs and the ability to save and share them.
2. SketchUp – We've been a firm believer in this application from Google for awhile now and they've expanded their offering by launching SketchUp Pro which allows you to export your project in to CAD or other professional program as well as create full presentations that include visual and text elements. Nothing allows you the flexibility to design a complete home plan as well as SketchUp.
1. DesignMyRoom – Swatchbox technologies is responsible for building the Digital Designer for This Old House but it looks like they have kept their best product for themselves in DesignMyRoom.com. This tool offers the most variety we've seen from a virtual designer from the types of rooms you can create to the number of product offerings available for each room which if you are happy with their products you can print your shopping list and hit the store. You can also upload your own photos to re-design your room just way you like it.