Today we are continuing our Window Wisdom series, sponsored by Marvin Windows and Doors, by sharing our window buying guide. Last week we showed you how to evaluate the current state of your windows by performing a window audit, so by now you should have a good idea as to the condition of your current windows and know whether you will be repairing them or buying new ones.
Replacing windows is not a decision that should be taken lightly so we recommend you do everything you can to repair your current windows. That said, due to age, weather, neglect or a remodel, you will likely face the prospect of replacing a window or multiple windows in your home at some point.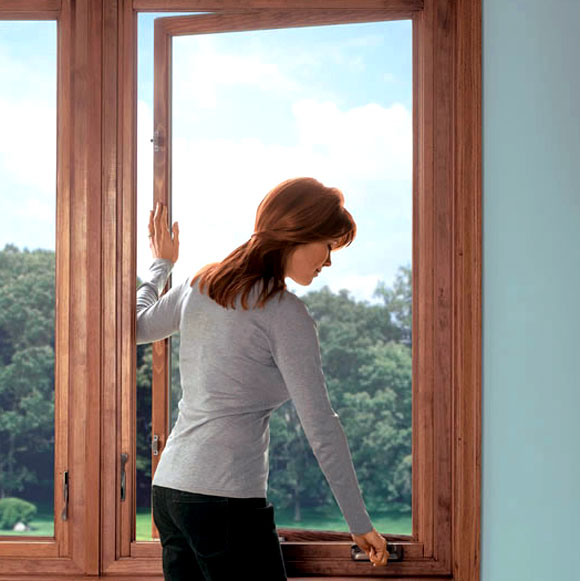 This week's article sheds some light on how to properly "window shop" and we have put together a window buying guide that will help you determine your needs, aesthetic, budget and preferred functions of the windows you choose before spending hundreds or even thousands of dollars.
Window Materials

Wood frames are a good choice for windows used in remodeling projects. Their pre-attached exterior brick moldings blend well with the look of existing windows. Replacement sashes are also available and can improve existing windows. Wood brings a classic look and warmth to a home and if you have an older home and want to stay true to its original style, then wood might be your only choice.
Clad-frame windows feature an aluminum or vinyl shell. They are used most frequently in new construction and are attached with nailing flanges that fit underneath the siding material. Be sure you know what kind of clad you're purchasing as the quality can range from roll-form aluminum, the thickness of a pop can, to extruded aluminum. Vinyl clad windows come in a variety of colors and a benefit is that they don't need painting and require less maintenance than wood windows. Another option is a fiberglass composite window which is stronger than vinyl, but slightly more expensive.
Picking Your Glass

Several types of glass are available depending on your use and application, so determine what glass properties are important to you before buying.
Single-pane glass is outdated in most situations and suitable only in very mild climates or in outbuildings. Double-pane windows have a sealed air space between the layers of glass to reduce heat loss. They are available in several variations with improved insulating ability, including "low-E" glass with an invisible coating of metal on one surface and windows containing an inert gas like argon. If you live in a colder climate, you may even want to consider tripane windows – the three panes of glass are sealed with a mix of gases including argon, or even krypton.
In hot climates consider double-glazed tinted glass as it reduces heat build-up.
Tempered glass has extra strength for use in patio windows or doors and are a particularly good choice for large picture windows.
Energy Efficient Windows

R-values of windows listed in manufacturers' catalogs indicate the energy efficiency of the unit. Higher R-values indicated better insulating properties.
Top Quality windows can have an R-value as high as 4.0. Low-E glass helps to prevent sun damage to interior surfaces such as upholstery fabric drapery and carpet by blocking harmful sunlight.
Window Styles

Here are some examples of popular window styles with photos courtesy of Marvin Windows & Doors.
Casement Windows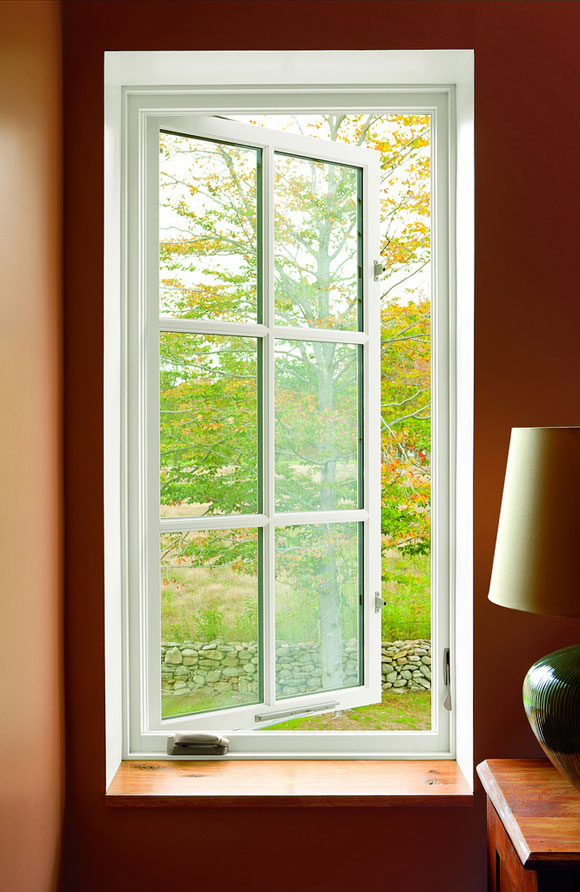 These types of windows will pivot on hinges located on the side of the window frame. They are available in a variety of sizes and in multi-window units that can combine up to as many as five separate windows.

Casement windows offer an unobstructed view, offer a more contemporary and modern look and provide great ventilation.
Double-hung Windows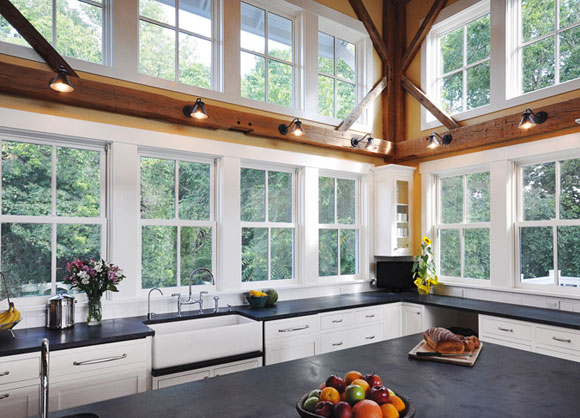 This is a commonly used window that slide up and down and offers a traditional look. Modern day double-hung windows have a spring mounted mechanism instead of the old weight style.
Sliding Windows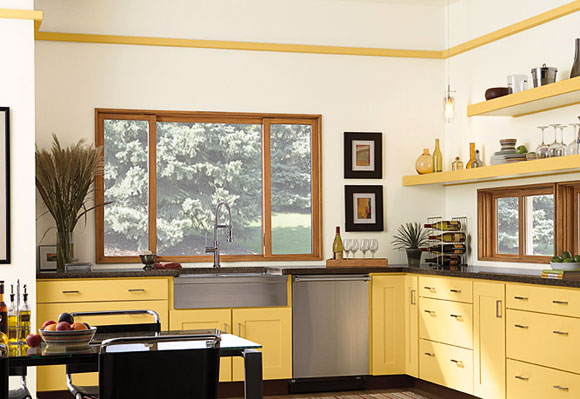 This Marvin glider was just released this winter. Including a new easy wash feature, it's an updated sliding window that is great for kitchens.
These windows can be less expensive and require little maintenance but one drawback is they don't provide as much ventilation since only half of the window will open. They do offer an unobstructed view like the casement windows.
Bay Windows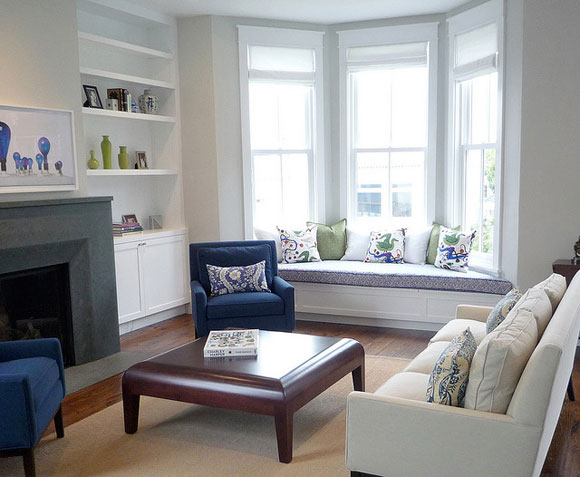 For a dramatic statement, consider installing bay windows which can help make a room look larger. These are perfect for breakfast nooks or to give a dining room a bit more breathing space.
Before You Buy
Be sure to check the wall thickness before ordering doors and windows. Manufacturers will customize the frame jambs to match whatever wall construction you have. Find your wall thickness by measuring the jamb width on an existing door or window.
Word on Installation
Pre-hung windows come complete with finished frames and can be inserted as one piece into the rough opening left by the old window. Once the old window has been removed measure the rough opening size and be sure to purchase a new window unit that will fit right into the existing opening.
Most good windows must be custom ordered several weeks in advance. Don't be overconfident about the delivery schedule. It's extremely risky to remove existing windows prior to the delivery of your new windows. Shipping delays will leave you with a big hole in the side of your house and nothing to cover it with. We suggest playing it safe by keeping the old windows in place until the new ones arrive you have thoroughly inspected them for damage and size.
Part I Perform a Window Audit
Part II Window Buying Guide
Part III Cleaning & Caring for Windows