Wolverine has safety toe that will make you rethink what foot protection is all about. Introducing the Wolverine CarbonMAX.
The safety-toe is no longer limited in use to construction workers and contractors. Enthusiastic DIYers and homeowners are attempting more and more projects around the house that require proper safety gear. The Wolverine CarbonMAX boots have an athletic design that is built for lasting comfort for everyone from industrial construction crews and mechanics to household handymen and DIYers. This new take on protective footwear will have you forgetting that you're wearing a safety toe.
After spending a week wearing the new Overman work boot that features the CarbonMAX safety toe, my feet have never felt better. Unlike my old work boots that have a heavy steel toe, the CarbonMAX safety toe is non-existent to a user until they need it, which is the way a safety toe should be. The styling is also great as I can comfortably wear them while doing projects, as well as casually during the week.
The Wolverine CarbonMAX improves on standard boot design by making them:
•  Lighter – to reduce strain on legs and feet
•  Better fit – thinner toe cap provides more room for toes and added comfort
•  Strong construction – meets ASTM standards to protect from falling/rolling objects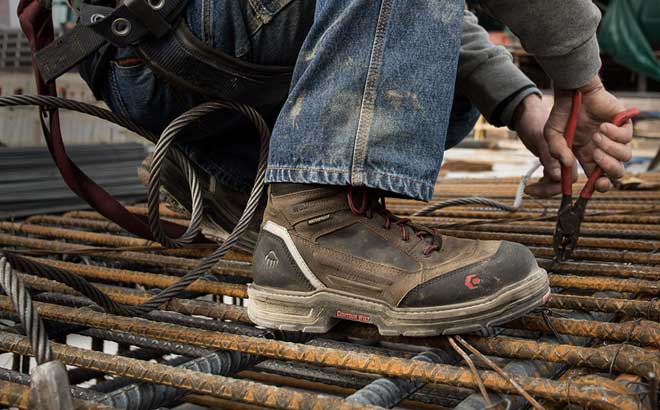 It simultaneously creates more comfort thanks to thinner walls for more toe room and minimal weight to fight leg and foot fatigue. Impact-absorbing Wolverine MultiShox® compression pads and flexible Contour Welt™ work together for an athletic feel and all-day comfort.
The Wolverine Overman is one the first boots to incorporate this new safety-toe and it features:
• Full-grain leather upper with reinforced, abrasion-resistant heel and toe
• Wolverine CarbonMax® uses nanotechnology to produce a strong, lighter, more comfortable safety toe
• Individualized, energy-returning Wolverine MultiShox® heel and toe compression pads absorb impacts for all-day comfort
• Removable, full-foot Wolverine Mutishox® footbed cushioning
• Enhanced flexibility from Wolverine Contour Welt™
Buy the Wolverine Overman Work Boot on Amazon.