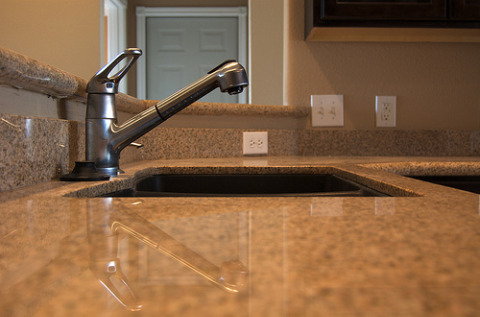 Maybe it's just me. But I often get the urge for heavy duty water pressure in the kitchen sink. You know, the kind that will blast off that stuck on food. Or give your husband a shocking shower while he sits unsuspectingly at the table.
Is it just me? Say it ain't so.
A perfect way to achieve this prank, er, I mean state of the art cleaning capability, is by upgrading your common kitchen faucet to a pull out spray nozzle type. It's only a few hours work that will cut loads of time off dish duty.
Step 1.Turn off the water
This is essential, especially if you aren't looking for a face full of tap water and a spot on some Funniest Video Show. Then turn on the tap to let air into the pipe, clearing out the remaining water.

Step 2. Disconnect the hot and cold water lines
At the supply line or tube under the sink. Check out the parts and connections here to see if anything needs replacing. Your new faucet may connect to the plumbing in a slightly different way. That's all part of the adventure.
Step 3. Remove the retaining ring
Or whatever is holding the existing tap onto the counter. While you're on your back doing this tight, slightly uncomfortable job, watch for falling debris and other fun stuff. Safety glasses are a good idea.
Step 4. Get back on your feet
Pull out the old faucet, including the water lines that are dangling. Clean up the counter a bit, this part can get messy.
Step 5. The fancy new kitchen faucet
Will come with its own water lines, so feed those through the gaping hole in the counter and slide the faucet in. Secure it to your counter, following the manufacturer's detailed instructions. Yes, I said read the instructions. You can do it.
You may need to replace the faucet supply line piece that fits between your 1/2″ plumbing and the water lines. Or the new water lines may connect directly to a compression fitting. Those pesky instructions should give you some direction as to the best way to connect.
Be sure to tackle this project while your plumbing supply store is open. That way when you need a finicky, little part that you forgot, it's only a short trip away. You're going to want the kitchen sink operable within the same day, after all.
Turn the water back on once all is connected and check for leaks. It's a good idea to keep an eye on this area for a few days in case you do spring a leak.
Now that your new faucet is in, pull the spray nozzle out and give it a test run. That pot with burned on residue is a good subject to try. So is the back of your husband's head or even the dog. Have fun with it.
You're going to love doing dishes now.
photo courtesy of flickr/fazimoto
The following two tabs change content below.

Founder/EIC
at
Charles & Hudson
Timothy's background includes stints at This Old House, ELLE DECOR, Metropolitan Home and Woman's Day. His work has been published on Wired Design, Bob Vila, DIY Network, The Family Handyman and Popular Mechanics and he has been featured on the Martha Stewart radio show and as a speaker at the ALT Design Summit, K/BIS and the National Hardware Show.

Latest posts by Timothy Dahl (see all)