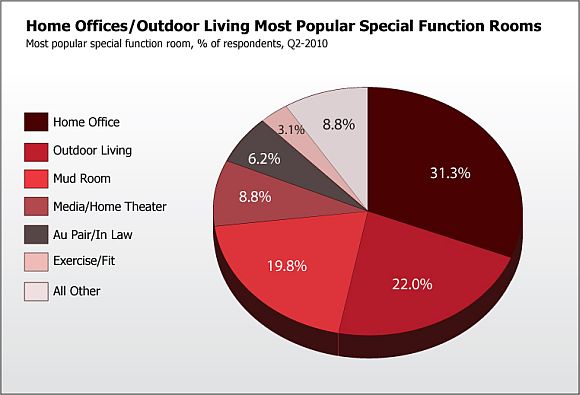 Despite a steep decline in home prices, the American Institute of Architects (AIA) reports that many homeowners are still choosing to invest money in their homes, especially for projects "that promote greater energy efficiency and accessibility throughout the home," writes Kermit Baker, Hon. AIA.

Top Home Design Trends for the second quarter of the year include outdoor living spaces, home offices and mud rooms. Of the nearly three hundred residential architects interviewed for the survey, several also reported a decline in specialty rooms such as media rooms/theaters, home workshops, fitness rooms and guest wings, a trend precipitated by an overall decrease in home size.

Home accessibility is increasing as a priority, with more features such as first-floor master bedrooms, ramps and elevators, and non-slip floor surfaces being added.
And it probably comes as no surprise that energy-efficient and eco-friendly projects continue to grow in popularity. The AIA reports energy management systems, solar panels/collectors/photovoltaics and geothermal heating and cooling heat pumps to be among the most popular additions, and overall, "energy-efficiency in particular and environmental stewardship in general is growing in popularity," writes Baker.
Photo courtesy of AIA
The following two tabs change content below.

Katy Schamberger is a Kansas City-based freelance writer, editor, blogger and author who weaves experience as a journalist, magazine editor and Chief Content Officer to create compelling, engaging copy that informs, entertains and inspires action. Oh, and she likes to take photos, too, especially of architecture, food and cocktails. Welcome!

Latest posts by Katy Schamberger (see all)