Build Your Own Furniture With Knock-Off Wood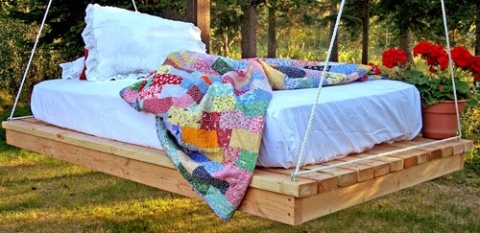 The thing about shelter blogs is that one begets another begets another. I don't know how I originally stumbled up on Knock-Off Wood, or how long ago, but it's high time you all knew about it.
The blog is run by Ana White, a stay-at-home-mom to a little girl in rural Alaska. The premise is that because she can't get a lot of things delivered to her home, like furniture from most larger-market stores (such as Pottery Barn, Crate & Barrell, and West Elm), she builds "knock-off" pieces using basic lumber and very simple tools for often less than half the inspiration's price.

The kicker? Ana has no previous carpentry or contracting skills, just what she's taught herself over time and with determination. And once she builds something and deems it worthy, she blogs the plans for the free use of anyone who'd like them. She also maintains a Flickr pool of all the pieces people have built, calling it her bragging board.
Her plans consist of furniture for almost every room in the house. I've seen beds, dining tables, hutches, outdoor furniture, children's storage, chairs, artwork, shelves, armories, end tables … the list goes on, including that outdoor daybed you see up top. And all she wants in return for her plans? Just for you to comment on the post about how it worked out for you, and pictures if you can manage them.
I'm yet to get up the guts to build a piece myself — but that has more to do with my gestational state and lack of working space than fears that I'm incapable. My husband even has a file in his email specifically for plans I send him for his approval. One of these days, we're going to build something magnificent, and it'll all be thanks to Ana and her blog.
So if you have a few hours to spend and are prepared to have your mind blown (as well as be wickedly inspired to find your inner carpenter), go over to Knock-Off Wood and find your next weekend DIY project.
And if you have any DIY blogs you think are diamonds in the rough, please let us know in the comments!
Photo: Ana White/Knock-Off Wood