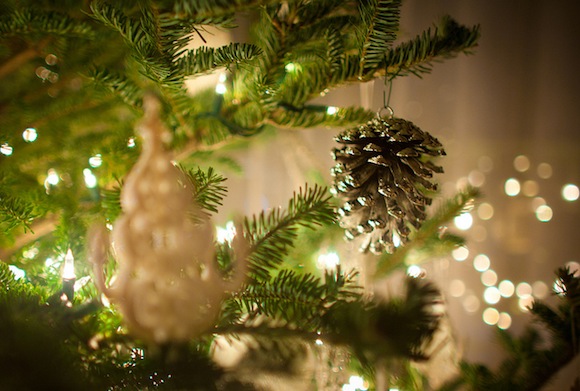 So you've heeded our advice, selected a Christmas tree farm and found it — the perfect tree that will fill your house with the heady scent of pine and provide a lush (if not prickly) backdrop on which to display your treasured ornaments and sparkly lights.
We've already seen several cars driving around with live trees tied to the roof, so we figured there's no time like the present to share a few Christmas tree maintenance tips, especially if you prefer to display your tree sooner rather than later.
Live trees do present more of a fire risk than artificial trees, which can usually be attributed to a dry tree that lacks adequate water. So, that brings us to our first tip:
+ Make sure you have an adequate stand. According to the National Christmas Tree Association (yes, Virginia, there is such a thing), the stand should be large enough to hold one quart of water per inch of stem diameter. And make sure you check the water level daily to ensure it doesn't fall below the base of the tree.

+ Place your tree in water as soon as possible. Most trees can go 6 to 8 hours without water, but it's best to hydrate the tree as soon as you can. Be sure to guard against bruising the tree's cut surface as you place it in the stand.
+ Using lights that produce a less amount of heat, like miniature lights, can help keep your tree from drying out.
+ Keep your tree away from sources of heat — fireplaces, heaters, vents or direct sunlight. This will help keep the tree from drying too early and reduce the risk of fire.
+ After the holidays, remove the tree from your house and check to see if Christmas tree recycling is offered in your area.
Do you prefer a live Christmas tree or an artificial one?
Photo by hiddenloop
The following two tabs change content below.

Katy Schamberger is a Kansas City-based freelance writer, editor, blogger and author who weaves experience as a journalist, magazine editor and Chief Content Officer to create compelling, engaging copy that informs, entertains and inspires action. Oh, and she likes to take photos, too, especially of architecture, food and cocktails. Welcome!

Latest posts by Katy Schamberger (see all)