Last Tuesday marked a monumental day around our humble abode — the long-awaited arrival of our new bed. The glorious piece of furniture (including mattress and box springs) was a wedding gift from my dad and stepmom, and it was an absolute joy to replace the horrible, creaky, warped mattress that I inherited when the hubs and I decided to co-habitate.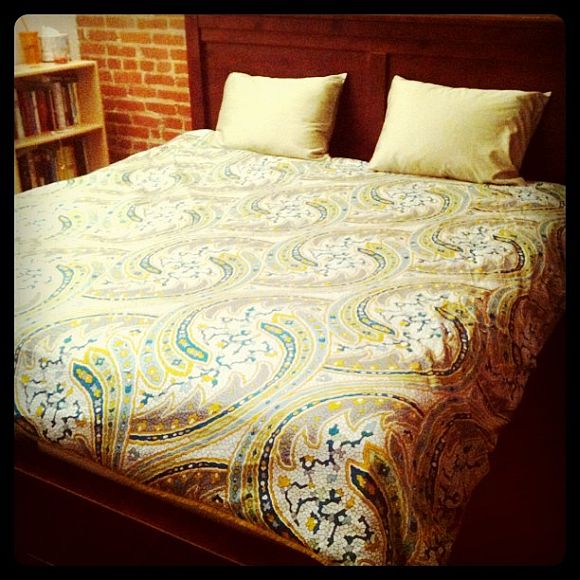 Before making our final selection, Rob and I visited several mattress retailers to research price points and test out various styles and manufacturers. Here's a few tips we picked up during the shopping and purchase process, and I thought I'd share them with you so that you, too, can enjoy a blissful night's sleep and wake up with the energy to tackle your list of DIY projects.
1. Take your time: When you're shopping for any sort of big ticket item, it's best to go when you're not in a rush. Schedule an evening or even a weekend day to visit several stores so that you get a complete picture of what's available — and how it compares to inventory in other stores.
2. Take notes: Whether you're jotting down notes on a salesperson's business card, a notepad or your smartphone, it helps to write a brief synopsis of what mattress you love and how much it costs. After visiting several stores, we began to lose track of the brands and styles we had tried. Keeping a list will help you prioritize and make the final decision that much easier.
3. Don't be a tentative tester. When we first started trying mattresses, I'd gingerly lower myself on a mattress, lay on my back for a few seconds and roll off. At our third stop, the salesperson encouraged me to lay on my side and stomach — or how I would normally sleep. I'm not saying you should jump on the bed and have a pillow fight, but spend some time on each mattress. Lay as you would when you sleep. It will help you make the right decision. A good mattress is an investment, and you want to make sure you're getting your money's worth.
4. Get the terms. Ask questions about a store's policies and warranties. Here's an example: We ended up purchasing from Nebraska Furniture Mart. Because they don't have a specific mattress disposal department, they have pretty strict terms on hauling your old mattress away — if it has any sort of stain on it, they're not allowed to remove it. Other specialty mattress shops have a much looser policy. Plus, you'll want to find out about any exchange terms and warranties. You may have to pay a little extra for an extended warranty, but it's worth debating whether or not the warranty is worthwhile.
5. Be flexible with the cost. A good mattress and box springs don't come cheap. If you can't afford the bed of your dreams, you may want to look into financing options. You spend a lot of time in bed, and quality sleep can make a huge difference in your mood, energy level and general health. We're not recommending that you financially overextend yourself, but just as you would research costs and warranties, you might want to look into your financing options. And if you're looking to save, buy during a promotional period. Most stores have mattress specials around major holidays (look for Labor Day-related promos.) You may also stumble across a discount that isn't holiday-related, such as a "king for a queen" price discount that's available on a random weekend.
If you have any other mattress-buying tips to add to the list, we'd love to hear them. And in the meantime, will you be shopping for a new bed soon?