Autumn will soon be upon us, and with that will come the second-most popular time of the year to relocate. Whether you're college bound, making room for baby, or downsizing after the last one has flown the nest, packing and moving can be one of the more daunting and stressful parts of taking that big life step. So we have a few tips to make that final transition from a sea of boxes into a welcome home easier for everyone involved.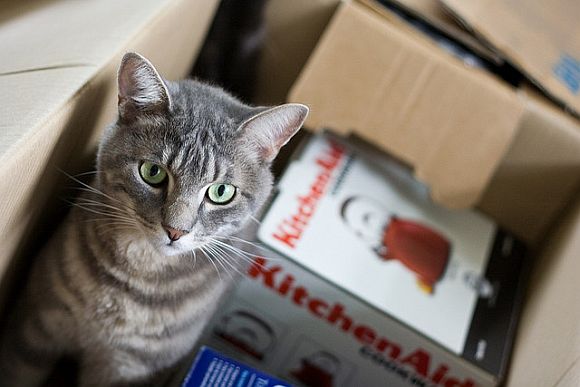 Start With The Kitchen
No matter if you just have a few dishes and a hot plate or a culinary space to make any chef jealous, when moving, unpack your kitchen first. Your cooking and eating space will arguably require some of the most organization out of any other room in your new home, so prioritizing it will ensure you unpack it smartly while you have the brainpower to use it at its highest efficiency. Plus, the sooner you make you kitchen food-prep-ready, the less crappy take-out you'll be eating throughout the rest of your move. As a bonus, cooking in your own home for the first time can foster a sense of belonging in the space that just nothing else can.
Tackle the Bathrooms
Guess what? Moving is typically a fairly gross job. Between hauling stuff, cleaning both the old and the new places, and any preliminary improvements you make (like painting), it's not a pretty thing. So the desire to bathe is probably going to increase exponentially throughout your move. It's easy to throw a bottle of shampoo and a towel into your bathroom temporarily, but after your kitchen is set up you should really work on your bathroom. That way you'll have another clean space organized to suit your needs, and you won't find yourself digging through endless boxes at 3 a.m. while doing the pee-pee dance because you never bothered to set out the toilet paper.
Carve Out Kids' & Pets' Spaces
If you have children, you'll understand that moving can be downright traumatic for wee ones. There's just something about all of their things being put out of sight and taken away that can freak a child out for far longer than you may think. So before the end of your first day at your new home, have your kids help you set up their new bedrooms. Letting them help (if they're old enough to) will help them gain a sense of control in the situation and getting their spaces squared away will help ease any anxiety they may have about the transition. Things can always be moved away from the walls if you intend to paint, or rearranged after a few days if it doesn't quite work out the same way in the new space, but helping kids to feel at home as soon as possible will only make your move easier. The same applies to fur babies — helping them transition early in the process by setting up their beds, food and water bowls, boxes, etc.– which will only benefit them and you throughout your move. Kids and pets alike crave routine and familiarity, so fostering that should be handled within 24 hours of occupying your new residence.
Move On To Communal Spaces
The next big space to address should be your communal spaces, like your living room, den, dining room, or if you have kids, playrooms. The goal is to feel at home as soon as possible, and it's really hard to do that if there's nowhere to sit together and relax. Playrooms can be especially important for families with kids to establish — they can set the room up the way they want while amusing themselves so you can go unpack other things. Also, it gives them more security in the knowledge that ALL of the new space is meant for them too. Besides, after a long couple of days of moving and unpacking, you just might want to zone out in front of the TV for an hour or two before bed.
Create Your Bedroom Oasis
Obviously your bed was probably placed in your bedroom as you moved. Or maybe your mattresses are just hanging out on the floor with some sheets on them so you can collapse at day's end. Time should be devoted to making your room the peaceful, but it's not the cornerstone of making a house a home. Once you get a great deal of the rest of your house in order, then it's time to focus on organizing your bedroom to suit your needs. While doing this, try to keep a keen eye on what you actually need, what could go in storage, and what could be sold or donated. What works in one home may not work in another, and with new living spaces often come new purchases. Also take note of things like underbed storage bins, space-saving hangers, and jewelry organizers that might help you make the best of your space.
Office & Miscellaneous Organization
Once you have every being in your home settled with places to eat, sleep, bathe, and hang out, you can get to setting up your various spaces — offices, linen closets, laundry areas and the like — without too much fuss. Try to make things accessible and organized from the get go because it'll be easier to keep up with if you figure it all out in the beginning instead of slowly amassing piles of un-dealt-with boxes along with the detritus from everyday life. The quicker you organize, the easier it'll be for everyone in your new home to find what they want or need, and the smoother the transition from "new house" to home will only boost your quality of life.
Out Of Sight, Into Storage
If you have items to store in a basement, attic, or garage, don't let them linger in lesser-used rooms or haphazardly shove them into these empty spaces. Having random boxes always around will leave you feeling unsettled and only communicates that you're not quite at home in your new home. Figure out what needs to be stored where, buy some heavy-duty shelving units and create some clarity in the post-move chaos. That way, when it's time to get things out of storage you don't feel like you have to move everything twelve times to get to that one box at the bottom of the pile. You know, the one that inevitably has your grandmother's china in it.
Donate And Celebrate
If you have any items that you decide you shouldn't really have moved at all or don't quite fit with your new space, give yourself a week tops to figure out the donation locations in your new area or to sell items on Craigslist. If weather permits you may want to consider a "moving-in" yard or garage sale — it's a great way to meet your new neighbors while purging some of your old things. Once you get rid of everything you don't want or need, invite your friends and family over to see your new digs. Planning a housewarming will only motivate you to get your house in order so your nearest and dearest will want to revel in the awesomeness that is your new home with you and your family, and having such a get-together will be some well-deserved relaxation and fun after such a big life change.