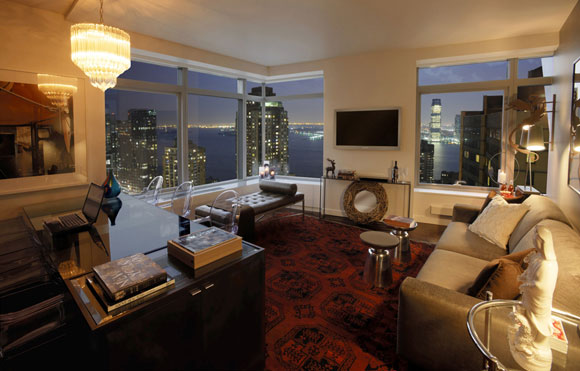 Living in New York City is amazing but unless you've got the big bucks you're typically relegated to less than desirable apartments. But if you win this Urban Oasis from HGTV you can live like a King or Queen.
A new, contemporary residence with sweeping vistas of the New York City skyline awaits the winner of HGTV's newest home giveaway, HGTV Urban Oasis 2010. Custom-designed by the network's popular designer Vern Yip, the first HGTV Urban Oasis is located in The Residences at W New York-Downtown, 123 Washington Street.
Viewers can enter daily to win the grand prize package, valued at approximately $1.5 million, that includes the fully-furnished residence and an Acura ZDX. The sweepstakes entry period runs September 1-October 20, 2010.

Between now and Wednesday, October 20, fans can enter as often as they'd like by mail and online users can enter once per day via HGTV.com as well as once per day on HGTV's FrontDoor.com.
Here's a video of the home.

Here's a listing of what products, materials and fixtures the Urban Oasis includes:
GRAND PRIZE FEATURES:
Acura ZDX 4-door Sports Coupe
Foyer
Mullican Flooring featuring the Wire Brushed Solid Wood from the Frontier Collection, Color:
Ebony Brown, Specie: Walnut.
Other Features including:
Reinhard Gorner, New York City, Public Library, 2007, 100×150 cm, Lumas Editions Gallery
Pair of Antique Marble Lions
Clear Peekaboo Console Table
Living Area
Mullican Flooring featuring the Wire Brushed Solid Wood from the Frontier Collection, Color:
Ebony Brown, Specie: Walnut.
SAMSUNG 46″ LED-LCD HDTV, Blu-ray Disc Player, Color Laser Printer, Laptop with Intel Core
15 Processor.
Other Features including:
Matthew Pillsbury 'Escaping Elephants', Museum of Natural History, NYC, 2004, 50×60 inch
Pigment Ink Print, Signed Edition of 3, from Jackson Fine Art
Andrew Moore 'Staten Island Ferry, 200' 46 x 54.5 inch, Chromogenic Dye Coupler Print, Signed
Edition 1 of 5, Jackson Fine Art
1070's Murano Crystal Chandelier
Vince Chrome/Grey Sofa
Jonathan Lounge in Antique Silver Slate
19th Century Cast-iron Flag Pole Brace
Louis Ghost chairs designed by Phillipe Starck for Kartell
Three Tier Bar Cart with Accessories
Custom Storage Cabinet
Pakistan Wool Carpet, Red/Multi
Guan Yin Porcelain Figure, 18″, White
Mirrored Wreath
Kitchen
SAMSUNG appliances including the Electric Induction Range, Built in Dishwasher, Speed Oven
Microwave, Refrigerator with French Doors, Clothes Washer, Clothes Dryer.
KraftMaid-Masco Cabinetry in the Saratoga door style with a Peppercorn finish.
Cuisinart® including the Single Serve Brewing System, 14-cup Food Processor, and 5 in 1 Griddler.
KOHLER Co. including Evoke® Faucet, Vault™ Sink
Ann Sacks Alloy Metal Tile
Mullican Flooring featuring the Wire Brushed Solid Wood from the Frontier Collection, Color:
Ebony Brown, Specie: Walnut.
Other Features including:
A Custom Table with Storage Area designed by Vern Yip
Bedroom
Mullican Flooring featuring the Wire Brushed Solid Wood from the Frontier Collection, Color:
Ebony Brown, Specie: Walnut.
SAMSUNG 32″ LED HDTV, 3D Blu-ray Disc Player and 3D Starter Kit
Other Features including:
Rosenblum "Boy on Roof" silver print from Christie's
Pair of c.1900 terra cotta Pediment Keystones with Face
Donnabella 4-door Chest
Custom 'Brick Wall' Wall Treatment
Willa Queen-size Bed in Silver/Coffee
Custom Pedestal End Tables
Baxter Wool Rug, Chocolate
Bath
KOHLER Co. including the Oblo® Faucet, Strela™ Lavatory and Vanity, Taboret® Shower, Rain
Contemporary Shower, Purist® Hatbox® Toilet, and Accessories.
Ann Sacks Lucian Glass Tile and Athens Grey Marble floor.
SC Johnson including the Glade® Plug-ins Scented Oil, Glade Scented Candle, Glade Island
Escape Spray.
Other Features including:
LLadro 'Swimmer' Porcelain Figure in White