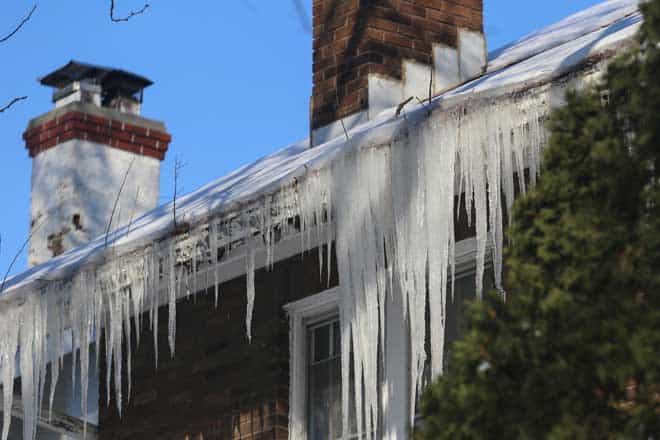 It's been a harsh winter in many parts of the country, but now that Spring is finally here it's time to assess how much damage the ice, snow, water and cold has done to your home. HomeAdvisor sent over a list of the top issues to look out for this Spring and a ball park figure of what it will cost to fix.
Do a quick walk around and assess damage. Then, think about what work you will need to have done to make sure damage does not continue when summer storms arrive. The last think you want is moisture damage to the foundation, or mold and mildew forming on exterior facing drywall. Some things to look for include:
Roofing
All of the heavy snow is likely to have damaged or at least loosened some of the shingles on your roof. Check for broken or buckling shingles, cracked seals around vent pipes and rusting on flashing. According to HomeAdvisor, it costs about $500 on average to have your roof repaired.
Gutters
Harsh winters can cause gutters to warp, or tree branches and debris can clog channels. If water spills over and pools at the foundation of your home, you have an even bigger problem on your hands. Have your gutters cleaned and repaired this spring. According to HomeAdvisor it costs about $150 on average to have your gutters cleaned and if you need a heftier repair it may cost about $250 and up.
Ice Dams
Ice dams trap melting runoff on the roof and cause it t seep in and damage exterior facing walls. For a long-term solution against ice dams have your attic sealed and insulated properly to make sure the heat from inside your home does not prematurely melt the snow. According to HomeAdvisor it costs about $1,200 for insulation fortification.
Exterior Paint
Moisture from a lot of snow and ice can cause peeling on exterior siding, besides harming your home's curb appeal, it also exposes the wood to water and potentially rot. After the last frost, scrape and touch up damaged paint, if you need an entire new paint job, HomeAdvisor notes it may cost you around $2,500 to repaint your home's exterior.
Driveways or sidewalks
Ice expanding and contracting in the cracks of your driveway or salt deteriorating the surface of the asphalt may make it look a bit like the surface of the moon. According to HomeAdvisor's Cost Guide, to have your driveway sealed and/or repaired by a professional it will run you about $1,200 on average.
To find a professional to complete these projects, visit HomeAdvisor.com