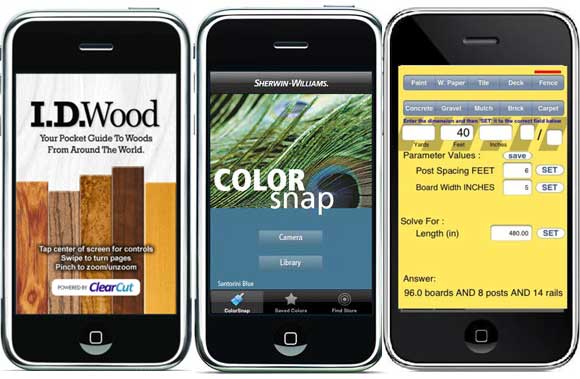 We've been sharing our favorite home improvement apps for a few years so we decided to compile them into a helpful guide that is categorized according to your home improvement needs. Many of these apps are available for your iPhone, Blackberry or Droid device and some are even tablet ready so they'll work on your iPad or Galaxy.
As new apps are developed daily please let us know in the comments if we missed your favorite and we will continue to update this list on a regular basis. Bookmark this page for future reference.
Now onto the Best Home Improvement Apps.
Design
The GE Mood Lighting Cam app
Snap a photo of a room or area in your home, and load it into the app. Using a sliding scale, you can adjust the room's lighting from "cozy" to "intimate" to "dramatic," along with a few stops in between. Once you've found a lighting scheme you like, touch the "Create This Mood" button, select the applicable light fixtures and you'll be taken to GE product recommendations that will allow you to simulate the lighting effects.
Sherwin-Williams Colorsnap
Will help to answer what color do I need for my room
Benjamin Moore Color Capture
Capture images and apply Benjamin Moore's color pallete
Dream Home
Keep up with the latest home design trends, browse through tons of quality images and draw inspiration from the works of the professional interior designers from around the globe.
Home Interior Ideas
Photos of home interiors for inspiration

Measurements
Sonar Ruler
Sonar Ruler is an experimental app that uses echoes to measure distances with your iPhone. It sends a short pulse from the speaker and measures how long that pulse takes to bounce off of something and return to the phone. It then estimates how far away you are.
The Stanley Level
A level in your pocket
Converter
Ultimate unit conversions
Handyman DIY
Lots of handyman diy resources
Paint Estimate
Want to quickly know how much paint you need, and just how much it will cost?
The Handyman App
Calculate paint, flooring, wallpaper and more.
Retail
The Home Depot
You can now shop from your iPhone or iPad (this could get dangerous). An interactive toolbox includes eight tools that allow you to measure and calculate the supplies you need on-site, then save those measurements to reference them while you're in-store.
Kenmore
Get the latest on all Kenmore appliances
Finding Home and Hardware
Locate hardware stores and supplies while you are on the road
Window Shopping with Marvin Windows
The Window Shopping app is a tool to help homeowners plan basic designs for windows and doors, inside and outside the house.
Multilevel
The first app to take advantage of the iPhone's compass feature.
Clinometer
Precision level and slope finder takes it to another level (no pun intended).
Real Estate
Zillow
This awesome app gives you home prices from wherever you are.
Century 21
One of the largest realtors in the country has an app of properties.
Long & Foster
Customers can search for nearby properties, refining searches based on property type, price range, number of bedrooms and other "must have" desires for their dream home.
Services
MyContractors
What is the name of that guy who painted the basement five years ago? Who was it that my neighbor recommended to reseal my driveway? When was the last time I had the furnace serviced? What is the model number of the water filter for my refrigerator? Now you can track these things with MyContractors.
ServiceMagic
Considering a home improvement project? Want to get advice from experts and browse project photos to gather ideas for your next project? Try this app
DIY Chatroom
Use their forums and ask questions straight from your mobile device
Utility
Knot Guide
Knot Guide NOW includes the following 84 knots, 72 of which are unique
Power Tools
This helpful guide breaks down all power tools and what they are used for.
Project Quote Estimate
Are you a contractor that needs to quickly make quotes for your clients in the field? Or maybe you are starting a home landscaping or renovation project, and need a quick way to estimate costs and quantities? Well, now you can create a professional pdf quote** and email it to your clients or yourself on the spot.
WikiHow
The application includes the 'wikiHow Survival Kit,' a collection of articles to get you through life's most difficult situations. Includes articles on first aid such as CPR, the Heimlich maneuver, treating burns and bleeding. It also contains wilderness life-savers like how to build a fire or find North without a compass.
ID Wood
Empower yourself at the lumber yard or flooring shop.
Flashlight
It's the brightest one we've seen.