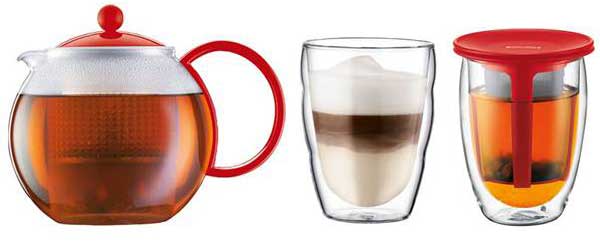 JCPenney (or JCP as they are now known) is expanding on their home offerings and have chosen some top brands to anchor their new home floors including Pantone Universe, BODUM, Happy Chic by Jonathan Adler, Michael Graves Design, MarthaHome, ORDNING&REDA, and jcp EVERYDAY. They've chosen a great group to launch with and we are particularly interested in Bodum as we've come to use their Santos vacuum coffee maker on a daily basis.
One of our favorite stores in New York was the Bodum store and cafe in the meatpacking district but it sadly closed. Fortunately you can still find Bodum products and select retailers and now including JCP.
We sometimes have a tankering for tea and Bodum has some great looking options such as their tea brewing pot and personal tea press. What we like about the tea press is that it also comes with a double-walled 8oz glass that is great for hot beverages but can also be used for wine.
Remember JCP the next time you are shopping for home products and tell them Charles & Hudson sent you if you want to see some funny looks.