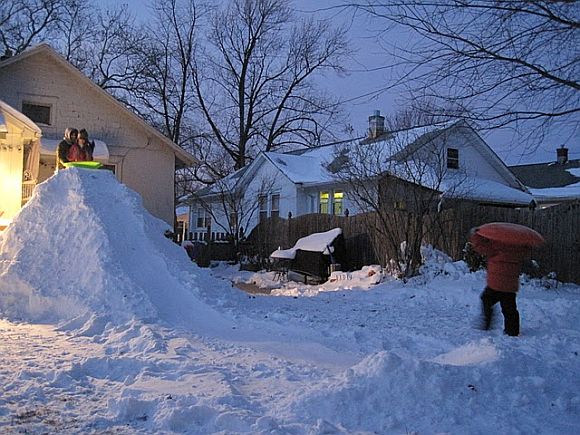 Who says all of your DIY fun has to be confined inside during the winter months? If you're lucky enough to live in a locale that receives snow (or are on the East Coast and have more snow than you can possibly want), try building a DIY snow ramp for maximum sledding entertainment in your own backyard.
Erin and her spouse, known on their blog The Stucco Bungalow as Handy Husband, did just that. They didn't have quite enough snow to make a solid ramp, so they did what any enterprising DIY-er would: improvise!
They stacked some of their deck furniture into a small mound, and then heaped snow on top of it (a chore made infinitely easier with HH's new Christmas present, an electric snow thrower) to create the snow ramp's basic shape.
Once the mound was carefully packed into place, a path was smoothed down the hill to make for fast, bump-free sledding.
How's that for a little cold weather ingenuity? If you've had a similar burst of creativity this season, let us know!

Photo courtesy of The Stucco Bungalow