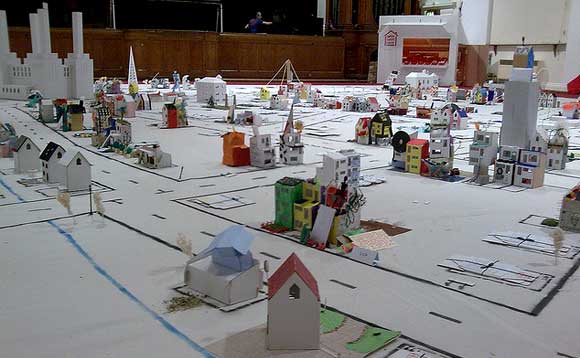 Building a home and community as an art project is now happening at the Skirball Cultural Center in Los Angeles, CA. This is a very unique project that we had to share with you. Not sure we quite get it but we'll probably stop by anyway to check it out.
Home Sweet Home
Come build a miniature home away from home! In this gallery-based, interactive performance installation from British theater company Subject to_change, visitors choose a plot of land, purchase a home, and sign a real estate agreement. Then the real fun begins! Participants receive a key to their new home, and a flat-packed cardboard unit ready for installation and decoration. Using a range of supplies (some supplied by the Skirball, but participants are welcome to bring their own), the new community member is free to transform the building into a home, business, public facility, or any city structure. Over the course of ten days, a micro-community will blossom, complete with houses, governments, goods and services, and friendly neighbors.

Actors working with Subject to_change facilitate the workings of this new community. Participants can return as often as they like during the run of the installation to decorate their buildings, make requests to the local radio station (which has DJs spinning records), write to the Town Council to file planning permits, and note community concerns. This installation allows participants to get creative, examine with whom and how they interact, and reflect on their own roles in shaping their communities.
"There is something rather thrilling about watching an entire city mushroom in a room almost overnight–particularly when you are building it yourself."–Lyn Gardner, The Guardian, U.K.