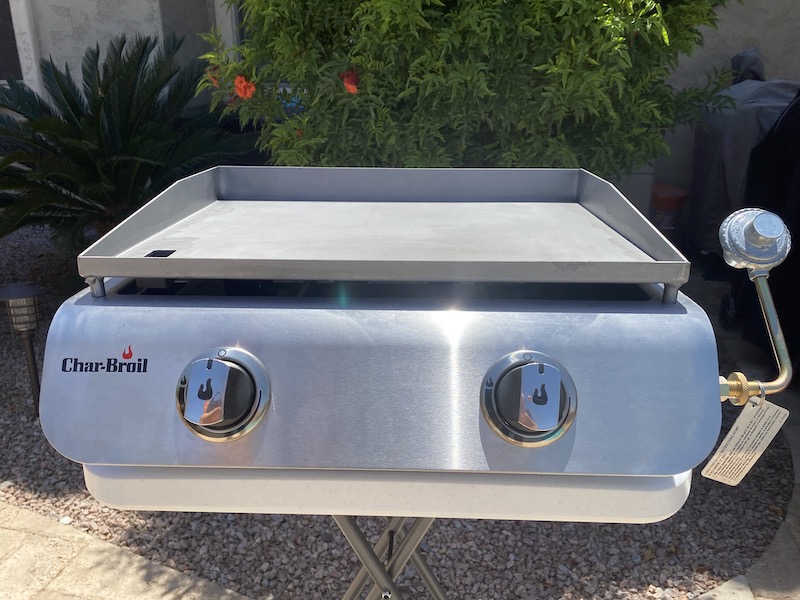 Griddles are used in restaurant kitchens around the world, but it's rare to see them in a home kitchen. This review of the Char-Broil 2-Burner Griddle should convince you to add this basic appliance to your outdoor kitchen.
This is my first foray into the world of griddle cooking and I've been missing out. What is really impressive is how many things can be prepared on the Char-Broil.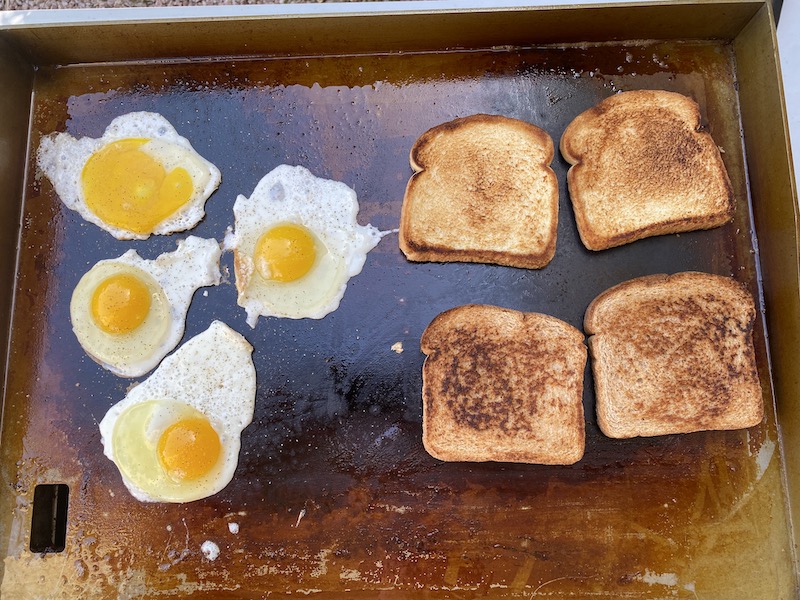 I ran this through the paces and feel like it is just scratching the surface. Hitting the classic griddle breakfast or burgers was a breeze but where this griddle really excels is the ability to prepare food that would otherwise be too small for a grill or use multiple pans in the kitchen.
Grilling and Searing
The griddle is equipped with two burners for zonal cooking that allows you to grill food on each side of the griddle at different temperatures. With 18,000 BTU's the griddle gets plenty hot to cook or sear.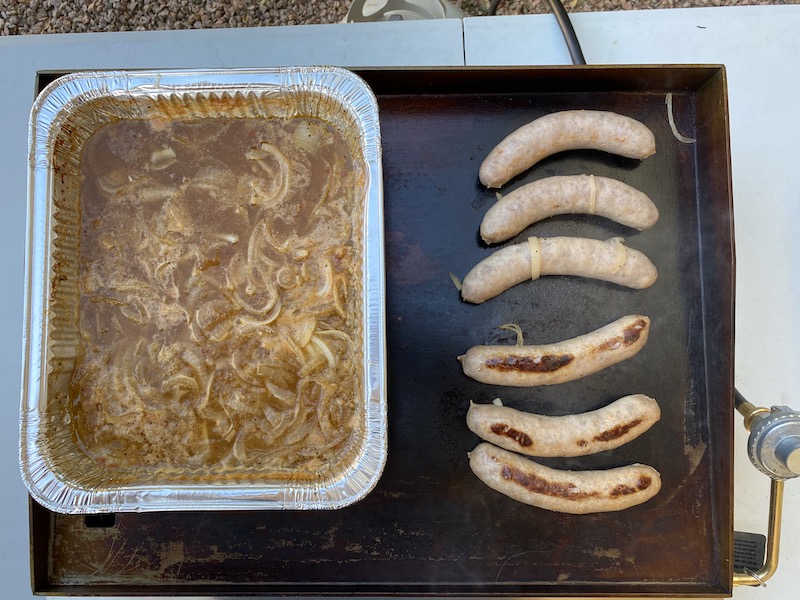 I tested the sear capabilities with a sous vide steak and smash burgers (side note – if you have a griddle you MUST try the smash burger, really fun to make and delicious).
You can cook just about anything on the griddle surface. From the classic griddle breakfast (including toast), veggies, the protein of your choice, or even using it to warm a sauce or boil a liquid the Char-Broil delivers the results.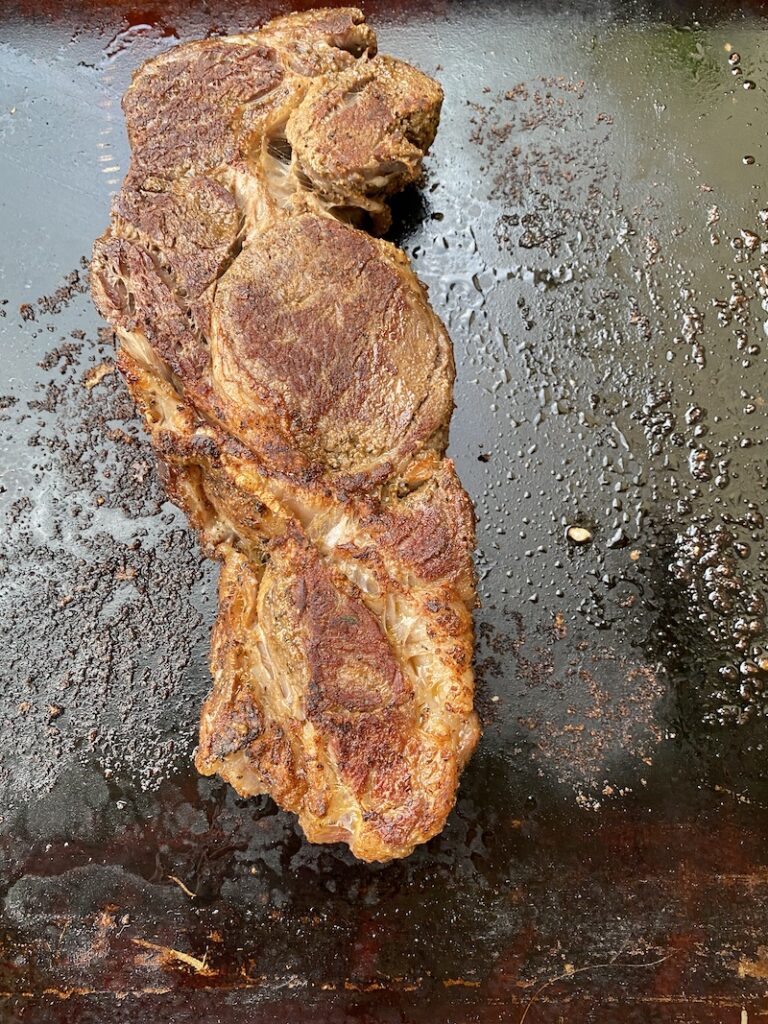 We had no trouble fitting an entire package of bacon on at once (16 strips) with some room between each strip. We tested the space and it fit: 12 burgers, 4 pounds of pre-cut carne asada, a 9×13 foil pan with 8 brats cooking next to it, 10 pancakes…I could go on but you get the idea.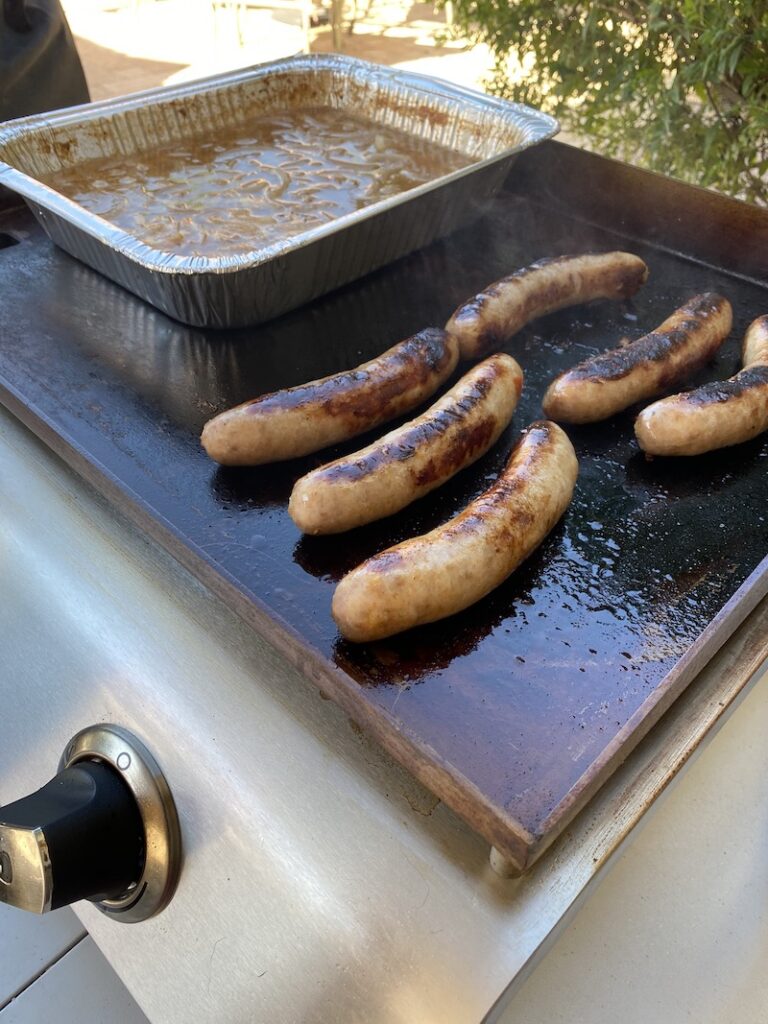 I loved having the ability to make a brat tub on the griddle by placing a foil tray on the surface to boil the liquid and then just move the brats to the griddle for a sear and back into the tub for serving.
Cooking Options
Having the flexibility to use the griddle for multiple applications makes it a game-changer for camping, picnics, or tailgating.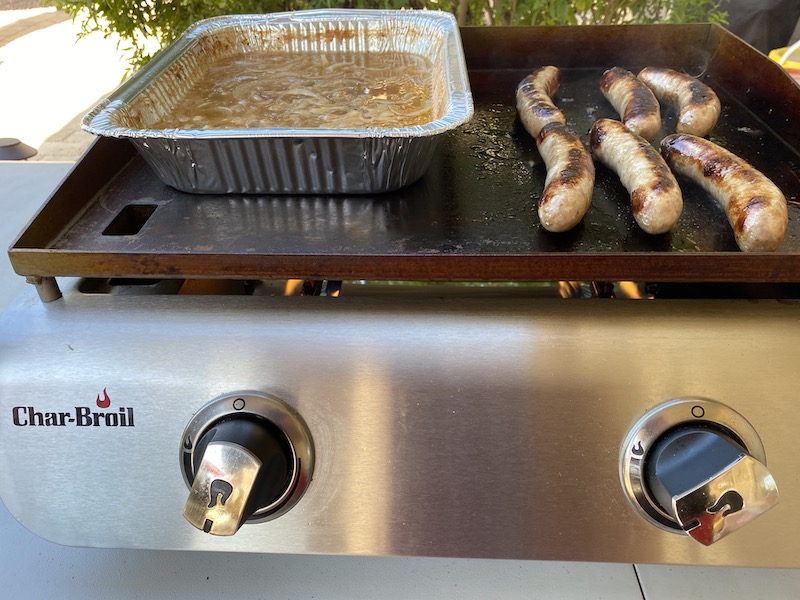 The Char-Broil can do just about anything but cook over an open flame so you only need one appliance.
Portable
The compact size and integrated handles make it easy to pack-up and go, while adjustable legs let you grill-it-up despite uneven surfaces. For being a small surface (320 square inches) you can really fit a lot on the griddle.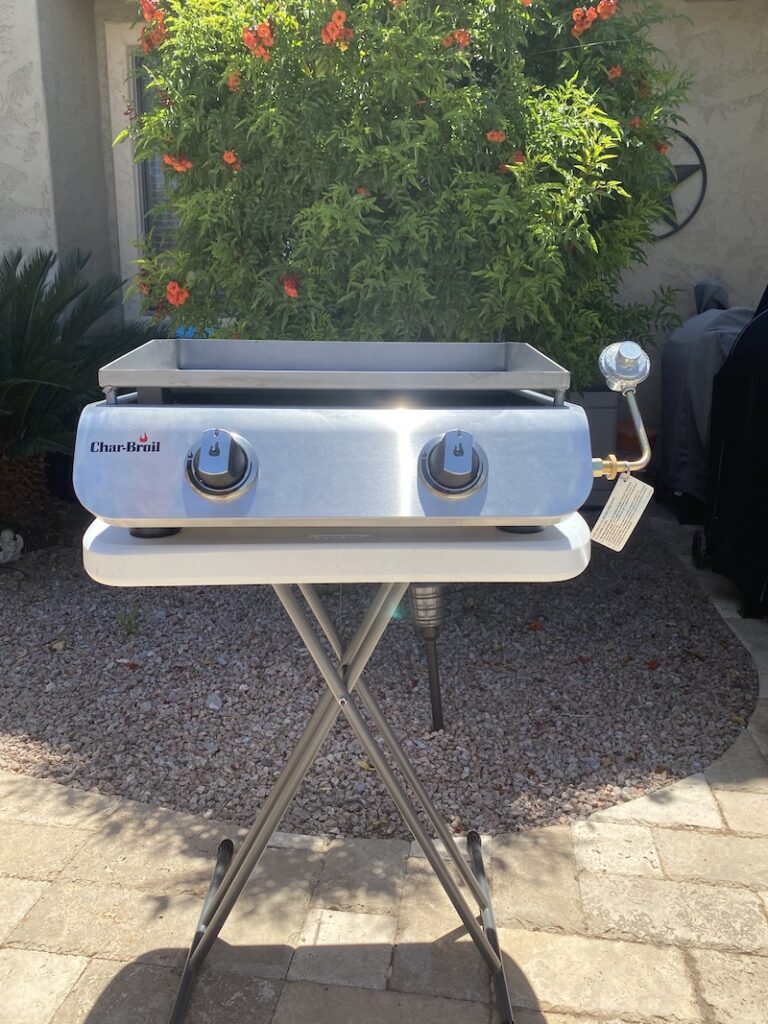 In addition, the clean up is a breeze so no worrying about dishes when you are done. Using the smaller unit has made me want to move up to a larger griddle for the backyard.
The griddle is well made and the construction is hefty and durable. I've moved it around quite a bit with no breakage or loosening of the parts. The legs are also adjustable so you can level the griddle out on uneven surfaces.
Misses
Grease cup could be larger. I recognize this is small unit however I did fill the cup just cooking 1 pound of bacon. It's located near the burner and metal so it gets very hot and if filled is not safe to dump mid-cook. Specs list the capacity at 2 cups but I wish it was designed with a 3-cup volume.
Lack of a cover or carry bag. I did find a cover and bag to fit this unit but it wasn't from Char-Broil and isn't a perfect fit. Having a least a metal lid would have been nice for both protection and to use as a lid to melt cheese or steam items.
4.5 Meat Hooks
Despite the small grease cup and lack of carrying bag, I rate the Char-Broil 22" Griddle 4.5 out of 5 meat hooks. It's almost perfect!