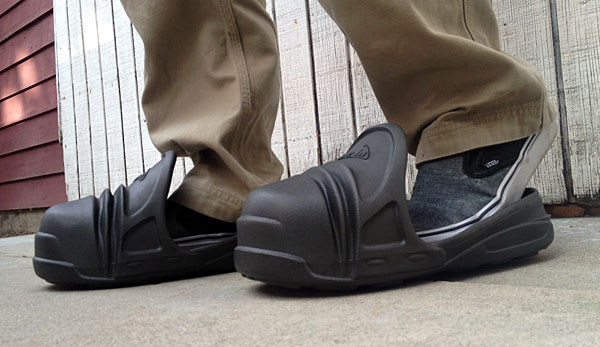 We're a no shoes household and with the baby we've become even more strict about that rule. But it can be tough to always remove your shoes each time you come in and out of your home and contrary to what many people think we don't always wear sandals out here in sunny SoCal.
Shoe In sent me a pair of their "overshoes" that are meant to solve the problem of removing shoes when coming inside. They are basically an over the shoe sandal that you step in and out of which makes it very convenient to keep your floors clean and saves you time from taking shoes on and off.
Shoe In overshoes are made of lightweight, durable EVA rubber. The hands-free design means no sitting down or bending over to put them on or take them off, and patented gripper teeth ensure that Shoe In overshoes stay on securely.
The Shoe In is also perfectly suited for jobsite and winter situations as they are available with a safety toe and studded soles for winter weather.
Ok – We have to admit they are seriously ugly and we don't plan on leaving the house wearing them but in the name of keeping our floors clean we'll put up with a shoe that makes Crocs look good.