A garage door isn't just a functional aspect of your home; it can also significantly impact its overall aesthetics and curb appeal. You can immediately elevate the ambiance of your home by investing in a new Clopay garage door. Here's why we did it.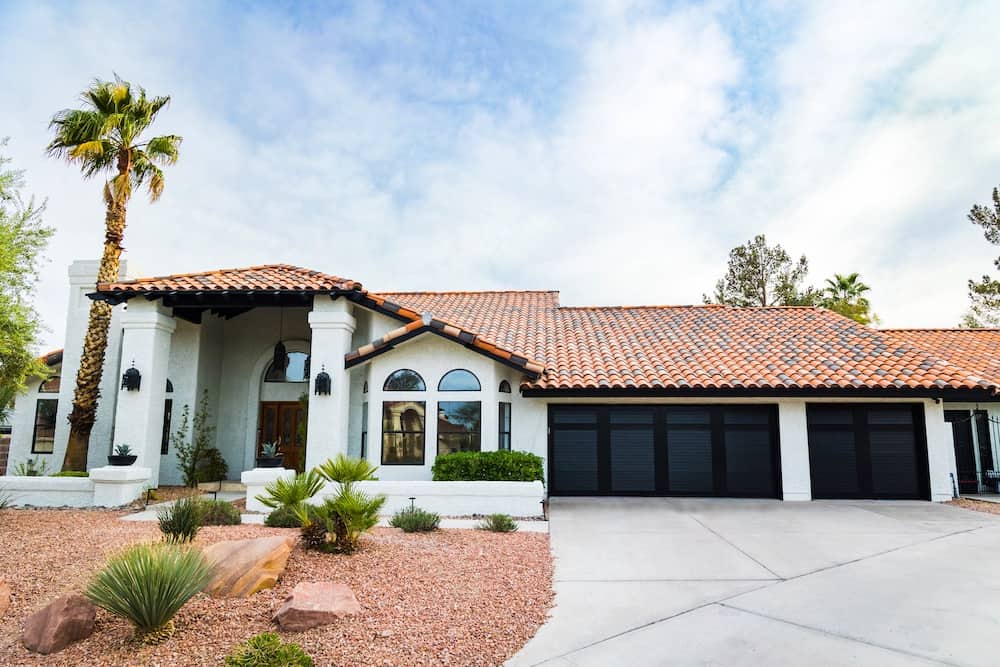 Clopay Canyon Ridge Louver Looks Great on Any Home
After upgrading to a Clopay Avante garage door in our LA home a few years ago, we knew we wanted to achieve the same amazing results a new door would provide for our Spanish-style home in Las Vegas. We briefly considered the Avante door again, as we loved the modern look of the black aluminum with laminate glass panels.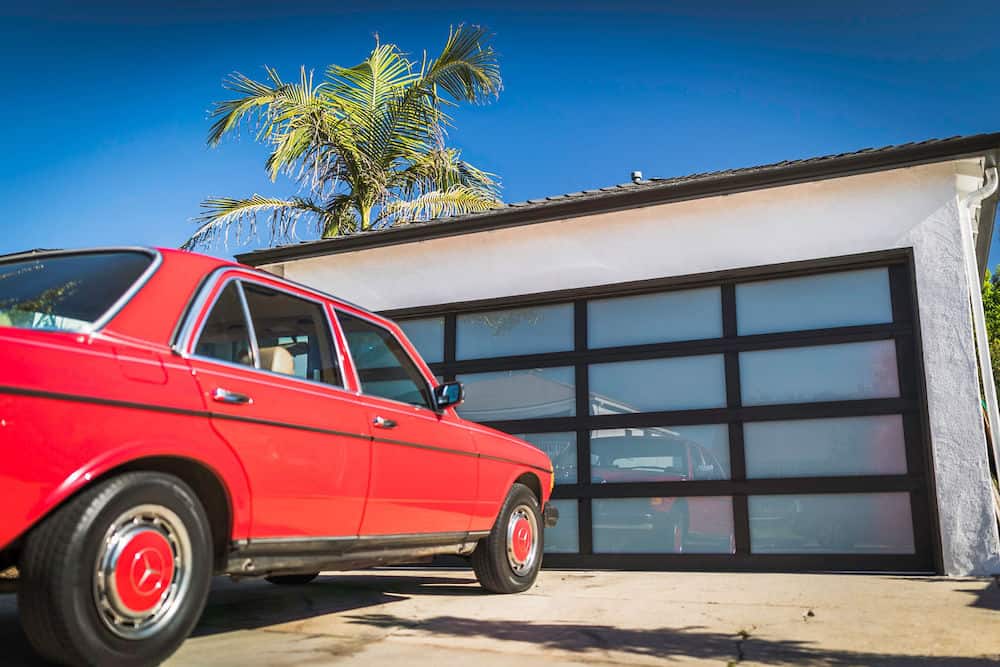 But we are leaning into a more traditional look with our Vegas home, and once we saw the new Clopay Canyon Ridge Louver garage door, we were in love.
Our home had a builder-grade steel door offering zero insulation and zero style. In fact, it detracted from the overall look of our home, so we knew it had to go.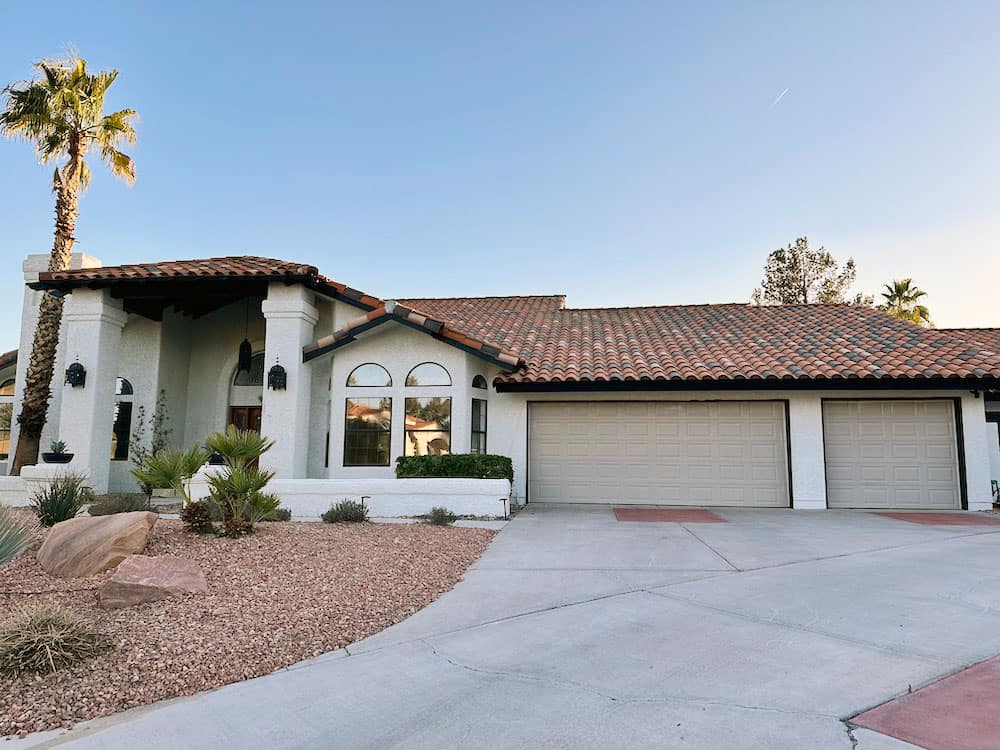 The Canyon Ridge Louver looks great on traditional and plantation-style homes, and after using the Clopay Door Designer, we knew it would look great on our home as well. The classic design and subtle wood panel details make this garage door look great from near or far. With two garage doors facing the front of our home, we knew we had to pick a winner as there is no hiding these doors from anyone who visits our home. But we didn't realize how much of a statement these doors would make.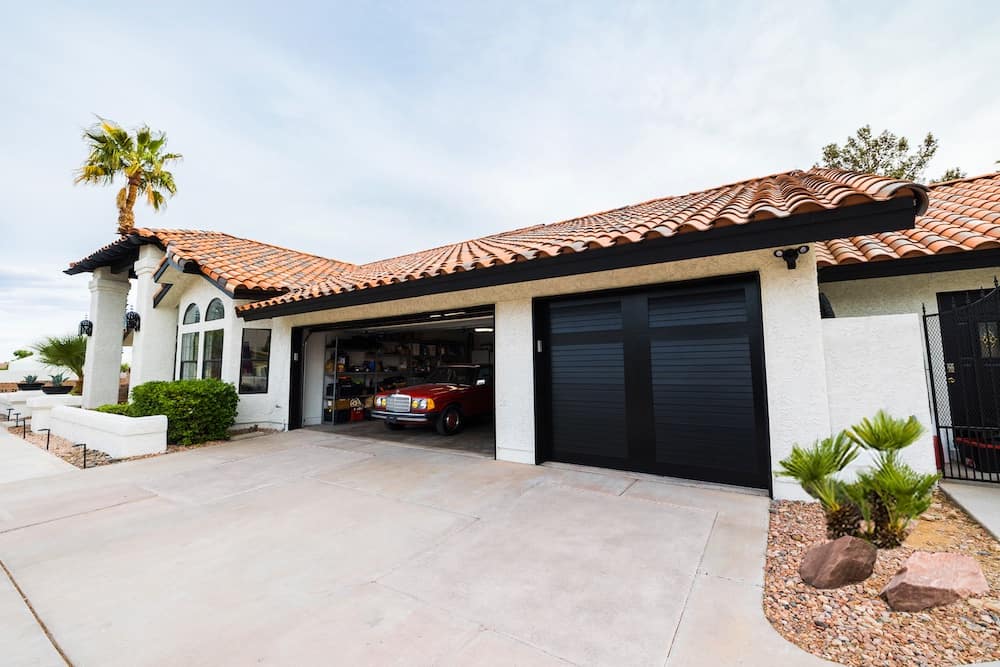 Neighbor-Approved Garage Doors
Our neighbors immediately stopped us to inquire about the doors. Even though we had just painted the house with a dramatic change from brown to white, they were more interested in how much better our home looked with the new doors.
Most of our neighbors still have their builder-grade uninsulated steel garage doors. You know, the white or gray panel doors that are usually full of dents after 25 years of use. We imagine these Canyon Ridge doors will withstand the harsh desert sun and our house full of rambunctious kids much better than any other door we could have selected.
LiftMaster Secure View Garage Door Is Another Worthy Upgrade
Our Clopay garage door gets all the hype, but behind the scenes our opener does all the heavy lifting so we also decided to upgrade that. We chose a LiftMaster Secure View Garage Door Opener powered by myQ, which has all the bells and whistles that make it the top choice for a secure and reliable opener.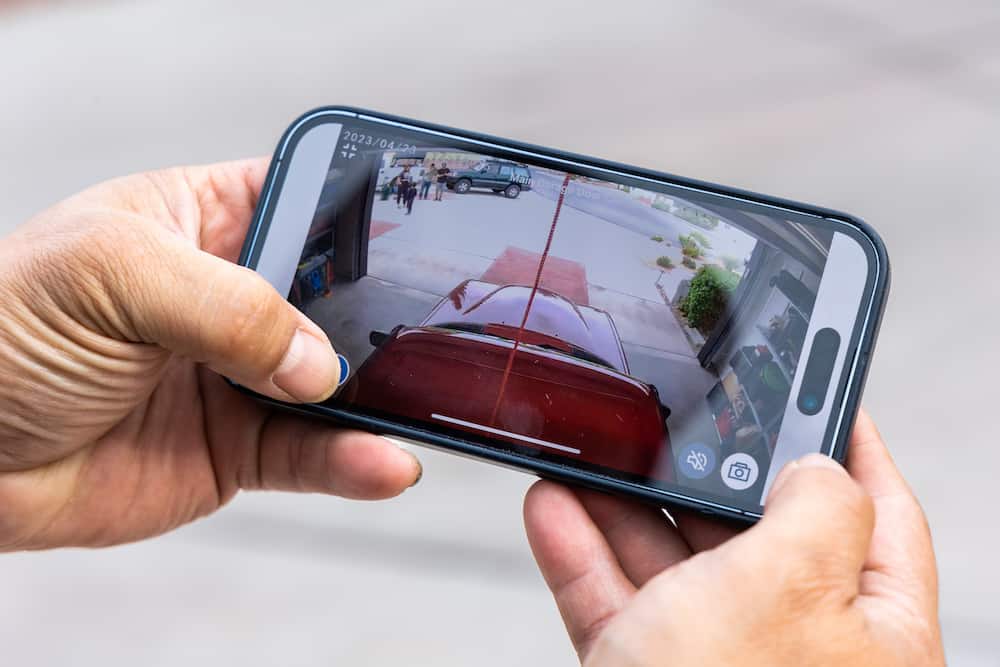 The ultra-quiet DC motor attached to a belt drive system has enough power to raise and lower our fully insulated Clopay doors. The standout features include motion-activated 360 LED lighting, a built-in camera and two-way audio to keep track of who is coming and going via the myQ app, a timed auto close feature, remote open and close, and a battery backup to open and close the door in case the power goes out.
We also tried the Amazon Key feature that allows delivery drivers to leave packages in your garage, safe from porch pirates and the weather. It worked well, and with the camera, we had some piece of mind that nobody was snooping around.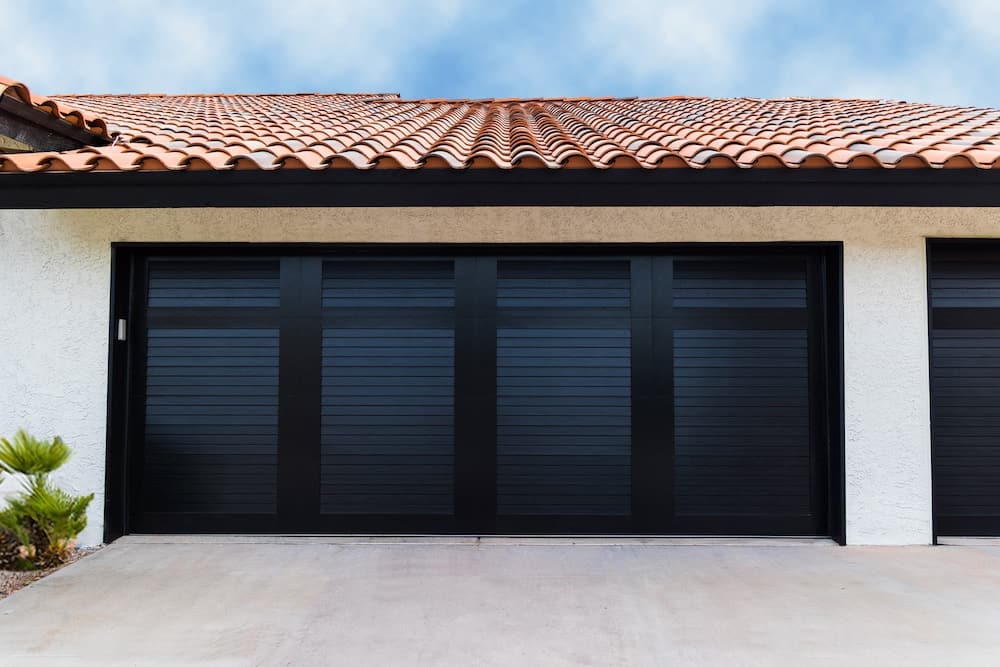 8 Reasons to Upgrade to a Clopay Garage Door
If you still aren't convinced that a new Clopay Garage Door is what you need, then read on for our top eight reasons why a Clopay garage door is a great upgrade.
Unparalleled Durability
When investing in a garage door, durability is undoubtedly a top concern. Clopay garage doors are renowned for their exceptional strength and longevity. Crafted using premium materials, such as steel, aluminum, wood, and composite materials, these doors are built to withstand the test of time.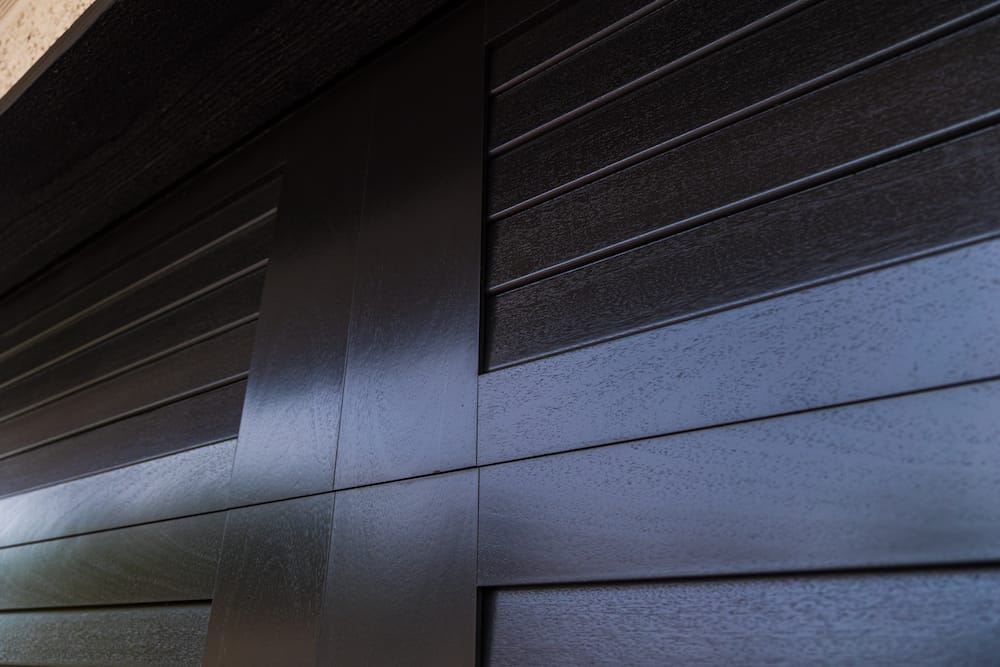 Whether it's extreme weather conditions or daily wear and tear, a Clopay garage door ensures long-lasting performance, giving you peace of mind and saving you money on frequent repairs or replacements.
Enhanced Security Features
Your garage is a crucial entry point to your home, and ensuring its security is paramount. Clopay garage doors have advanced security features to protect your property and loved ones. With sturdy construction and tamper-resistant technology, these doors provide additional protection against potential intruders.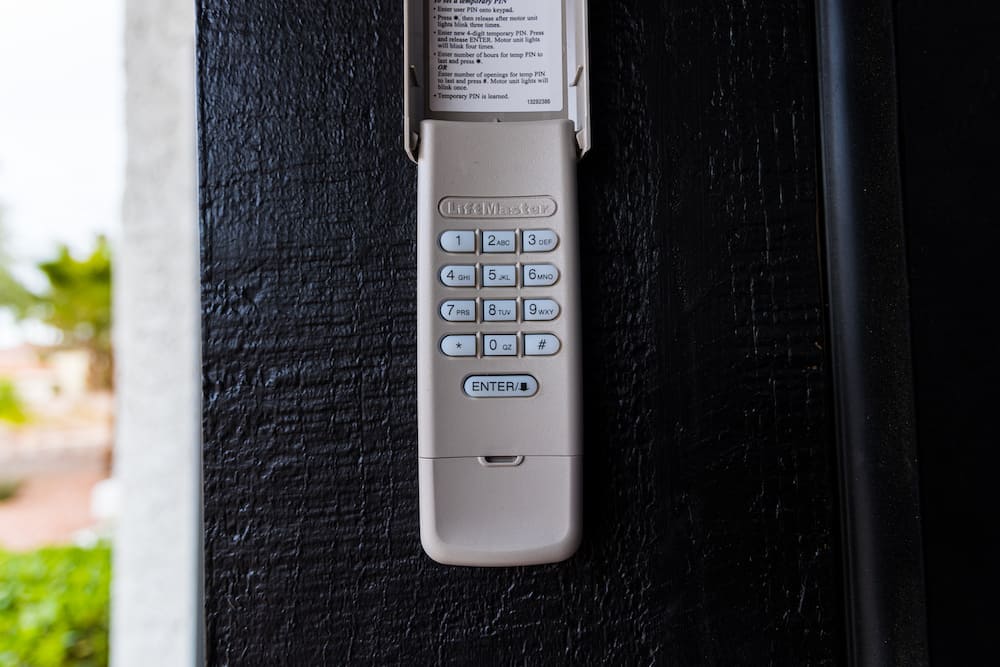 Investing in a Liftmaster myQ opener is also important to give you even more security options, such as auto-close, unique codes for every click, motion-detecting lights, and security cameras.
Energy Efficiency at Its Best
In today's environmentally conscious world, energy efficiency is a key consideration for any home upgrade. However, many homeowners tend to overlook the significant impact that can be achieved by investing in an insulated garage door, both in terms of energy costs and overall comfort. Given that the garage is the primary entrance for most homes, it is particularly susceptible to heat loss, making it an ideal area to enhance energy efficiency.
By utilizing Clopay's advanced Intellicore insulation, the entire garage door becomes equipped to combat energy loss effectively. This innovative insulation technology boasts outstanding R-values, reaching up to an impressive 20.4. Consequently, it ensures consistent comfort within the garage and adjacent rooms next to or above it.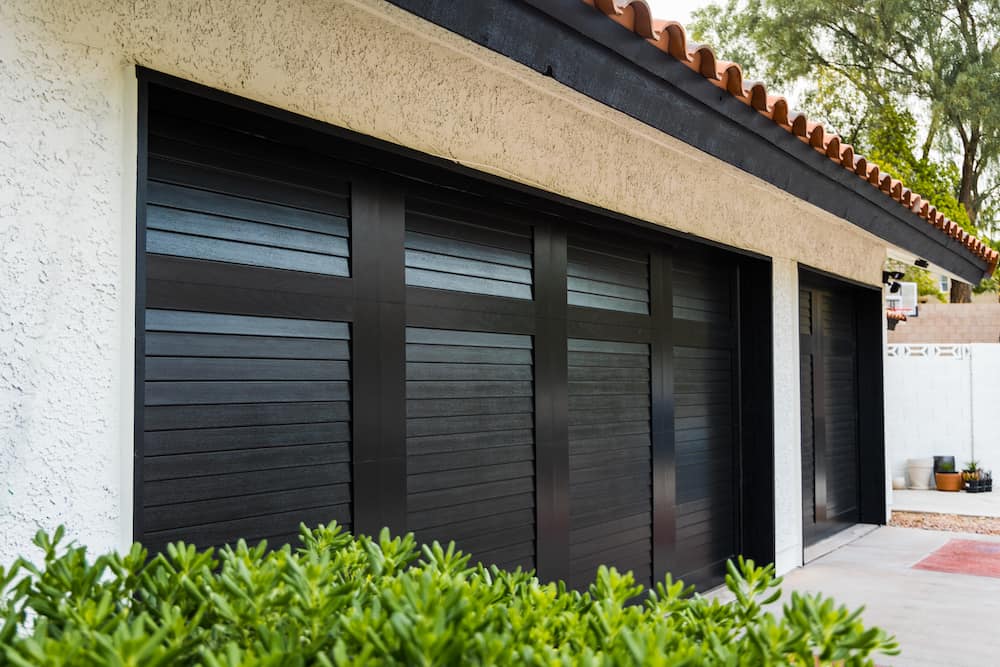 Vast Array of Styles and Designs
Every homeowner has unique tastes and preferences when it comes to aesthetics. Clopay offers various garage door styles, designs, and finishes to cater to diverse architectural styles and personal preferences.
Whether you prefer the classic charm of carriage house doors, the sleek modern look of contemporary designs, or the warmth and natural beauty of wood, Clopay has the perfect option to complement your home's exterior. With their extensive selection, you can customize your garage door to reflect your personal style and create a harmonious look for your property.
Exceptional Noise Reduction
Is your current garage door causing unnecessary noise disturbances? Clopay garage doors are engineered to provide exceptional noise reduction, ensuring a quieter and more peaceful living environment.
With their innovative insulation technology and precision engineering, these doors significantly minimize operational noise, making them ideal for homes in close proximity to bedrooms, living areas, or neighbors. Upgrade to a Clopay garage door, and enjoy a serene home environment free from disruptive sounds.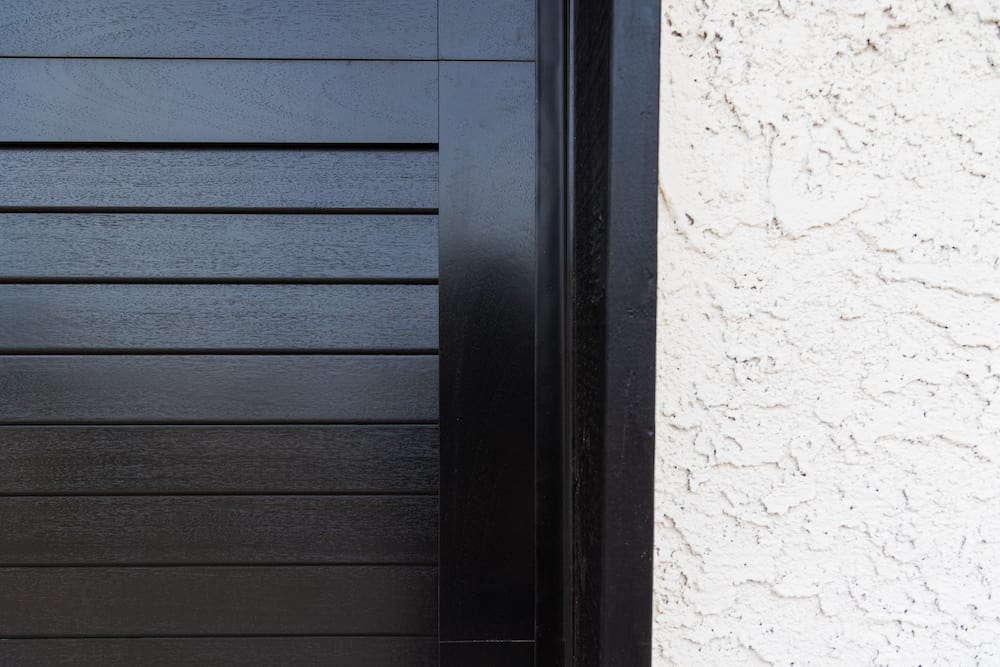 Low Maintenance Requirements
Home maintenance can be time-consuming, and having a garage door that demands constant attention can be burdensome. Thankfully, Clopay garage doors are designed with low maintenance requirements in mind.
Their high-quality materials and finishes are resistant to fading, rusting, and warping, reducing the need for regular upkeep. With minimal maintenance, you can spend less time worrying about your garage door and more time enjoying your home and the things that matter to you.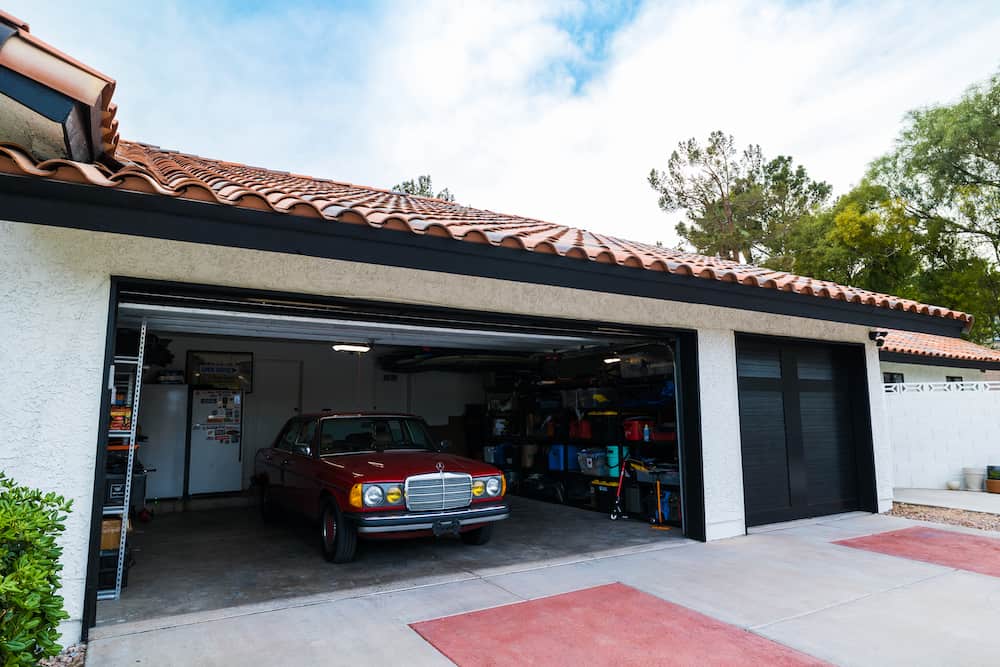 Excellent Return on Investment
Investing in a new Clopay garage door offers more than just aesthetic and functional benefits—it can also provide a significant return on investment. According to various studies and real estate experts, a high-quality garage door replacement ranks among the top home improvement projects that yield a high return on investment. Upgrading to a Clopay garage door can enhance your home's curb appeal, attract potential buyers, and increase its overall value. It's a smart investment that enhances your daily life and pays off in the long run.
Trusted Reputation and Warranty
Clopay has established itself as a trusted leader in the garage door industry. With a rich history spanning several decades, they have built a solid reputation for delivering superior quality products and exceptional customer service. I had an opportunity to visit their factory a few years ago and left impressed by the craftsmanship and attention to detail that goes into making each door.
When you choose a Clopay garage door, you can have confidence in the brand's commitment to excellence. Additionally, Clopay stands behind its products with robust warranties, offering you further peace of mind and assurance that your investment is protected.
For more information about Clopay garage doors, visit their website, clopaydoor.com.