For those who seek versatility in their daily driving experience, the Cooper Discoverer Rugged Trek SUV and truck tire is here to enhance your journey in ways that resonate with your active lifestyle. Designed to transition from city streets to off-road trails seamlessly, these tires offer a perfect blend of performance and practicality, catering to your commuting needs while allowing you to explore the great outdoors during your weekend getaways.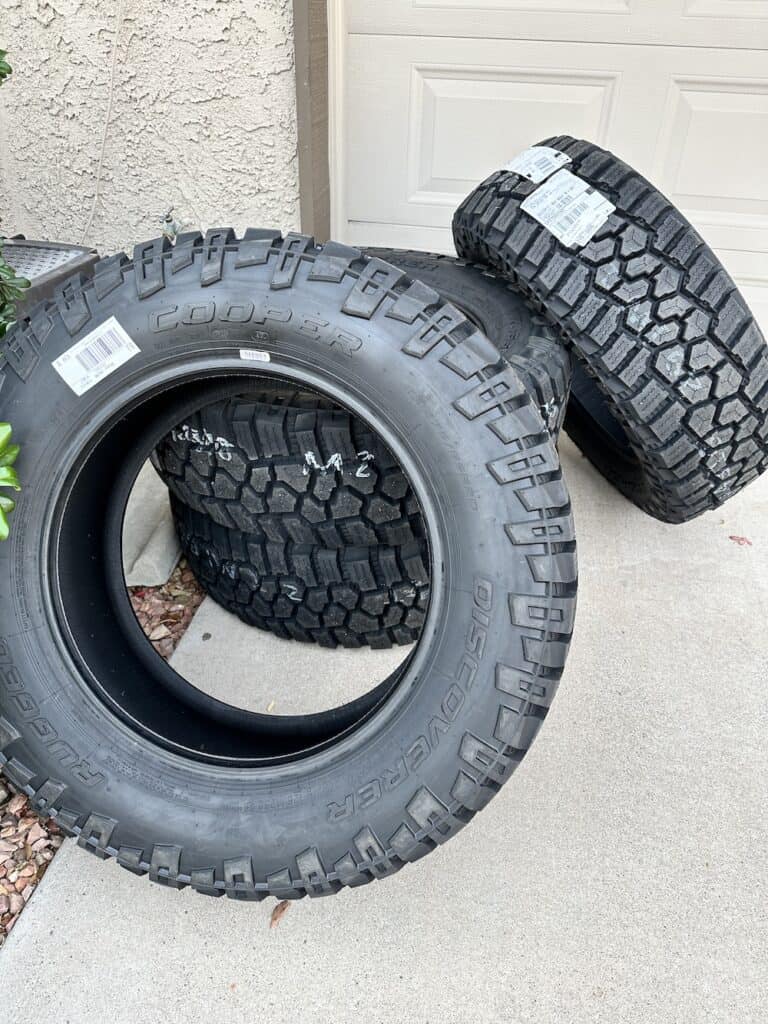 We've spent six months with the Rugged Trek tires fitted to our 2008 F-150. Our truck is the work truck we use in the city for Home Depot runs as we remodel our home. We also use our truck at our ranch and for occasional road trips.
Bottom line–The Rugged Trek tires have performed flawlessly and look great doing it. The aggressive tread looks great but there is no tire drone, so long trips and driving in the city is extremely comfortable. On the freeway these tires keep the truck firmly planted and handling is as good as any tire we've had. In the dirt these tires are extremely capable and we have complete confidence in using them in most off-road situations. We're not rock crawling or mudding in them, but we've had them in snow and sand with no issues. Read on for more details.
A Balance of Form and Function
Gone are the days of compromising style for performance. With the Cooper Discoverer Rugged Trek, you get a tire and a versatile companion that effortlessly combines aggressive aesthetics with excellent on-road traction and comfort. This means you'll easily navigate urban and off-road environments while also turning heads as you go – a perfect reflection of your unique sense of style.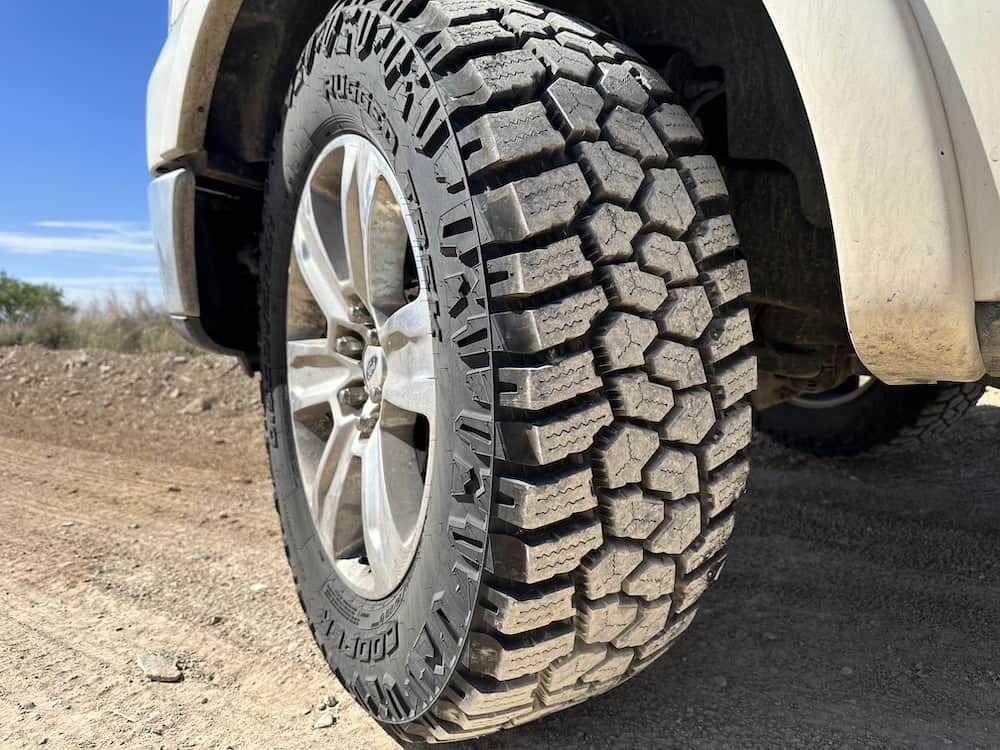 Unleash Your Weekend Warrior Spirit
For those cherished weekends when you leave the city behind and venture into nature's embrace, the Discoverer Rugged Trek stands ready to accompany you. Its Rough Terrain™ tread pattern and Earth Diggers™ Technology ensures you can confidently navigate muddy trails, sandy paths, and dirt roads. These tires offer more than just traction; they provide the stability and control you need to tackle off-road terrains, allowing you to immerse yourself in the tranquility of the wilderness.
A Confident Ride, No Matter the Terrain
Stable Trac™ Technology, featuring omnidirectional micro-gauge siping, is not just a fancy term – it's your assurance of a secure and steady ride whether you're cruising down the highway or tackling uneven surfaces. No more hesitations when encountering rough patches; the Cooper Discoverer Rugged Trek ensures your truck maintains traction and stability, ensuring your confidence remains unshaken.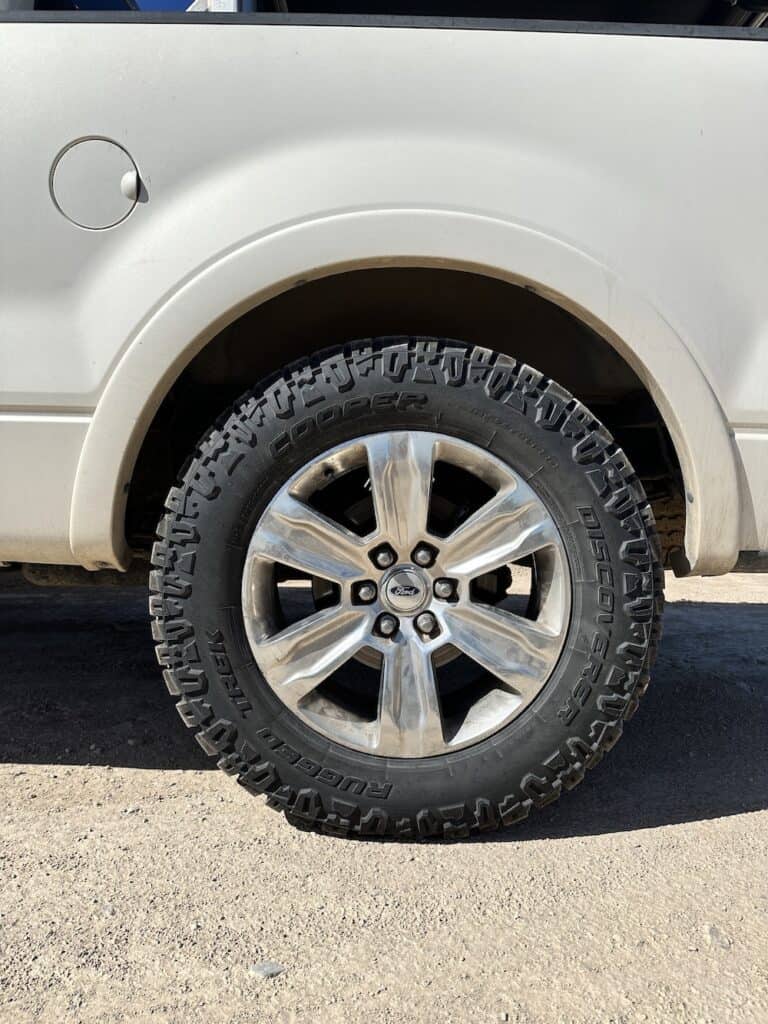 Enhancing Your Journey, Inside and Out
In a world filled with noise, the Whisper Grooves™ Technology of these tires offers you something truly valuable – a quieter ride. The reduced road noise translates to a more peaceful and enjoyable experience, whether navigating traffic or escaping into the wilderness. It's about savoring every moment in the cabin and out on the open road.
Personalize Your Ride
Your vehicle is an extension of your personality; the Discoverer Rugged Trek recognizes that. With the option to choose between the Cooper Knife-Edge and Mountain Pass sidewall designs, you can add a touch of individuality to your truck. It's not just about the looks; it's about expressing your unique style and passion for adventure.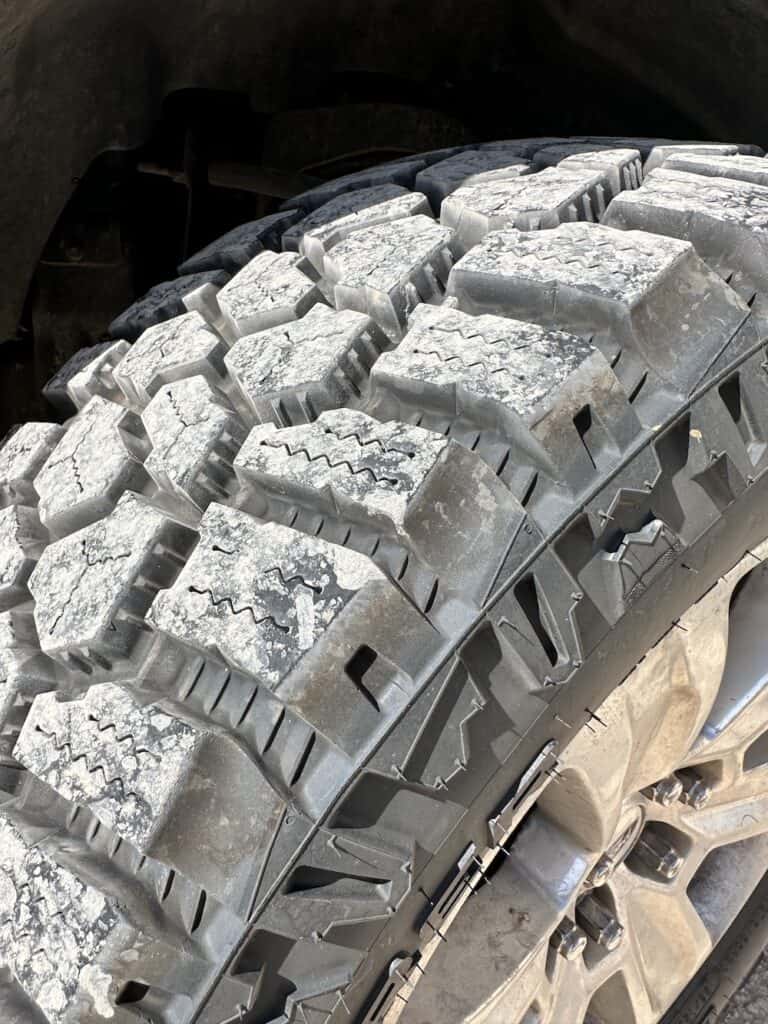 Crafted for Your Lifestyle
Tailored to the demands of a modern adventurer, the Cooper Discoverer Rugged Trek is the result of a brand's commitment to understanding your needs. It's not just a tire; it's a statement that Cooper values your desire for practicality and excitement. Whether on your daily commute or embark on weekend camping and hunting trips, these tires are engineered to be your reliable companion, supporting every aspect of your journey.
A Warranty You Can Trust
Cooper's Treadwear Protection Warranty, extending up to 60,000 miles, is a reflection of the brand's confidence in the Discoverer Rugged Trek's durability. As you traverse various terrains, you can have peace of mind knowing that these tires are designed to stand the test of time, ensuring you enjoy many more adventures.
The Cooper Discoverer Rugged Trek SUV and truck tire is the embodiment of a contemporary lifestyle that seamlessly combines work and play. For the millennial driver who seeks a balance between daily commuting and weekend adventures, these tires offer a solution that caters to both needs. With its versatility, performance, and thoughtful features, the Discoverer Rugged Trek is not just a tire choice; it's an investment in enhancing every facet of your journey. Elevate your experiences and embrace the spirit of exploration with the Cooper Discoverer Rugged Trek.