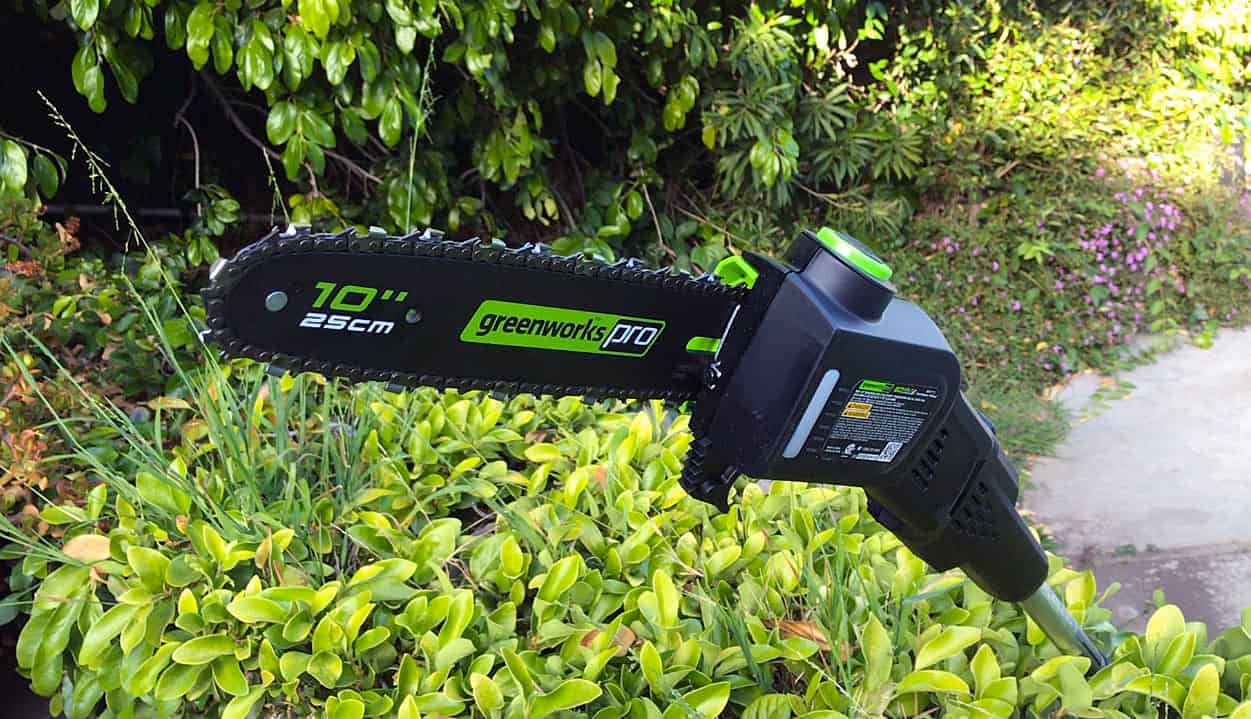 You never think you need a pole saw until you really need one. We've been using a pole pruner for years, but our new home has beautiful 15-foot hedges that are totally overgrown and require the power of a pole saw.
We took the 60V cordless Greenworks pole saw to task and it finished the job in less than one charge. If you've got a large yard with a ton of foliage, a pole saw makes a great investment and here's why.
Safety
The number one household injury is from falling off a ladder. As much as you can avoid using a ladder at home, the better off you are. A pole saw eliminates the need for climbing a ladder to access those hard to reach branches while trying to operate a pruner or chainsaw.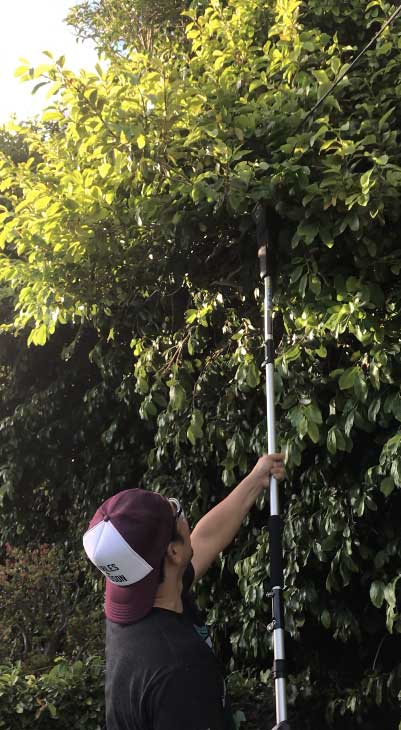 The Greenworks 60V pole saw extends to 9-feet which provides up to 12-feet of reach for most people. We use it on our hedges, but it also works great on our orange tree which has much thicker branches.
Always remember to wear eye protection, as debris will fall on you and possibly your face. Gloves and long sleeves are also recommended as I learned the hard way after scratching myself up a bit.
No Gas
The beauty of the 60V Greenworks lineup is that you get instant power without the hassle of dealing with gas and oil. With no fumes and way less noise, you'll finish the job feeling healthier and less exhausted, plus your neighbors won't have anything to complain about.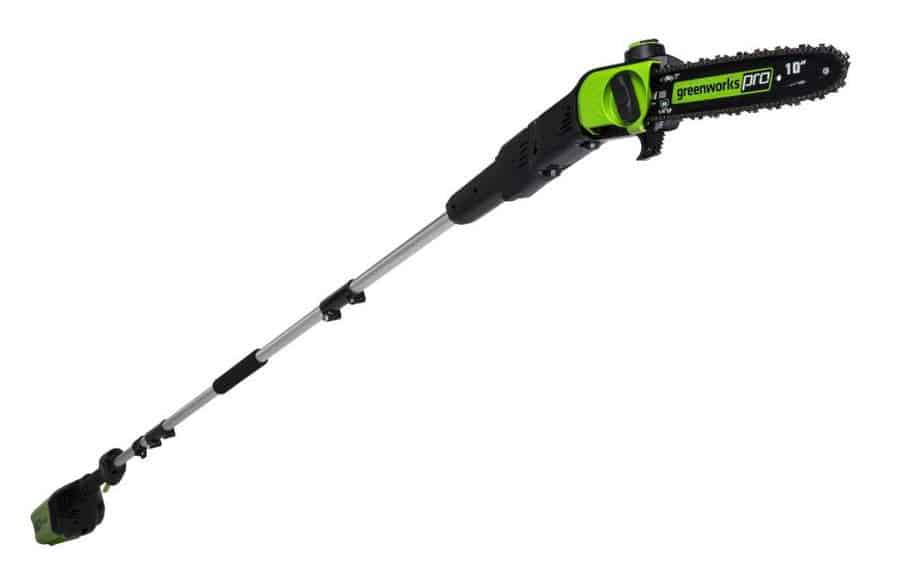 Speed
A pole saw is much more effective at trimming larger branches than a standard push and pull saw. Manual pole saws can be exhausting to use and big jobs can double or triple in time. The only tradeoff is weight, but since you'll be spending less time working you'll finish the job less fatigued. The 10-inch chainsaw bar really helps you cut the hard to reach spots, but it's not so long that it's unwieldy.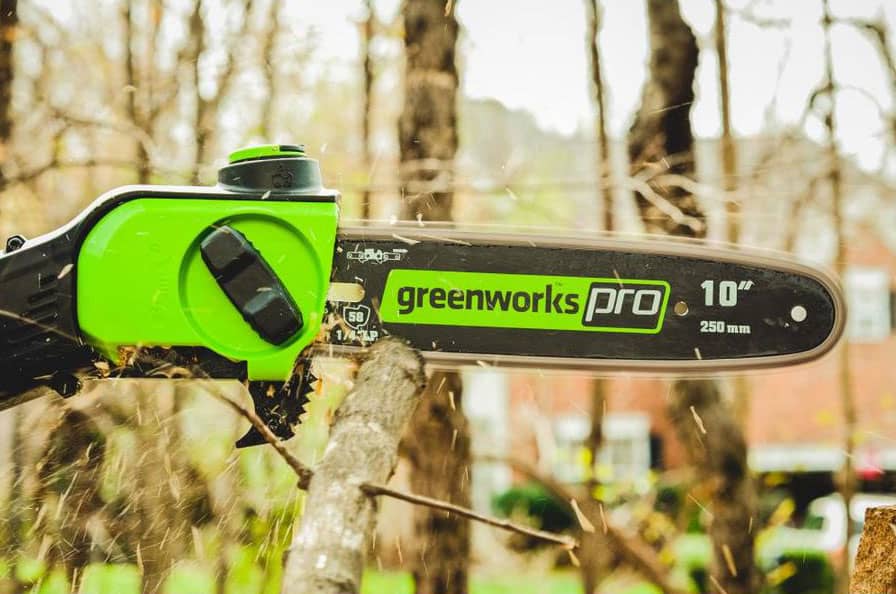 Low Maintenance
Most of the maintenance of a gas powered chainsaw stems from keeping the engine in good running condition, but since this pole saw is battery-powered you only have to take care of the chain.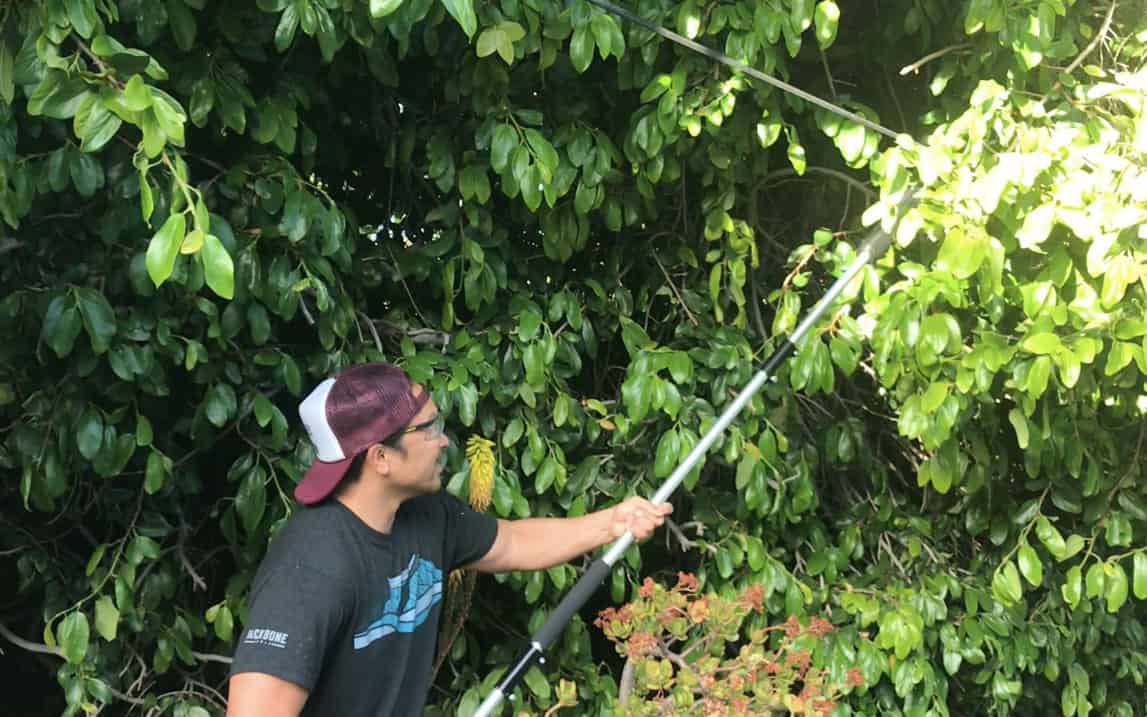 Maintaining the chain on the Greenworks pole saw is a simple proposition. Before using your saw you'll need to fill the chain oil reservoir which automatically keeps the chain lubricated during use. The handy see-through cap helps you keep an eye on the level and it's always best to check it before every use.
Check the tension on your chain by pulling down on it slightly from underneath the bar. It should snap back into place, but if it doesn't you can adjust the tension using the included tool. Chains will expand over time, so in addition to checking the chain oil, do the snap test before every use.
Greenworks 60V System
The Greenworks pole saw is powered by their prosumer 60V battery, which can be used on more than 10 other tools including their lawn mower, blower, hedge trimmer, and chainsaw. The included 2.0 Ah battery makes 80 cuts on 4 x 4 treated lumber with one charge, so imagine how long it will last cutting smaller branches.
The Greenworks 60V pole saw is available online.