In April I had the overwhelming pleasure of being included on the VIP Press Tour of the Coverings Tile show, an international trade show for all facets of the tile and stone industry, held in Orlando, Florida. For three days I was immersed in the world of tile, and I brought back just a tiny snippet of the expo to share with you.


I'll be honest, there was so much amazing tile, it was hard for me to process it all. I did manage to notice four major points of interest when it comes to the design of new stone and tile products — I wouldn't call them trends, but more undercurrents that appeared to run throughout all of the nations represented at Coverings.
1) Graphic Tile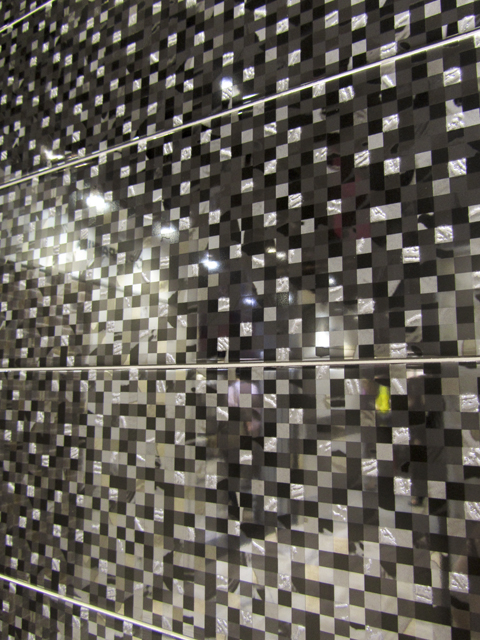 There was plenty of tile at Coverings with a very graphic feel to it — from the pixelated mosiac tile you see above, to large 9″ by 14″ planks made to look like worn-away vintage billboards, complete with graffiti. There was tile printed to look like wallpaper and tile with embossed city skylines on it. Every where you turned, there was a tile to make a bold, dramatic statement using graphic elements — even most of the QR codes for the show were in tile!
2) Intricate Moasics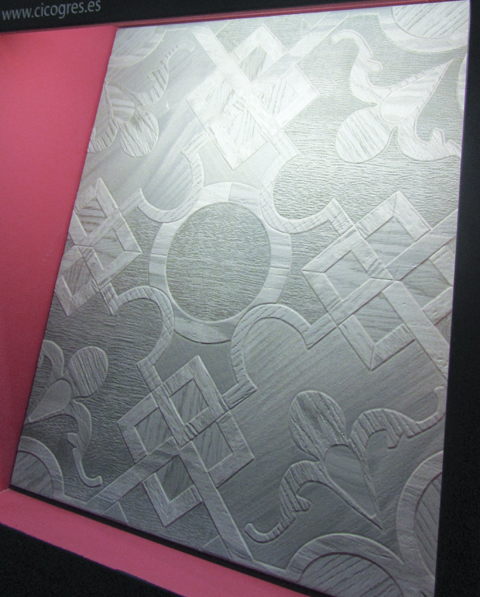 Another strong showing was intricately-laid mosiac tile, like this amazing piece found at the Tile of Spain booth. Mosiac tile has come a long way in terms of ease of installation and colorways, but with new technologies for cutting natural stone tile, the options have truly expanded.

3) Gemstone Tile


I'm not going to lie, I about died when I saw this wall, as amethyst is my birthstone. These tiles are made from a cross-cut of geodes, then laid in a tight pattern to create a truly unique and breathtaking display. If real stone is out of your budget, there are plenty of digitally printed ceramic and porcelain options made to look like onyx and agate that are equally as breathtaking to see.
4) 3D Tile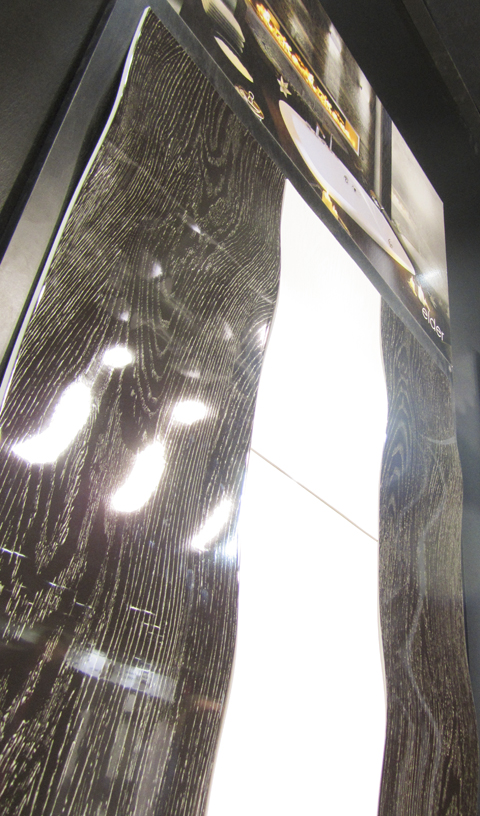 Another hot development is the use of three-dimensional tile for accent installations. Some tiles, like above, coordinate with floor products to create seamless depth and intrigue, while others focused more on textures from fabric to geometric.
The overall theme in the tile industry appeared to be "go big or go home" and I could not be more impressed with the innovations being made in the tile and stone industry. Thanks so much to Coverings for allowing me this fabulous opportunity to gawk at gorgeous products while making me feel at home!