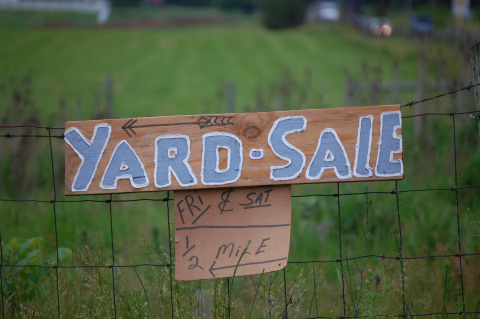 How fun is it to scour through someone else's junk looking for that perfect piece or vintage find? Sometimes you hit the jackpot and uncover a diamond in the rough (how's that for cliches?). There's plenty of good junk out there, especially for your home – from decor to furniture and replacement parts.
But there is a certain way to shop garage and yard sales that makes success more likely.
Do You See What I See?
Keep your eyes open. Like really open. Look beyond what's right there in front of you
Would that art print look fantastic out of its plastic bronze frame? Does that chair have a solid frame and decent padding underneath a terrible paisley print? Can you salvage the hardware, glass or frame from that old window or door?

Stuck In the Present
And don't keep your mind set on your current space or decorating scheme. Consider each piece in its own merits and you'll be surprised at what can be done with discards. Redecorate on a tight budget with yard sale finds and a little elbow grease.
Break It Up
Think about items in terms of their parts. Huh? It goes like this.
When you see a work bench or a beat up cabinet for sale, break it up in your mind. Are the doors usable? What about the hinges and knobs? What are they worth to you?
Does the work bench have a strong frame or an expansive peg board or a smooth drawer system? Value the find based on its parts or what you could do with them and then barter accordingly.
Take All the Time You Need
If you have lots of time to wander around, by all means do it. Look under the tables, around the corner, even in the garage. Snoop. These people are laying their left overs out on the driveway and front lawn – they're almost expecting you to poke your nose in their business.
Get out of the house early. Serious yard sale shoppers, like the antique dealer crowd, are up with the sunrise and might steal those treasures from under you. Make some coffee and take breakfast to go, but get moving.
Somewhere out there your new hands-on repair project is just waiting.
If you are planning to share your own treasures we've got 11 yard sale tips that will guarantee big sales.
photo courtesy of Kathleen M – sxc/snowflake5