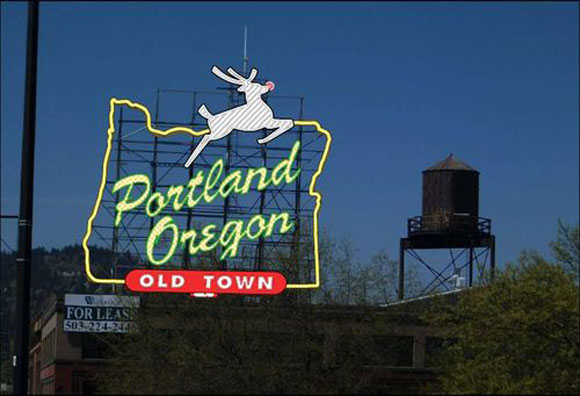 We lived in Seattle 14 years ago and loved it! It was our first year of marriage and we chose Seattle as a fresh start. We knew no one and wanted to live in a place completely different from the desert climate of the Southwest where we had been raised. Seattle was more affordable than NYC or SF so we headed North.
We made great friends and even though it was the rainiest season on record, we grew to appreciate the overcast skies, constant drizzle and generally gloomy weather.
Portland wasn't on our radar at that time and I know it's changed a lot in 14 years but our day trips to Stumptown left us happy with the decision we made to live in Seattle.
Fast forward to today and after a weekend in this amazing city we have come to love it! After eating some amazing food and meeting the friendliest people we understand why Portland doesn't mind being a bit off the radar as it doesn't want to get too popular!
We are staying at Hotel Lucia which is a chic boutique hotel but without any pretension. The staff is very friendly and the hotel is at the heart of downtown and in walking distance of everything. The only drawback are the small standard rooms and cost of valet parking but we know that's the trade-off for staying downtown.
On Friday I spent a day with NexGen turf research and Pennington Seed. They shared
"the art of seed technology" with a select group of media and bloggers. I'm posting a follow-up later this week but apparently the Willamette Valley is not only the perfect climate for wine vineyards but also grass seed as it produces roughly 64% of the world's grass seed. This makes it a true American industry.
Tomorrow we are visiting Pendleton Woolen Mills which is also an American Made success story as they've been producing wool blankets and clothing from the same Oregon textile mills for more than 100 years. We can't wait to share more of their story and photos.
Modern companies that have followed the path making the Portland area their headquarters include Nike and Columbia and we can understand why. The tax friendly business environment and a higher than average college educated population have propelled those companies to stratospheric heights and the quality of living here seems very high.
We took a day and drove to the Oregon coast and visited Cannon Beach and saw the iconic Haystack Rock and then went North to Astoria, OR which is one of the oldest cities on the West coast. It also is where the film The Goonies was made which to us is a classic.
Portland leads the way in progressive and vintage hardware stores and we've got this handy DIY City Guide for Portland which includes their tool library which is second to none.
The plethora of walkable neighborhoods and nature at your fingertips has us already planning our next visit. For now we'll have to enjoy the absurdity of Portlandia which already had hooked but we get it even more.