Anyone out there watching "Parenthood?" It's one of our favorites right now, but we especially love that one of the characters, Crosby (played by Dax Shepard) is currently renovating a newly purchased home as a way to win back his ex-fiancee, Jasmine (played by Joy Bryant).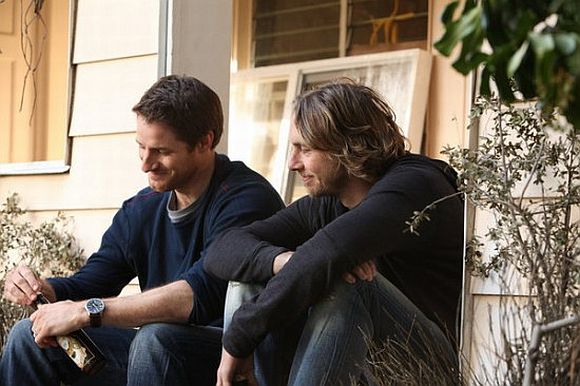 His family members are skeptical as to if his plans will succeed (except Joel, shown above, Crosby's brother-in-law who is also an experienced builder), but you know us — we love anything with a DIY sub-plot. And the more you think about it, DIY can be a great way to unite a couple. It's a fitting analogy for working through the debris and clutter of your past to build something new and shiny that's representative of your future together.
And if you get angry during the process? It's nothing some demo or hard labor can't cure–at the end of the day, you'll be so exhausted you won't even remember what that silly fight was about!

And one of the greatest things about DIY is the sense of pride you feel when you're done with a project. We don't care if it's something small, like a new coat of paint, or big, like an entirely new kitchen. Tackling–and accomplishing–something yourself always feels like a huge victory, and is even better when you take on that task with a loved one.
What say you, C&H readers? Do you watch "Parenthood" and, if so, are you fans of this DIY sub-plot? If not, do you think DIY can be a relationship builder?
Photo courtesy of www.fansmaniac.com