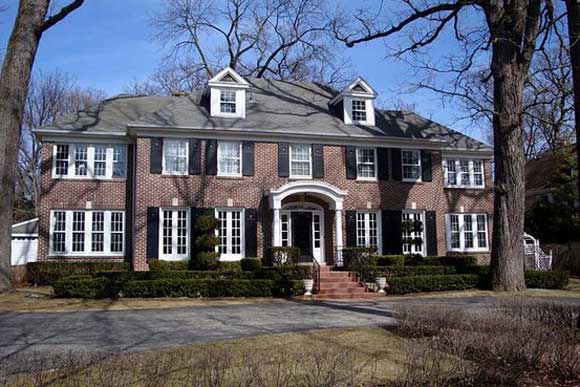 If you're a true Matthew Gray Gubler fan you'll know one of his favorite movies is Home Alone. Do you think he should buy this house and create his own house of horrors? We're sure he could top what Kevin did. He'd also do a nice job decorating this house for Halloween if it's anything like his previous ghoulish designs.
The home that was the setting for the entire Home Alone movie, one of the greatest Christmas movies of all time, is now for sale and has been listed at $2.4 million. It's the first time the house has been on the market since the film debuted in 1990.
Now's your chance to buy a piece of cinematic and Christmas history.
More from the Wall Street Journal:
The home is located in Winnetka, Ill. and the sellers, Cynthia and John Abendshien, had no ties to the movie business before their house starred in the blockbuster film. They've owned the house since 1988. "We're both empty nesters, and it's really more house than we need or utilize," says Mr. Abendshien, who owns a consulting firm that caters to the health-care industry.

Marissa Hopkins, a broker with Coldwell Banker Residential Brokerage who has the listing, says she's not yet sure if the home's movie fame will help it command a premium with potential buyers. Unlike other houses that have appeared in films, she said, "this home is almost like a character."
In "Home Alone," 8-year-old Kevin McCallister, played by Macauley Culkin, is accidentally left behind when his large family travels to France for Christmas. He ends up defending his house against two burglars, played by Joe Pesci and Daniel Stern.
The Abendshiens say aside from people occasionally driving by to snap a picture, their house hasn't become a big tourist draw. A few years ago, Conan O'Brien filmed a segment at the house re-enacting the window break-in scene from the movie.
The 4,250-square foot Georgian brick house has four bedrooms and five bathrooms and is situated on a half acre. Originally built in the 1920s, it has been renovated several times since Macauley Culkin sledded down its staircase. The master suite has four rooms, including a sitting room, sun room and fireplace.
The Abendshiens say they were first approached by a location scout who worked with filmmaker John Hughes. First, they were asked if they if the movie "Uncle Buck" could shoot at a house they owned before their current one. At the time, they were trying to sell it, and declined the offer because they didn't want to take it off the market for several months during the shoot.
After they moved into their current house, the couple was approached about a second film, "Christmas Vacation," which they decided to turn down, this time because they were renovating. When they were approached later for "Home Alone," they decided to accept.
"We liked the script," said Mr. Abenshien. Adding that his wife Cynthia was drawn to the film's family-friendly message and "had an instinct that it would be a blockbuster." (The film grossed more than $500 million worldwide.)
The film shoot lasted nearly five-and-a-half months, and took place both inside and outside the home. "They were very present at all times," Mr. Abenshein said of the film's cast and crew. "During that time, we had virtually no privacy. But having said that, they became like family."
Their daughter Lauren, who was about eight at the time, often played in the backyard with the film's then 10-year-old star, Macaulay Culkin, when he had breaks from shooting.
The Abensheins say the film's crew built replicas of the couple's furniture, and changed the décor in a few rooms (plaid wallpaper was added in the living room, a hand-painted dining room mural in the home was covered with temporary paneling.) A mock-up of their home was also built at a sound stage nearby so some scenes could be shot off-site.
Mr. Abendshien said the fee they were paid for giving their house over to the movie shoot "wasn't a large enough amount to stick in my head."
Though they enjoyed their time living on a movie set, the Abendshiens say they probably wouldn't be interested in shooting other films at their home. "But I'd say to anybody who is considering it, it can be very educational, very enlightening and a lot of fun."