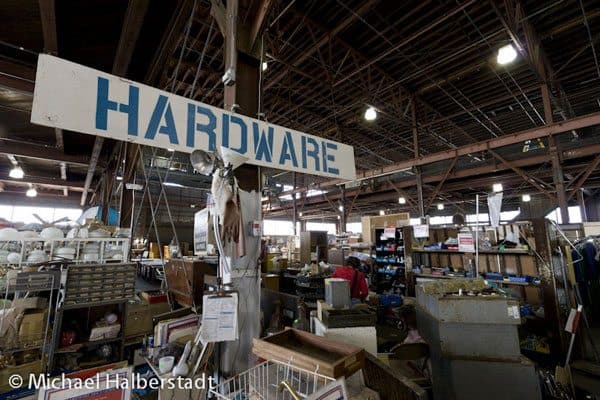 The San Francisco bay area has a rich tradition of diy ethos. Residents take pride in their homes and environment which is unique to any other part of the country. Two of our favorite magazines were born there, ReadyMade and Dwell. It's no wonder there are so many housebloggers in the region who are fortunate to have a plethora of diy resources at their fingertips.
It seems the best value is found in Oakland & the East Bay so thanks to Gene of DIY Insanity we've got your diy needs in the East Bay covered. For other cities check out our complete list of DIY City Guides.
Let us know if we've missed any hidden gems in the comments or you feel a vendor review needs adjusting.
Hardware Stores
Markus Supply Ace Hardware 510.832.6532
625 3rd St., Oakland, CA 94607
When you just need some basics, your nearest hardware store is your best bet. But if you need a wider selection of items but don't want to go to the box stores, Markus Hardware may have what you need.
Ace Ellis Hardware 510.653.4365
5424 MLK Way, Oakland, CA 94609
If you're looking to browse the aisles, head somewhere else. Ellis Hardware has most of what they sell on huge shelves behind the counter. Describe what you need, and they'll get it for you, or tell you where you can if they don't carry it.

View DIY Resources in a larger map
Salvage Stores
Habitat ReStore 510.777.1447
9235 San Leandro St., Oakland, CA
The Habitat ReStore is a great resource. You can buy new and used building supplies for less, and your purchases support Habitat's mission of eliminating poverty housing worldwide, and useful items that might otherwise be discarded are made available.
ReUse People 510.383.1983
9235 San Leandro Blvd., Oakland, CA 94603
The ReUse People specialize in deconstructing buildings so the materials can be used again. Not only do they have doors, windows, cabinets, etc., but they've got reclaimed lumber and some one-of-a-kind architectural elements, too. If all that wasn't enough, they're next door to the Habitat ReStore, so you can check both places with one stop.
Urban Ore 510.841.7283
900 Murray St., Berkeley, CA 94710
Urban Ore is not just a source of salvaged building materials like windows, doors and sinks, it's a treasure trove of all sorts of things that can be salvaged or repurposed. It's all part of their goal of "ending the age of waste."
East Bay Depot for Creative Reuse 510.547.6470
4695 Telegraph Ave, Oakland, CA 94609
The East Bay Depot for Creative Reuse is an ecological treasure trove of art & craft materials, educational supplies, vintage furniture, home decor, paper goods, fabric and more. The mission of the East Bay Depot is to divert waste materials from landfills by collecting and redistributing discarded goods as low-cost supplies for art, education, and social services
Green Stores
EcoHome Improvement 510.644.3500
2617-2619 San Pablo Ave., Berkeley, CA 94702
EcoHome Improvement has a wide variety of green building materials, including cabinets, countertops, paint and flooring. EcoHome Improvement has a friendly and knowledgeable staff, who are always looking to add more items to sell. They consider not just the manufacture of materials but the transportation of them and other factors, as well. While many of their items are expensive, realize they're also high-end items, so don't compare, for example, Vetrazzo countertops (which are made here in the Bay Area in Richmond) with laminate countertops from a home improvement chain.
Learning DIY
Building Education Center 510.525.7610
812 Page St., Berkeley, CA 94710
The Building Education Center teaches a wide range of courses, from Landscape Watering Systems to Installing Windows, Doors and Skylights, plus hands-on workshops like Electrical Wiring and Stucco Repair. Or take it all in with the Homeowners Essential Course, a 2 month, 17 session course that covers just about everything about building, repairing and maintaining a home.
Habitat for Humanity East Bay 510.251.6304
2619 Broadway Oakland, CA 94612
You may be asking yourself, "why is Habitat on this list?" Habitat for Humanity is a non-profit dedicated to eliminating poverty housing worldwide, building houses with mostly volunteer labor. They don't just hand you a hammer and let you loose, though. Habitat East Bay instructs volunteers with what they need to know to build safely and correctly. It's also one of the greenest Habitat affiliates in the country, so there are opportunities to learn about green techniques and technologies, too. I've volunteered with Habitat for more than 13 years, and largely with what I learned there, I designed and built the addition to our house that's chronicled here on DIY Insanity.
Lumber Yards
Piedmont Lumber 510.658.1826
351 40th St. Oakland, CA 94609
Piedmont Lumber is a full-service lumberyard, with lumber, drywall and and other building supplies. And they've got a classic sign.
Economy Lumber 510.261.6100
750 High St., Oakland, CA 94601
Economy Lumber is another full-service lumberyard. Besides all the basic building materials, they've got a window and door showroom where you can order windows and doors of all sorts.
Plumbing Supply
Moran Plumbing Supply 510.652.7437
415 40th St., Oakland, CA 94609
Just up 40th from Piedmont Lumber, Moran Plumbing Supply carries everything for plumbing, from pipes of all sorts to sinks and toilets. They've got a helpful, knowledgeable staff.
Rubenstein Plumbing Supply 510.444.6614
2800 San Pablo Ave., Oakland, CA 94608
Rubenstein Plumbing Supply is another good plumbing supply place. I bought our dual-flush Toto toilet there.
Tool Libraries
Oakland Tool Lending Library 510.597.5089
5205 Telegraph Ave, Oakland, CA 94609
The Oakland Public Library system has a great tool lending library in the ground floor of the Temescal branch. There are a wide variety of tools you can borrow for free. Open to Oakland, Piedmont and Emeryville residents.
Berkeley Tool Lending Library 510.981.6101
1901 Russell St., Berkeley, CA 94703
The Berkeley Public Library system's tool lending library at the South Branch. Open to Berkeley residents and property owners.
photo: JessicaReeder East Bay Depot for Creative Reuse