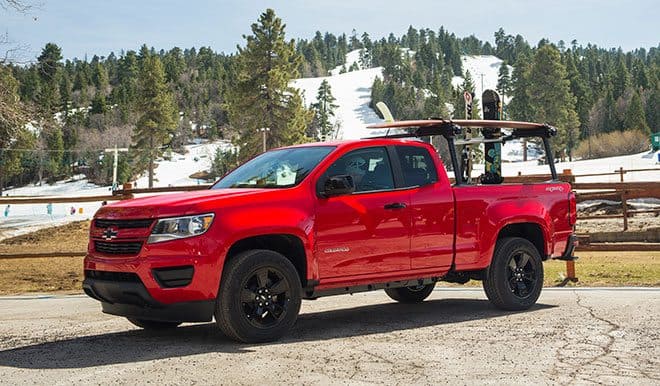 The Chevy Colorado took the mid-size truck category by storm last year and won the Motor Trend Truck of the Year award in 2015. They followed up that win with the same award for 2016 due to a new 2.8L Duramax turbo-diesel engine that gets 31 mpg on the freeway. A statistic that is unmatched by any truck in any class. We joined Chevy for a day of adventure as they introduced a special edition Colorado Shoreline package, and set us up for a day surfing and snowboarding with pro surfer and Fiji maestro Damien Hobgood and leading motocross gear company Fox Head Inc.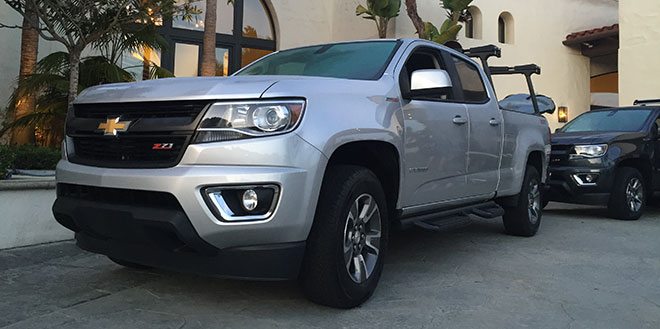 Colorado Shoreline Edition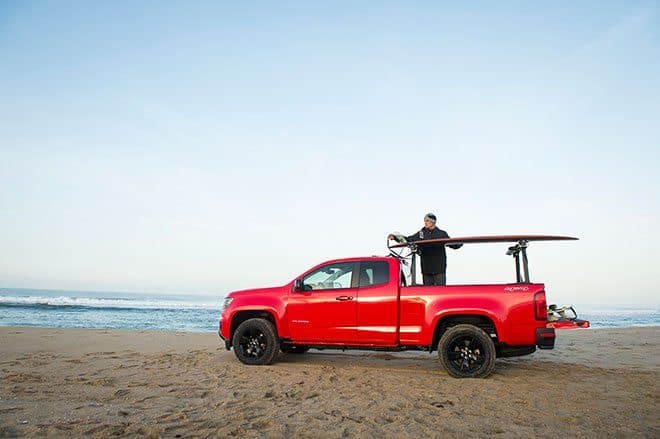 We started the day loading up our 2016 Chevy Colorado with surfboards, skis, snowboards, and gear and headed to Huntington Beach. It was a sloppy day out with multiple crossed up swells and a strong current, but Damien still shredded and we checked out the 2017 Colorado Shoreline. The new Shoreline is designed to appeal to a younger aftermarket crowd that loves customizing their truck with bright paint, blacked-out wheels, and a minimal amount of chrome. It's definitely a head turner and a truck my 25-year old brother would love, but we prefer the extra cab, Z71 4×4 with the Duramax turbo-diesel.
Chevy GearOn System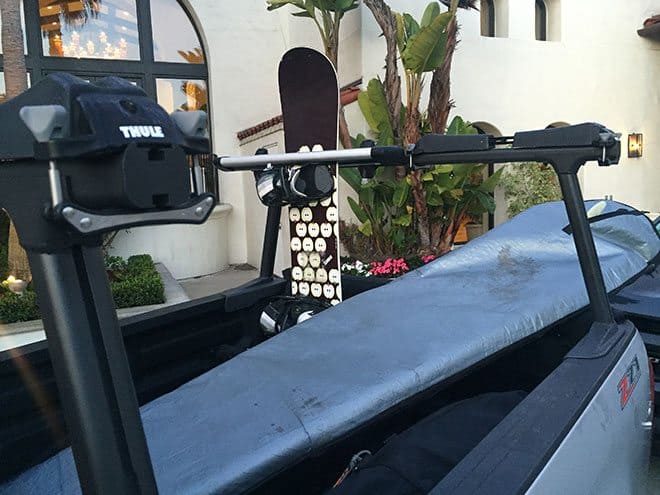 Our Chevy Colorado was equipped with the Chevy GearOn system that included Thule racks and accessories that come straight from the factory. With the Chevy Colorado you don't need to buy aftermarket racks and accessories, just order it when you buy your Colorado and you'll be ready to hit the surf or snow straight from the dealer lot.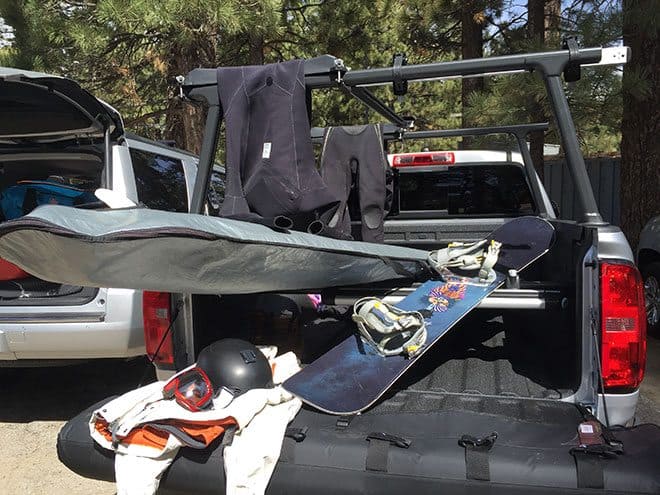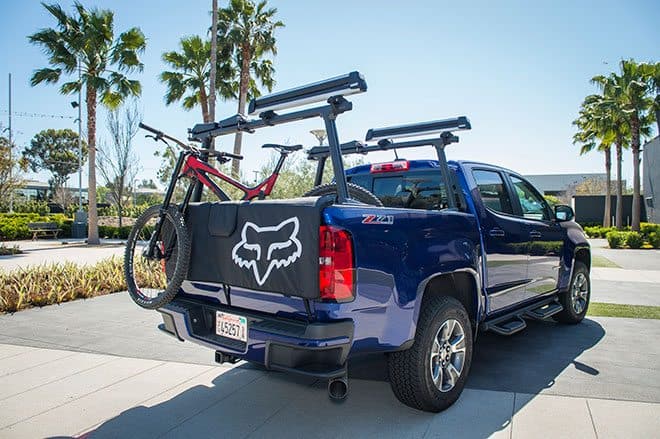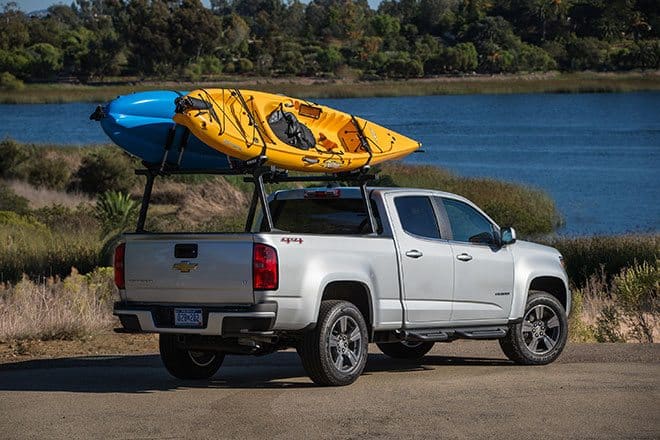 Our 9'2″ longboard fit in the bed of the truck and our snowboards were held secure by a locking Thule ski rack. There was still plenty of room for our gear bags and anything else we needed to toss in the bed or the cab of the truck.
The Drive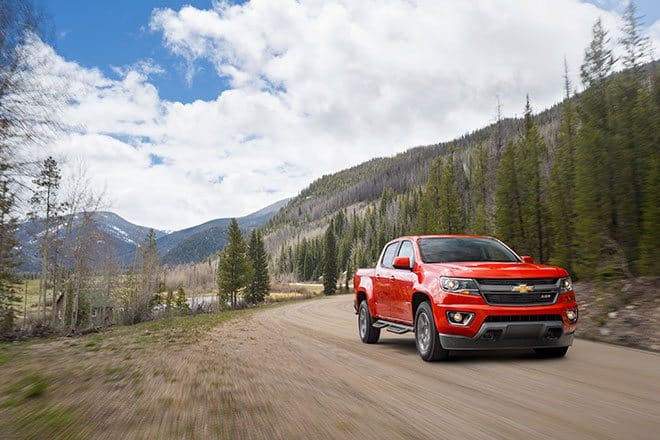 My daily driver is a full-size rig and although I've become accustomed to parallel parking in tight spaces and spending a lot on gas, I still love it. The Chevy Colorado definitely tested my allegiance to the full-size truck category, as I really enjoyed driving it on the freeways, up the mountain passes, and navigating parking lots. I never had a chance to even fill it up as we still had plenty in reserve after we returned from our trip. The available V6 might be more peppy but the turbo-diesel had plenty of power for what we needed. With the diesel we'd never worry about towing anything but the largest trailers and the exhaust brake feature is worth it's weight in gold when towing and descending over passes or down from a day in the mountains.
The tech these trucks sports is also impressive as the onboard navigation was spot-on and the OnStar system was ready to go. The WiFi became useful as we were in the mountains with out cell service but the WiFi in the truck still worked so we could still check our email and login via our smartphones or laptops.
Thanks to the great folks at Chevy, Fox Head Inc., and Damien for sharing their stoke on this truck. Chevy is truly innovating in a truck category that has long been dominated by Toyota and Nissan. It would make sense for them to continue to concede to them leaders but Chevy is aggressively building the Colorado to surpass their peers and bring a truck to market that fits the active lifestyle of many SoCal residents and action sports enthusiasts across the country.