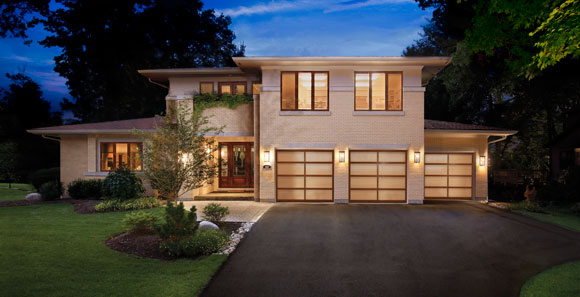 Earlier this month we discovered that a garage door replacement can net on average a 71% cost return on resale and is one of the top 5 home exterior improvements that give you the most bang for your buck.
If you've decided to take the plunge and replace your aging/ugly garage door, there are plenty of new models that will catch your eye.
We've teamed up with Clopay on this article and since they are the largest manufacturer of residential and commercial garage doors in North America we knew they'd have plenty of new product to show us that would be available in most markets across the country.
Clopay door styles are also very versatile and they have options that will work on any type of home style. We've lined up some garage door beauty shots from Clopay's various collections. I'm sure you'll agree that the upgraded doors make a huge difference in the exterior look of the home.
Coachman Collection
Carriage house doors are a very popular look and are quite versatile – they don't just belong on Victorian stye homes and these examples prove it.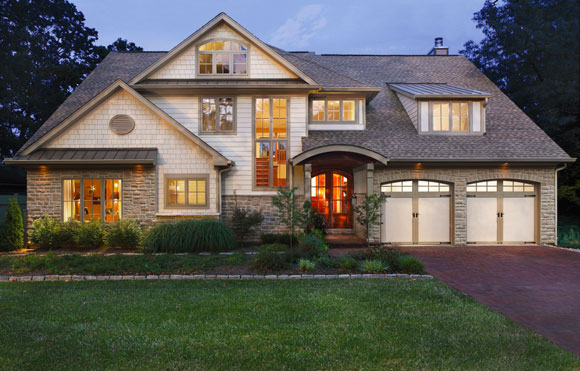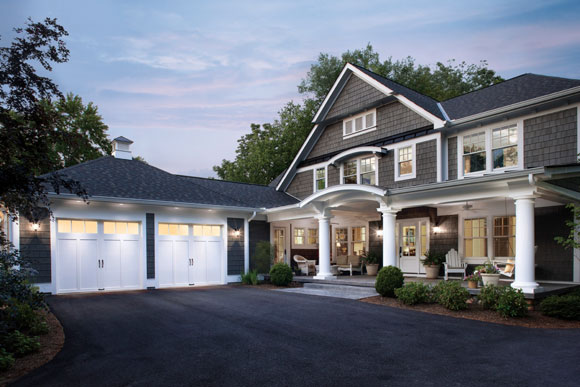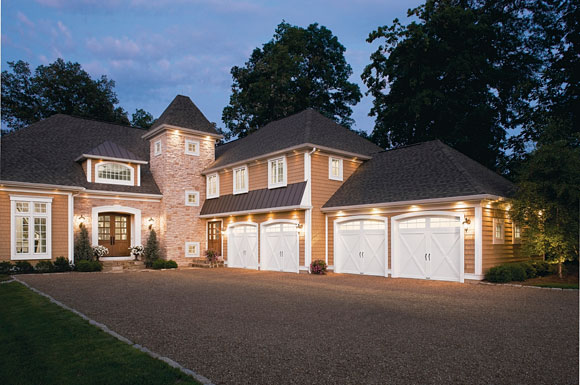 The Coachman looks like wood but is actually constructed of layers of steel and insulation topped with a woodgrain composite overlay to create the carriage house look — so it requires much less maintenance than a natural wood door. Decorative hardware and windows can be added.
Clopay is introducing a 2″ polyurethane insulated version in March. Polyurethane insulation provides maximum energy efficiency, dent resistance and strength. The R-value will be 18.4, which will help improve the comfort of rooms next to and above an attached garage.
Premium Series
This is a classic raised panel steel door. Steel is a durable low-maintenance material and offers the broadest range of insulation, color and price options. This door can be dressed up simply by adding decorative windows.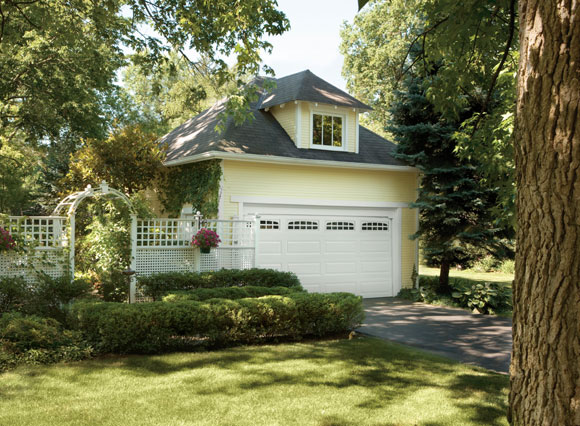 Avante Series
The Avante combines aluminum and glass in a sleek, modern design.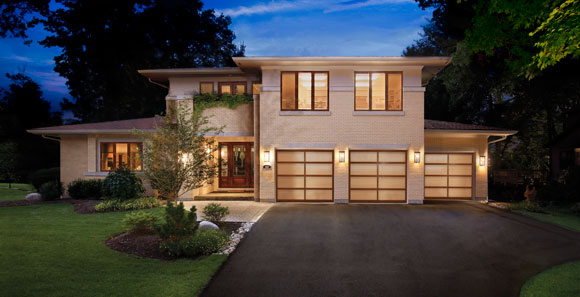 Homeowners are increasingly incorporating the crisp clean look of commercial and industrial design into their homes and with good reason. The Avante Collection's aluminum frame is incredibly durable and rust-resistant, making it the perfect choice for year-round exposure to the great outdoors.
Many glass options are available to control the degree of light transmission and privacy including clear, mirrored and frosted tempered glass. The frame is powdercoated in a variety of colors.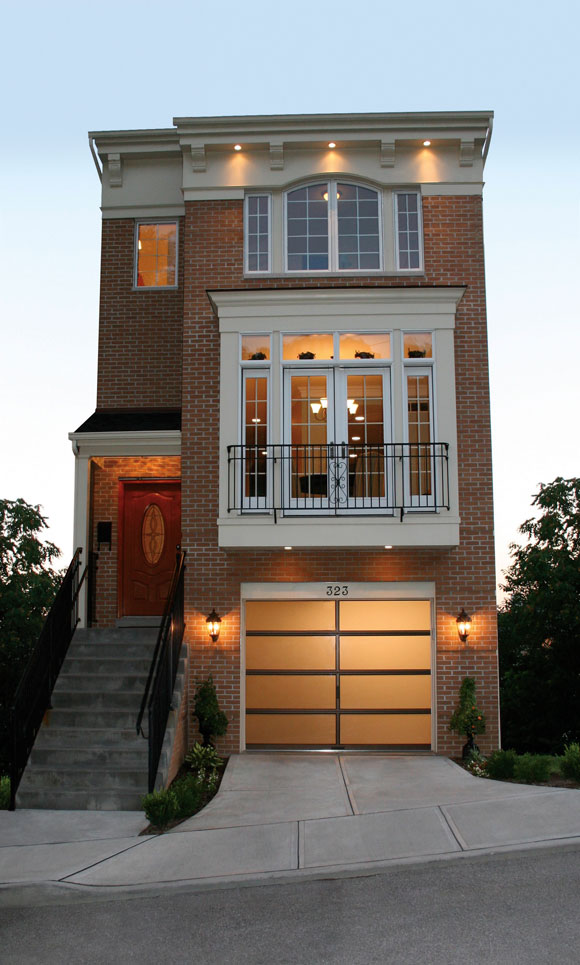 The Avante looks right at home on contemporary architecture as well as
on a more traditional style row house.
Canyon Ridge Collection
Advances in technology have allowed manufacturers to create incredibly realistic wood look doors without the upkeep, like the Canyon Ridge Collection.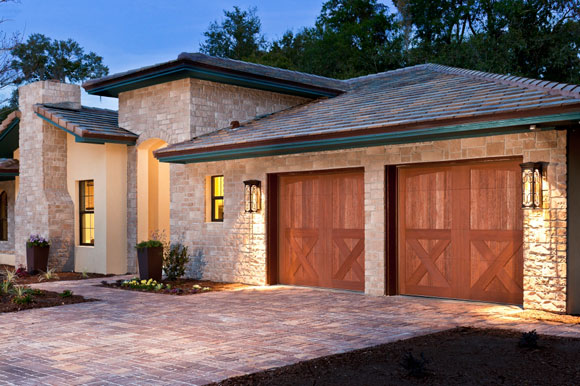 Constructed of an innovative, low-maintenance composite material that looks like wood, the Canyon Ridge Collection gives homeowners the best of both worlds: the realism and design flexibility of wood with the strength of an insulated steel garage door.
The faux wood cladding is molded from actual wood species to replicate its natural texture and intricate grain patterns. But unlike real wood, it won't rot, warp, shrink, or crack.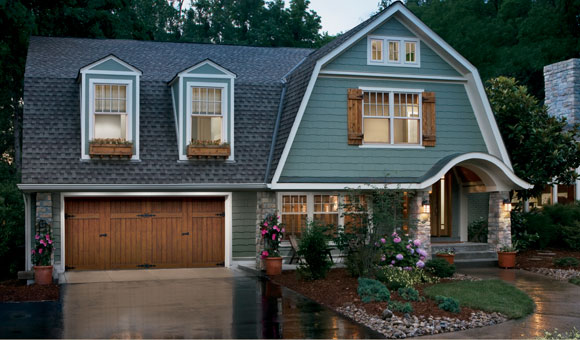 Durable, energy efficient and very easy to maintain, once installed, these doors are virtually indistinguishable from the real thing.
Another Clopay offering in the low-maintenance stained wood-look category is actually a unique multi-layer paint finish applied to steel doors called Ultra-Grain.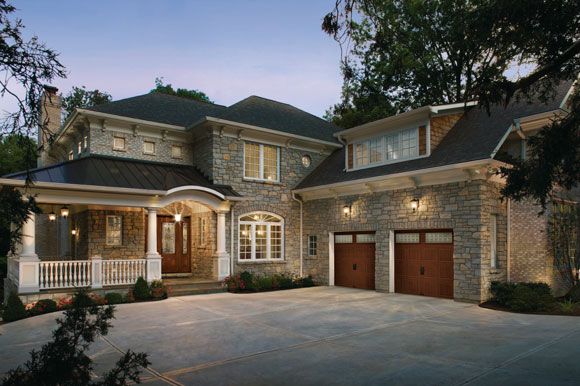 It is available on Clopay's Gallery Collection polyurethane insulated vintage style steel door and in March the company will begin offering it on the 3-layer, traditional raised panel Premium Series garage door.
It can also be applied to Clopay fiberglass entry doors for a coordinated appearance.
Wood Garage Doors
Wood doors offer the most character and design flexibility to create a one-of-a-kind door. The species and stain options are seemingly endless. However, wood requires more maintenance, depending on the climate and exposure.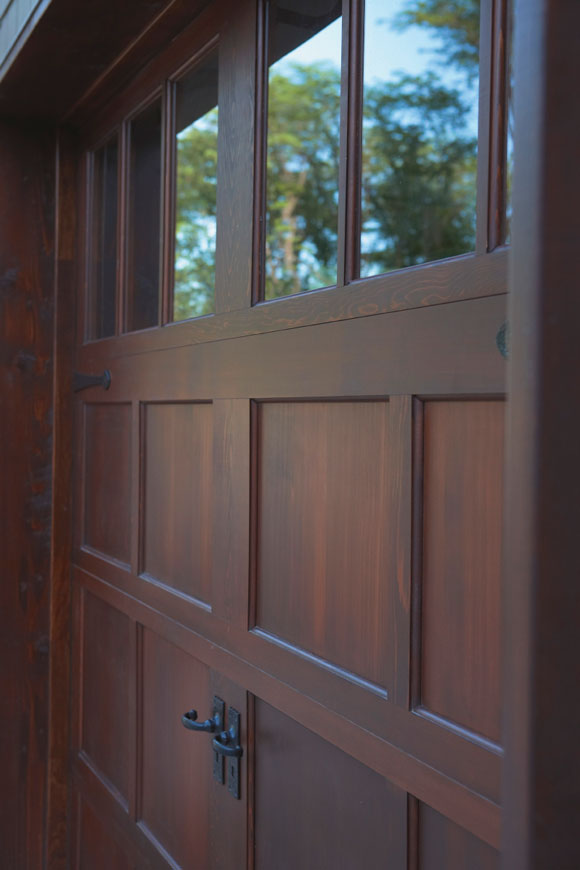 As you can see there are a lot of garage door design and material options available to fit any type of home. If you'd like more information on any of these door styles check out Clopaydoor.com or visit your nearest Clopay dealer.
Our next article will go through the process of actually shopping for a new garage door as there are some interactive tools that can make it much easier to visualize what a new garage door would like on you home.