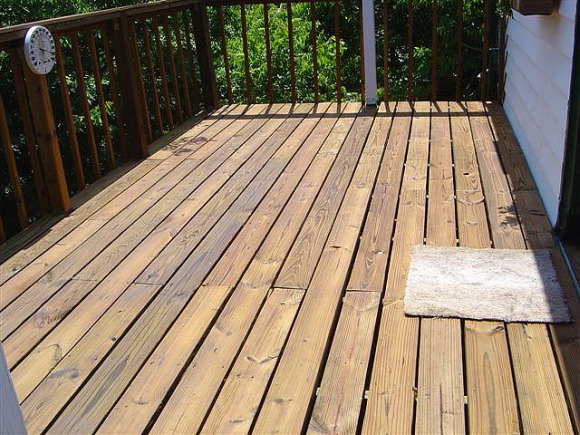 The cooler weather of fall is the perfect time to stain your deck. There may not be the same motivation without the sunny summer days to look forward to, but without that scorching heat a staining project can actually be fun.
Take advantage of cooler temperatures and skip this job in the spring by staining your deck now.
Be sure to give the surface a thorough cleaning beforehand. And make sure it is fully dry. If there's rain in the forecast that day, have patience. Wait for a clear, cloudless afternoon to get moving.

Supplies You'll Need
Stain Brushes (generally thicker bristles and wider than interior brushes)
Roller, Roller Cage and Tray (great for doing the deck boards, saves you time and back pain)
Tarps to cover the gardens nearby
High Quality, One Coat Stain in your favorite color
Refreshments and Pats On the Back for a Job Well Done

Tips for Staining
+ This is a good time to stain or paint your outdoor furniture as well. Because the heat of the sun won't beat down on you and your furniture (and decking) will stay protected over the winter, fall is ideal for this project.
+ While you've cleared the furniture off of your deck, give it a quick sanding, cleaning and staining. Protect the grass with one of your tarps.
+ Do the whole job (on the deck) in one day. Enough said.
+ Mop up any puddles as you go. This will reduce sticky patches and create a more uniform finish.
+ Sprayers may be fast, but they're messy and tend to waste stain. Use them if you must, but a staining job done by hand will be better looking and more durable.
There's still plenty of time to enjoy life on the deck. With a fresh coat of stain and some good friends, fall is also the ideal time for one last patio party.
Photo courtesy of flickr/JAHLUKA