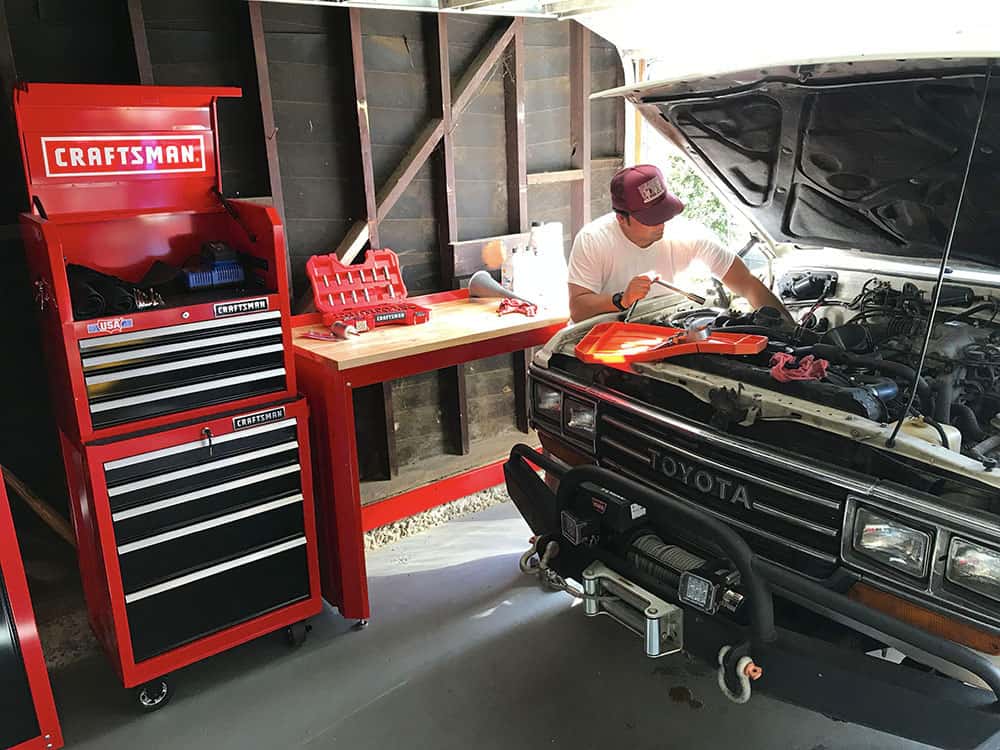 As a car and tool enthusiast day—finding proper storage is a never-ending challenge. So when Lowe's announced they're now the home for the CRAFTSMAN collection and invited me to check out the latest products, I jumped at the opportunity! My all-time favorite tool chest is a Craftsman stainless steel beauty I won in a DIY mailbox build-off a few years ago. Although I do like the stainless steel look, I've also missed the iconic Craftsman red.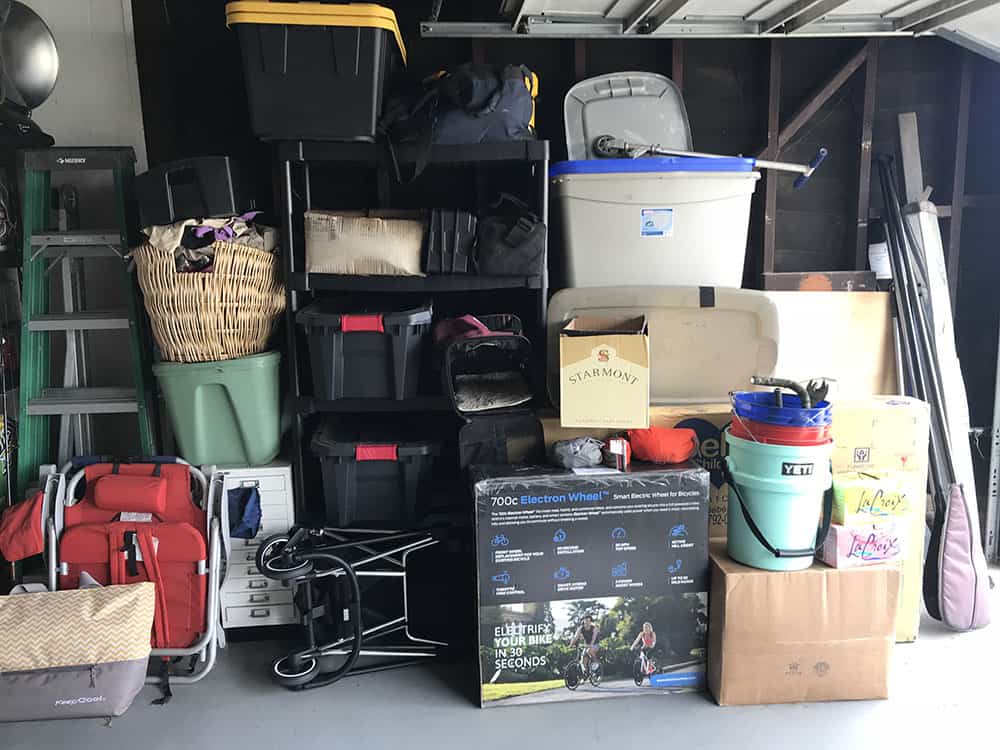 To celebrate the new partnership between Craftsman and Lowe's, they asked me to pick out some of my favorite pieces from the collection. The timing couldn't have been better, as I was considering treating myself to a Father's Day garage workshop makeover, since our garage has remained a mess since we moved into our 1940 home five months ago. While the modest sized garage is big enough to fit my wife's 1983 Mercedes-Benz 300D, there's no way my 89 Land Cruiser makes it in. I still like to wrench on both vehicles in the driveway and I've been lacking a proper work table to do so, as well as a full-featured mechanics tool set.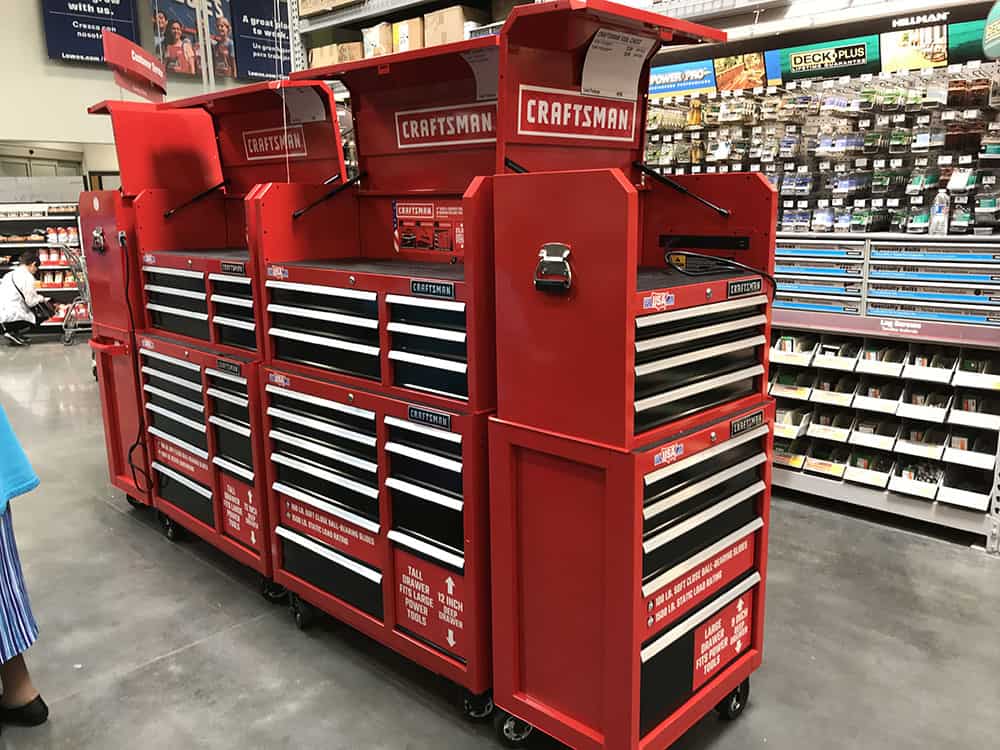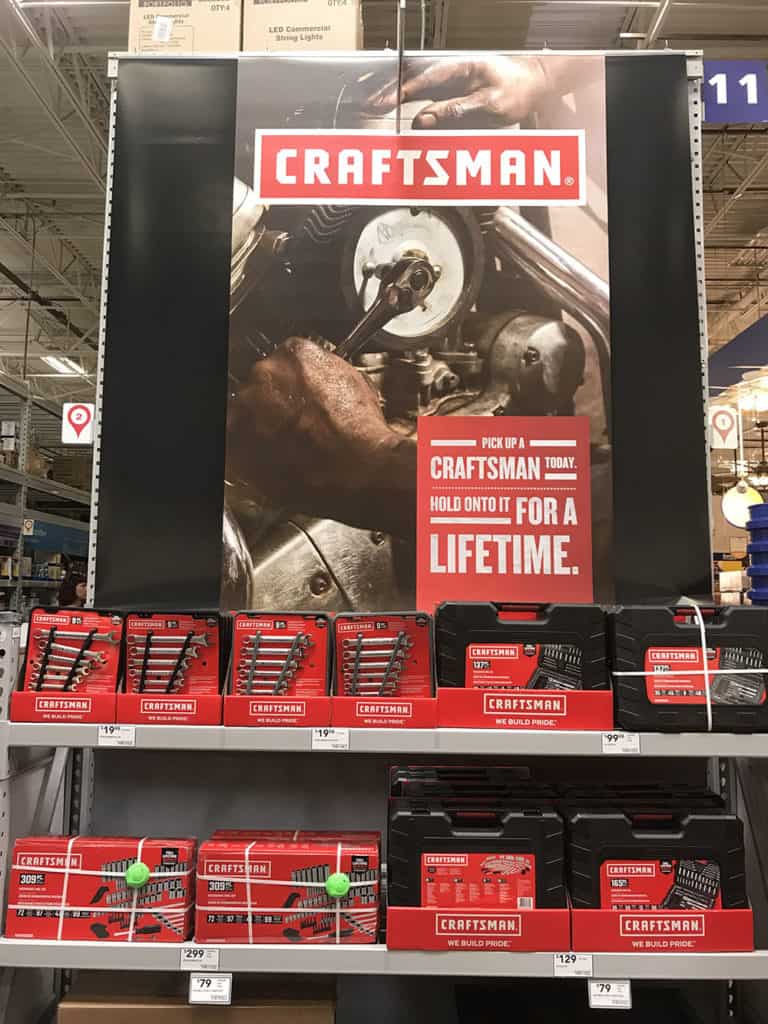 Our local Lowe's has the full suite of new Craftsman products to check out. From the wide variety of Craftsman tool storage and tool boxes, to the tool sets, and work tables, Lowe's has everything a homeowner would need to set up their dream workshop that can fit any budget! Perfect for Father's Day.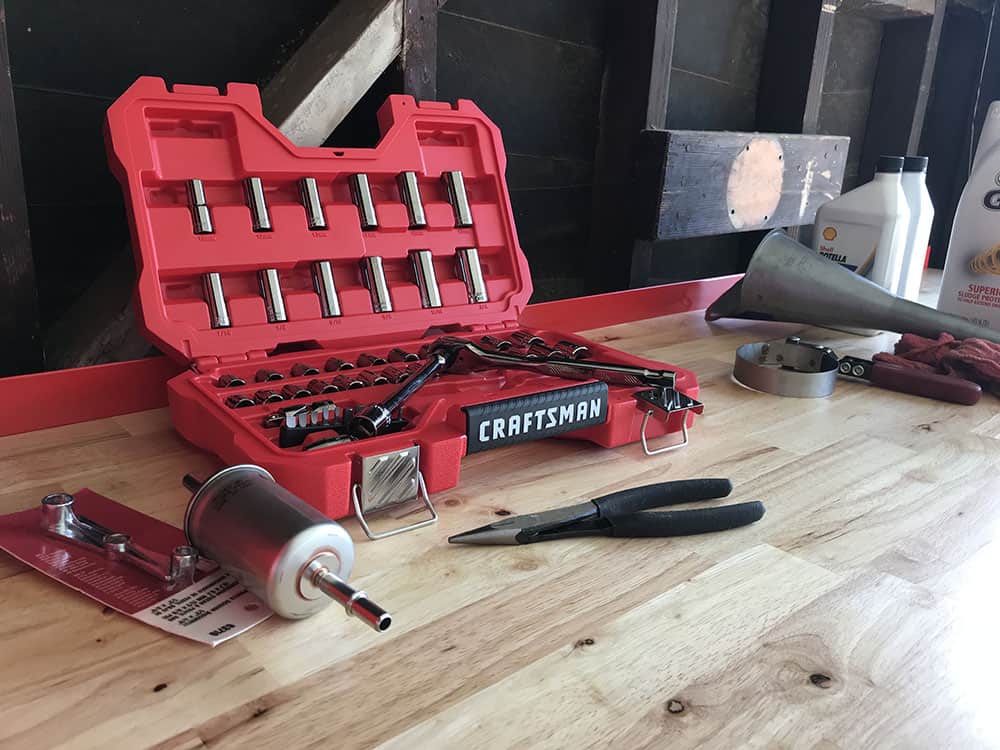 No matter how your dream shop looks in your mind, every good workshop needs a solid work table. For this, I picked out the Craftsman 72-inch wood work bench. It arrives as a flat pack, and can be assembled in less than 30 minutes. I love the look of a butcher block table, and this 1" thick table will only look better with age. With a table like this, you can always flip over the work surface if one side gets to pitted or worn out. I put the adjustable feet to use as some uneven spots I never noticed, were clearly visible after the table was setup. The best feature of this work bench is the height. At just over 41-inches, the height of this table requires less hunching over, and brings your work pieces closer to you. At that height you could also easily place a stool under the work bench, making it even more usable.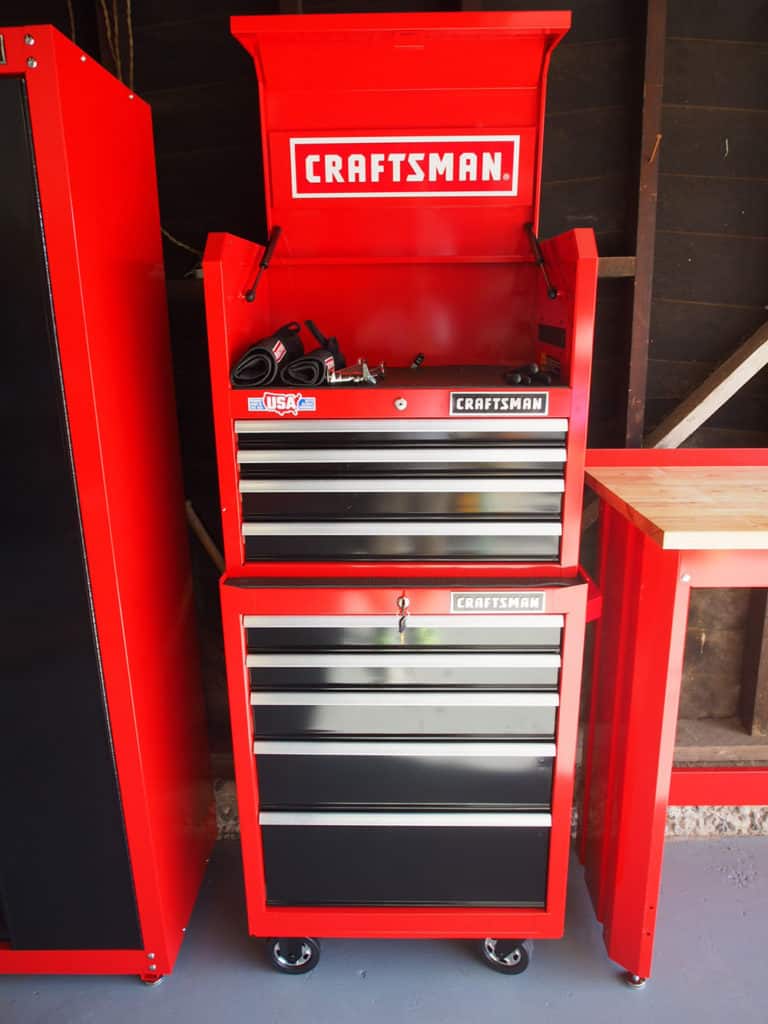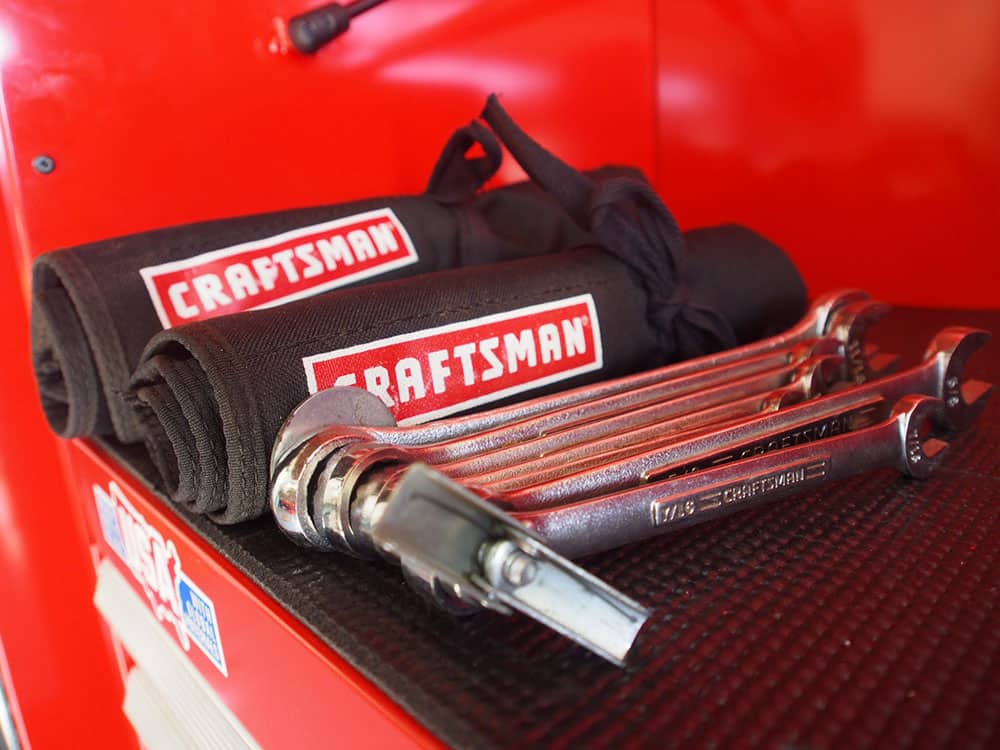 Next to the work bench I placed a 26-inch tool cabinet, and 26-inch tool chest. Given the smaller size of these tool cabinets, they fit my space perfectly and offer the same great features that the larger tool cabinets have—including ball-bearing soft close drawers, heavy duty casters, and 100 lb. drawer capacity. My Craftsman wrenches fit perfectly in this tool chest, and the deep bottom drawer is even large enough for my Kobalt 24V impact wrench.
The last big piece to help organize my garage is the Craftsman steel garage cabinet. Like the work bench it also arrives in a flat pack, but building it is easy, and we were using it in less than an hour. I use this cabinet to store most of my car parts, tools, and chemicals. It's good to know that oils and lubricants can be kept under lock and key, and that I can easily access them when needed. I've also placed a few sensitive electronic items in the cabinet to protect them from the dust and grime that can accumulate in a garage.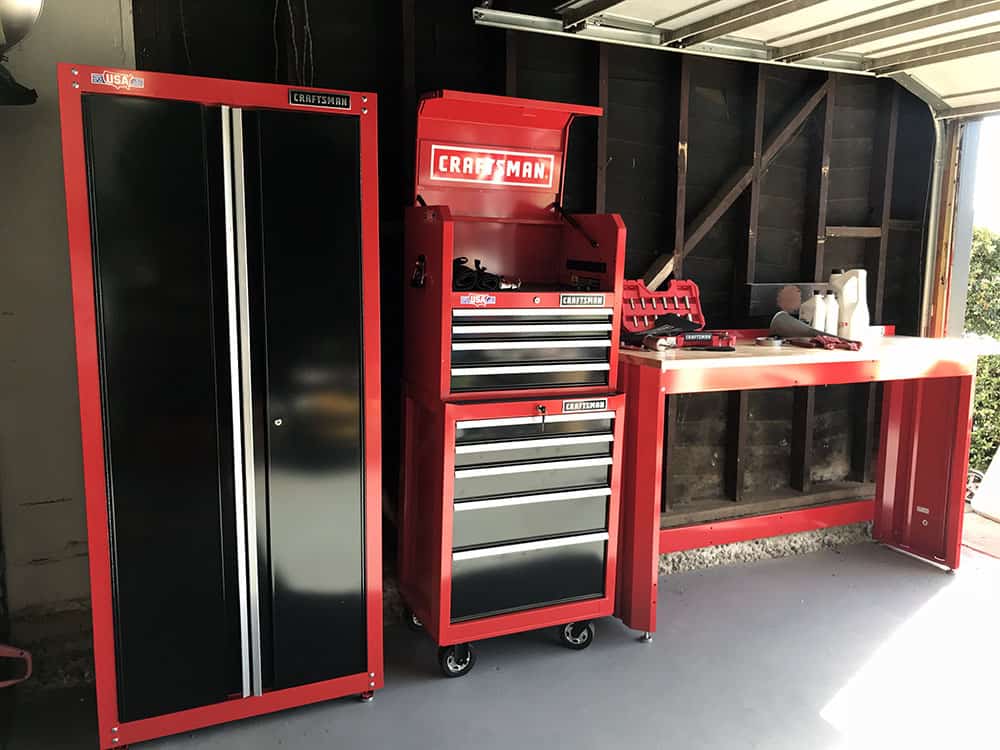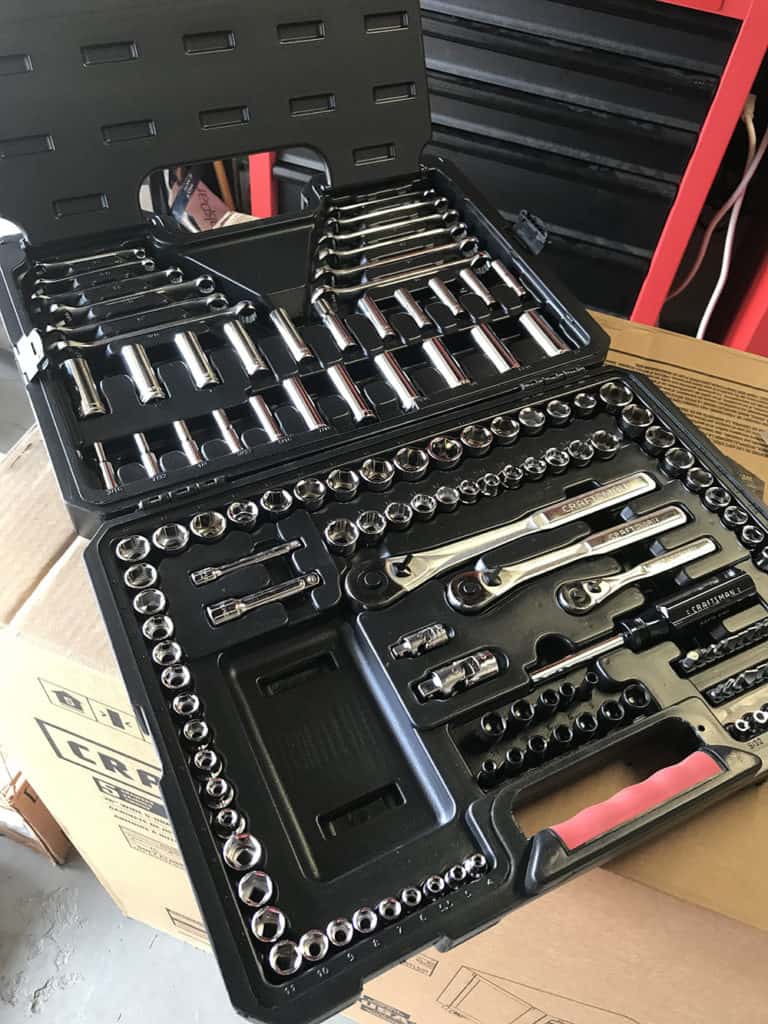 Lastly, we chose the 165-piece mechanics tool set and 81-piece gun metal mechanics set. We feel it hits the sweet spot for every tool we need to work on our vehicles, without having to store a bunch of tools we probably will never use. The secure case was also a big selling point, as it neatly displays every tool to help you pick out the right socket and wrench sizes. Craftsman hand tools still maintain a lifetime warranty, so your purchase (or Father's Day gift)  is about as safe as it gets.
Once everything was setup, I used the deep sockets to pull and change the plugs on my Land Cruiser. My old standard socket set wasn't equipped for this type of project, so I've been procrastinating on some important maintenance issues.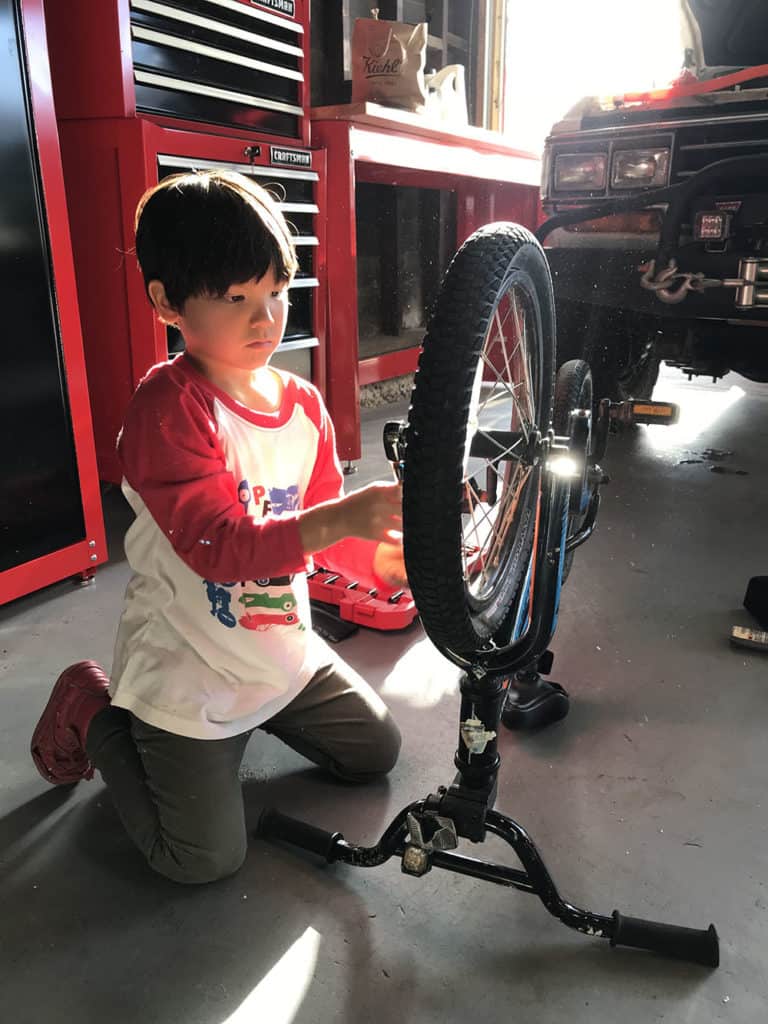 As I was working on my truck, my son decided to join me in the "new" garage and started changing his bike tube. I shared my socket set with him, and it's the moments like these that make you realize Father's Day can be every day.
If you know a father (including yourself) that is seeking a high-quality and affordable tool storage solution, Craftsman at Lowe's could be the answer.
This post is sponsored by Lowe's. All opinions are 100% from Timothy Dahl.