The new Front Runner Slimsport roof rack could be the perfect solution for urbanites who need to safely transport their gear for weekend or week-long adventures.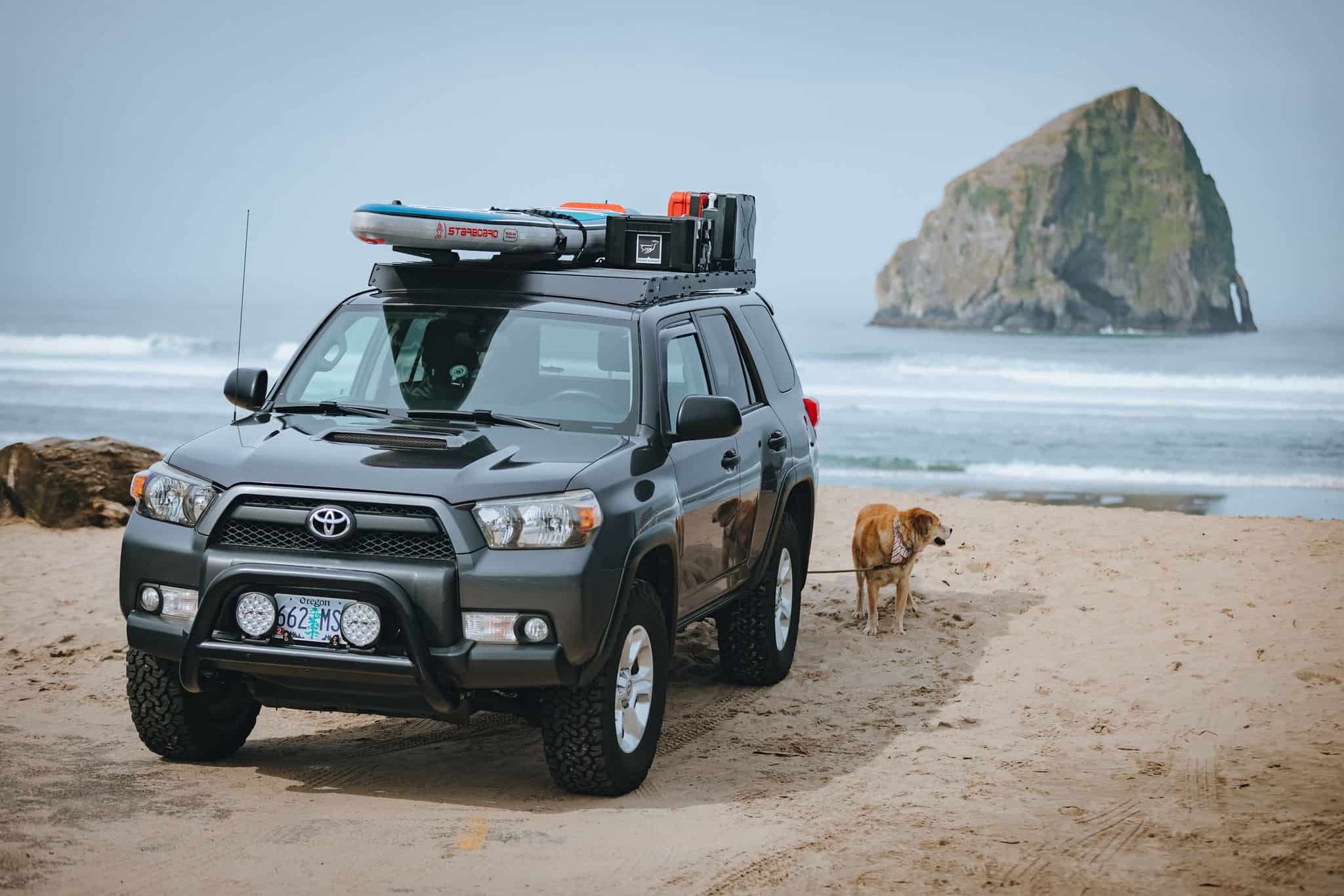 Factory roof racks often consist of light-duty crossbars that offer varying degrees of strength and load-carrying abilities. Adding an aftermarket roof rack not only provides additional space for gear but can also help you maximize your dynamic load-carrying capacity.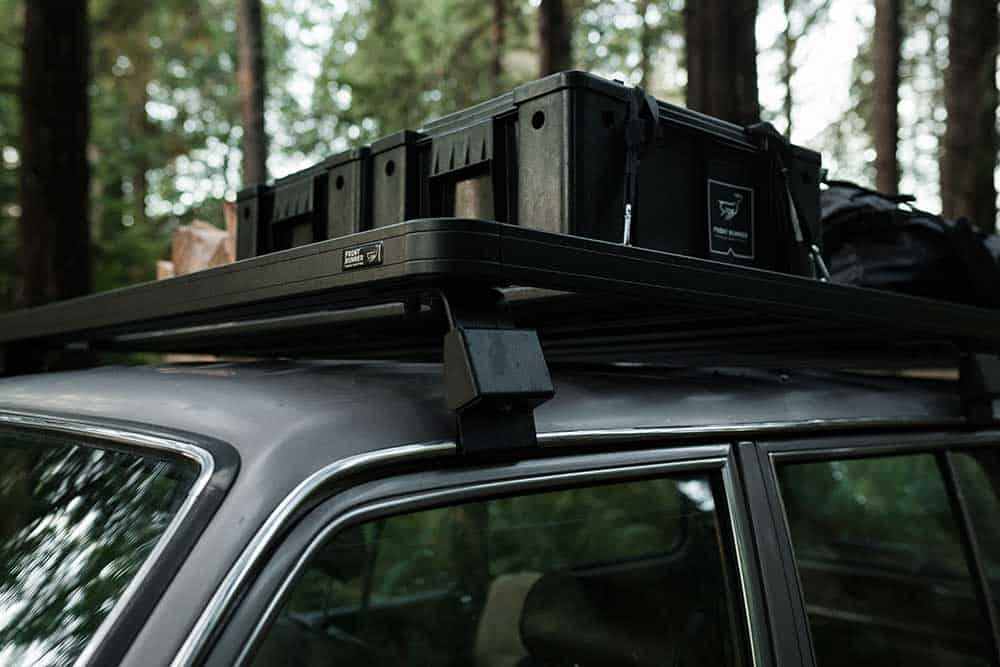 I've owned a Front Runner Slimline II rack for almost 5 years and it's been a trouble-free rooftop storage solution that allows me to enjoy my outdoor pursuits by transporting my gear and supplies safely and securely. It has worked great on my Land Cruisers and has been put to the test in the harshest environments around the world.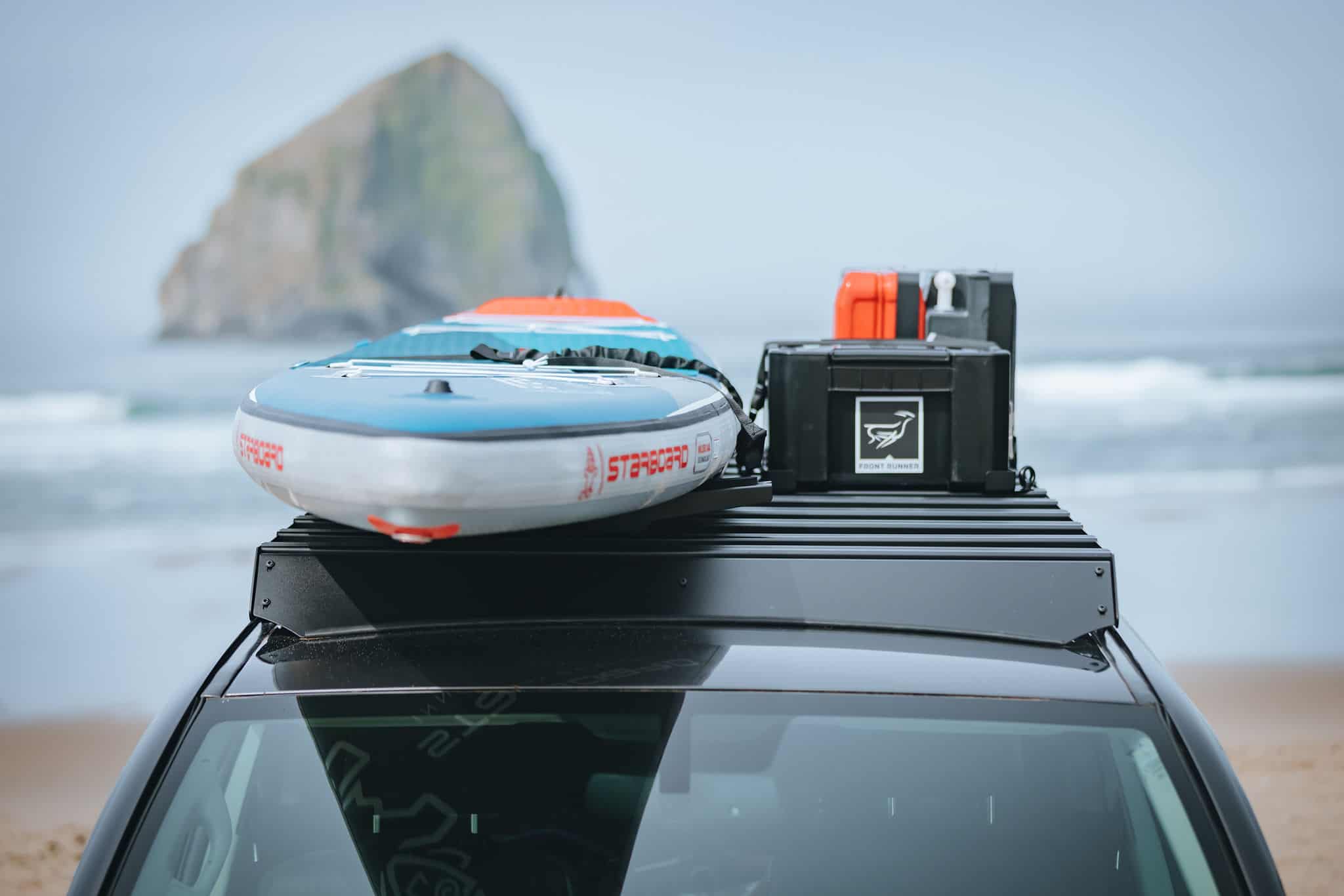 But, the demands on a roof rack to transport a kayak or SUP to the lake for the weekend are much less than spending a month on safari, which is why Front Runner has introduced the Slimsport which can use most of the same accessories as the heavy-duty Slimline, but at a better price.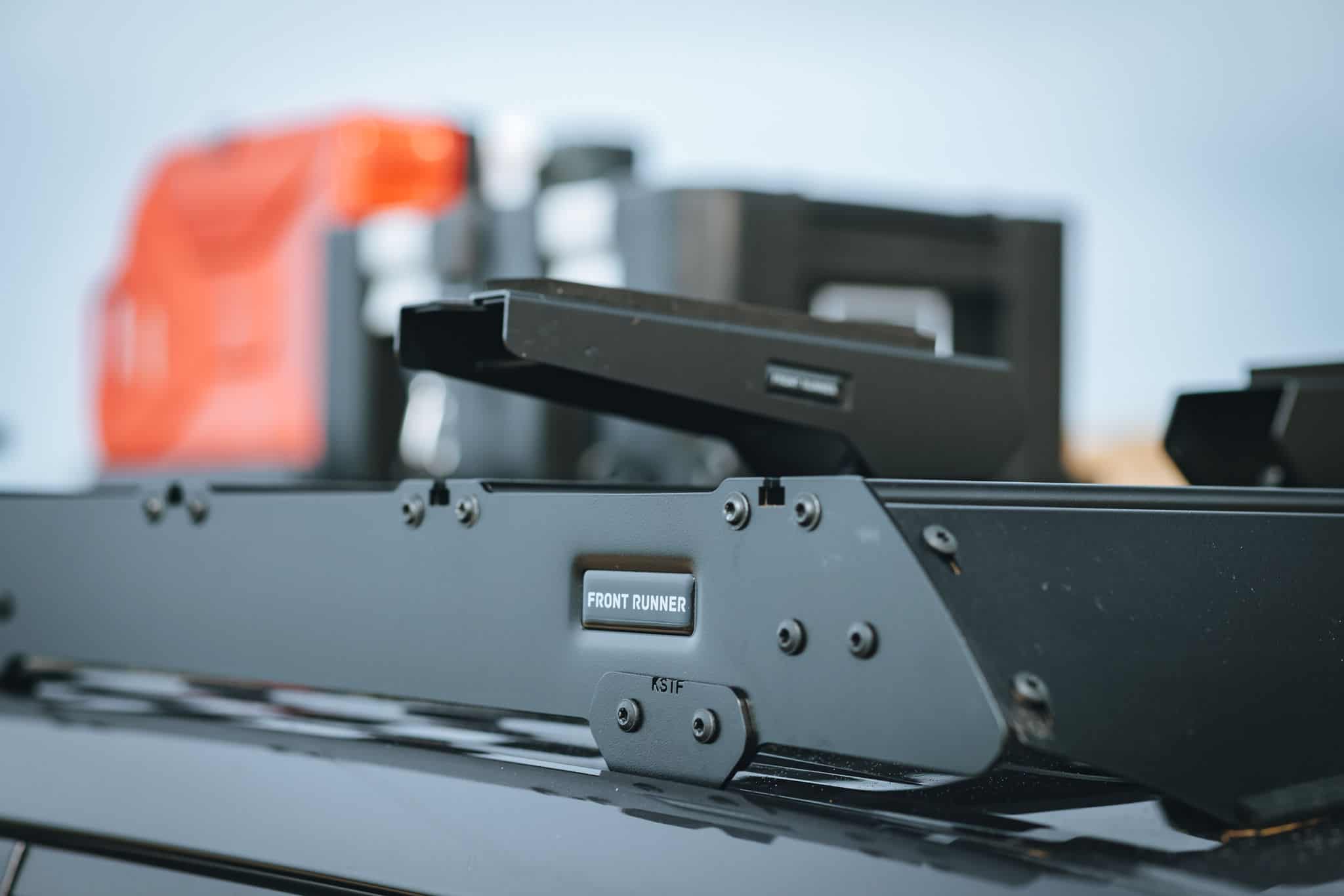 Front Runner Slimsport Features
The Slimsport is also lower profile and sits closer to your roofline which can help you clear parking garage height requirements and make reaching for gear easier. The lower height may also help you squeeze into the garage if you've got a lifted truck.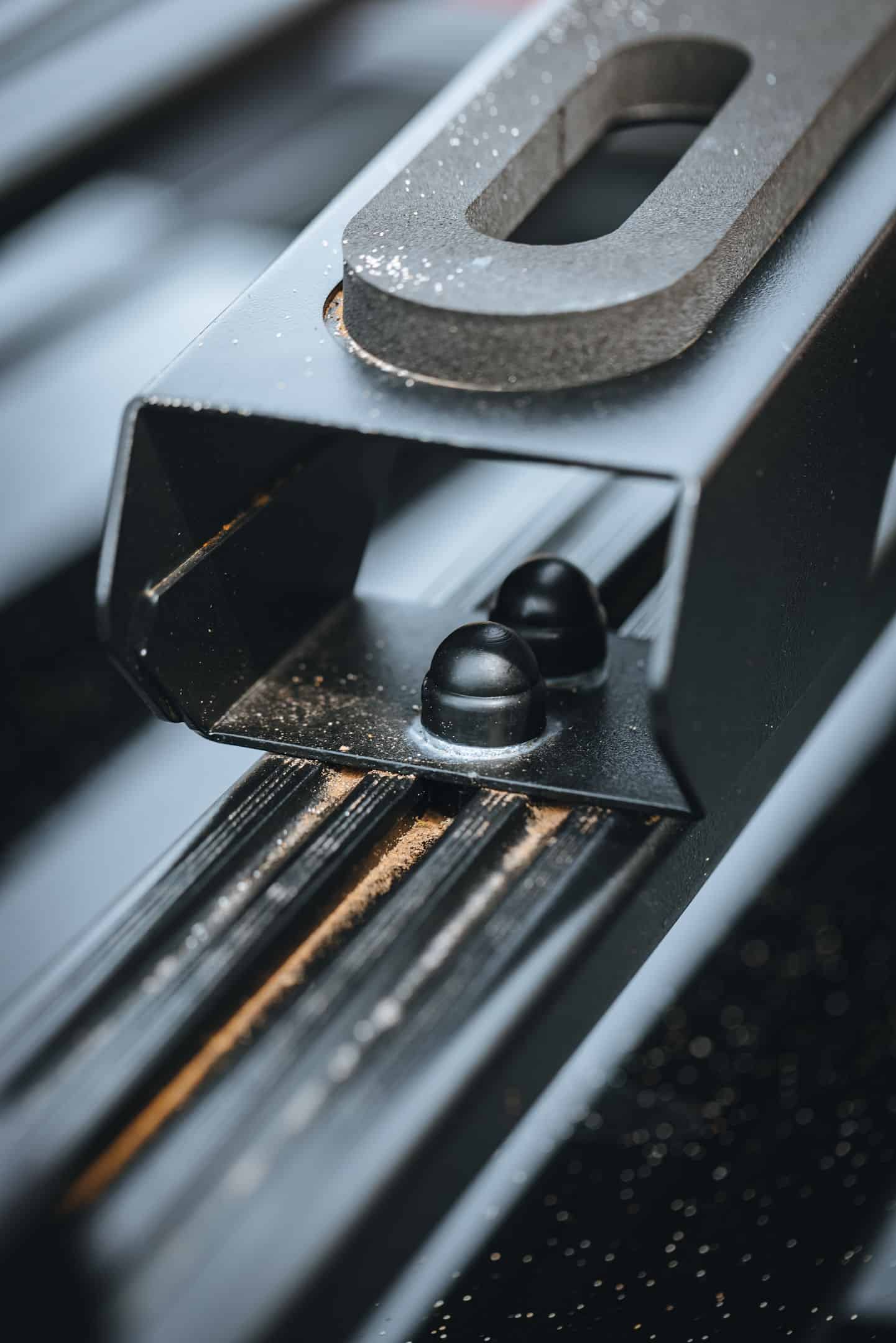 Aluminum T-slotted crossbars are the core feature of the Slimsport and allow you the flexibility to add accessories in unlimited configurations. Eyebolts and Stratchits are all you really need to tie-down most types of gear.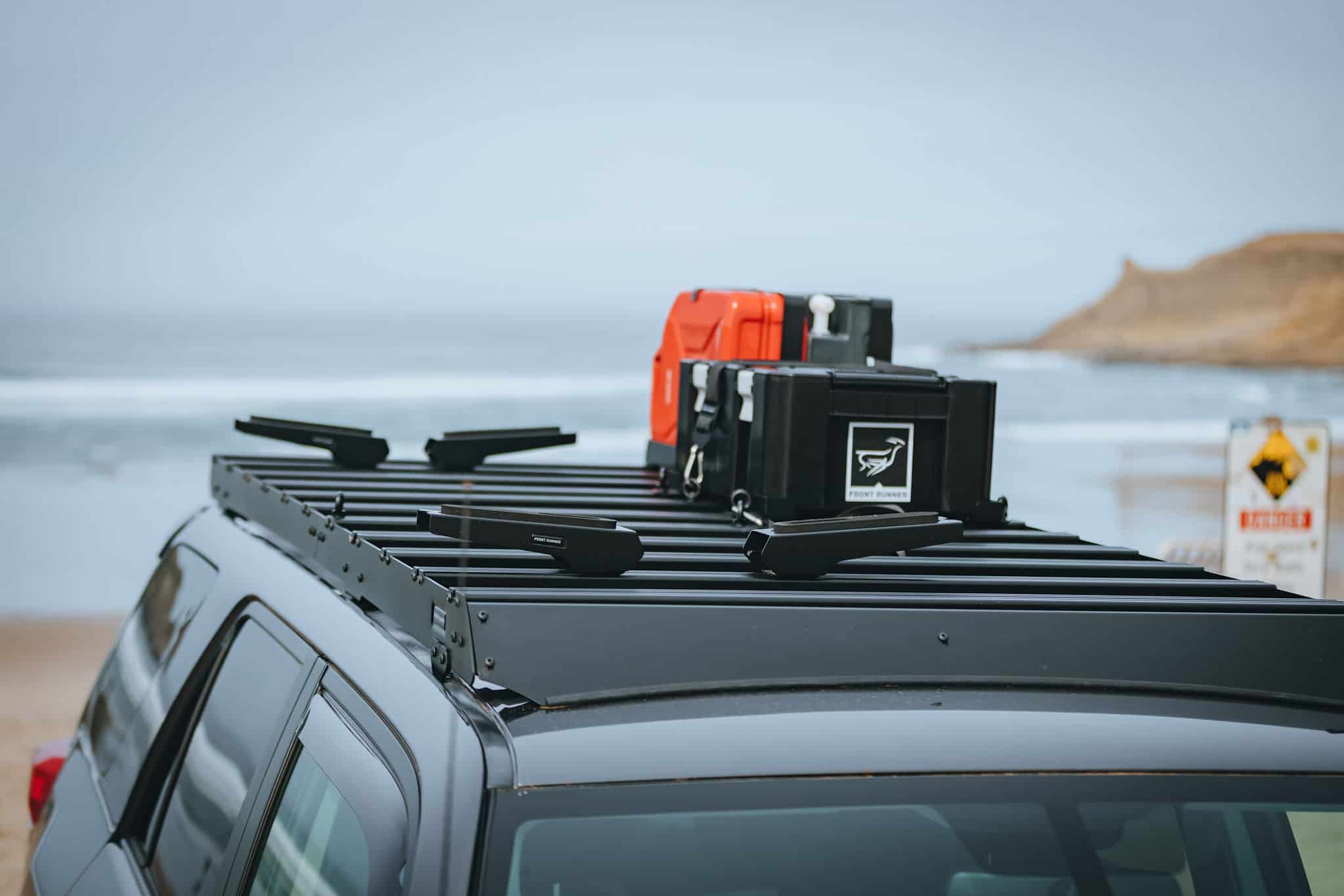 Front Runner Slimsport Pricing
The Slimsport for a 5th Gen 4Runner is $919 compared to $1,545 for a Slimline II. That's a 68% savings for a Front Runner rack that has the same basic functionality!
Front Runner Slimsport Review
Our photographer, Steve Makowski, installed the Slimsport onto his 2012 4Runner. He was on the fence between the 3/4 Slimline or the Slimsport, but the Slimsport really met his needs which included hauling a 12-foot Starboard SUP to the beach on weekends and carrying extra fuel for long trips to Bridgeport, CA.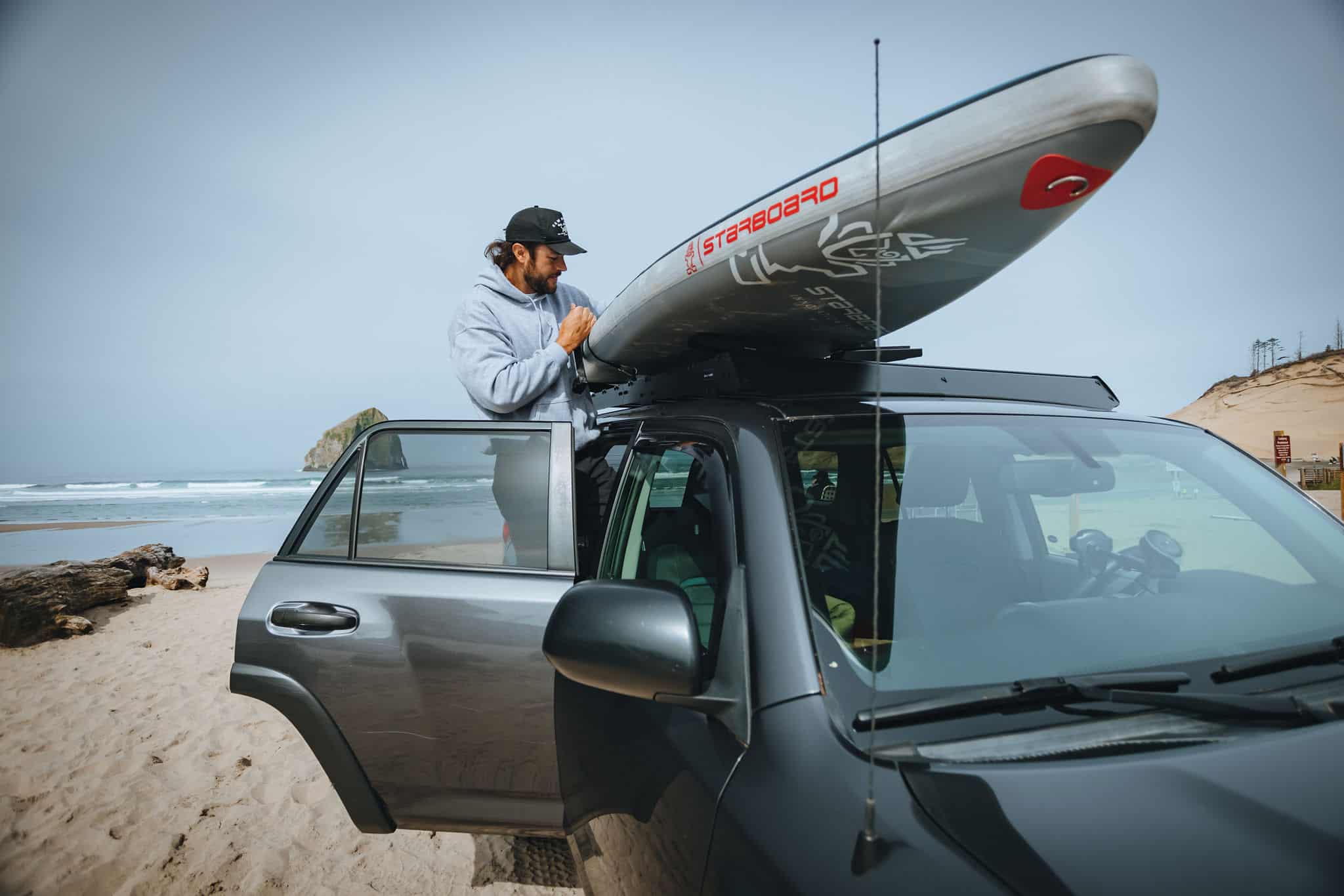 He opted to make the Slimsport even more secure by using the additional mounting points which required him to drill into the roof of his truck, but he said it's well worth it for that added peace of mind that his rack and gear are secure.
Steve loves the look of the Slimport and the low-profile flat deck. He immediately realized the benefit of having a rack like this during install as it could easily hold his toolbox on the rack as he worked.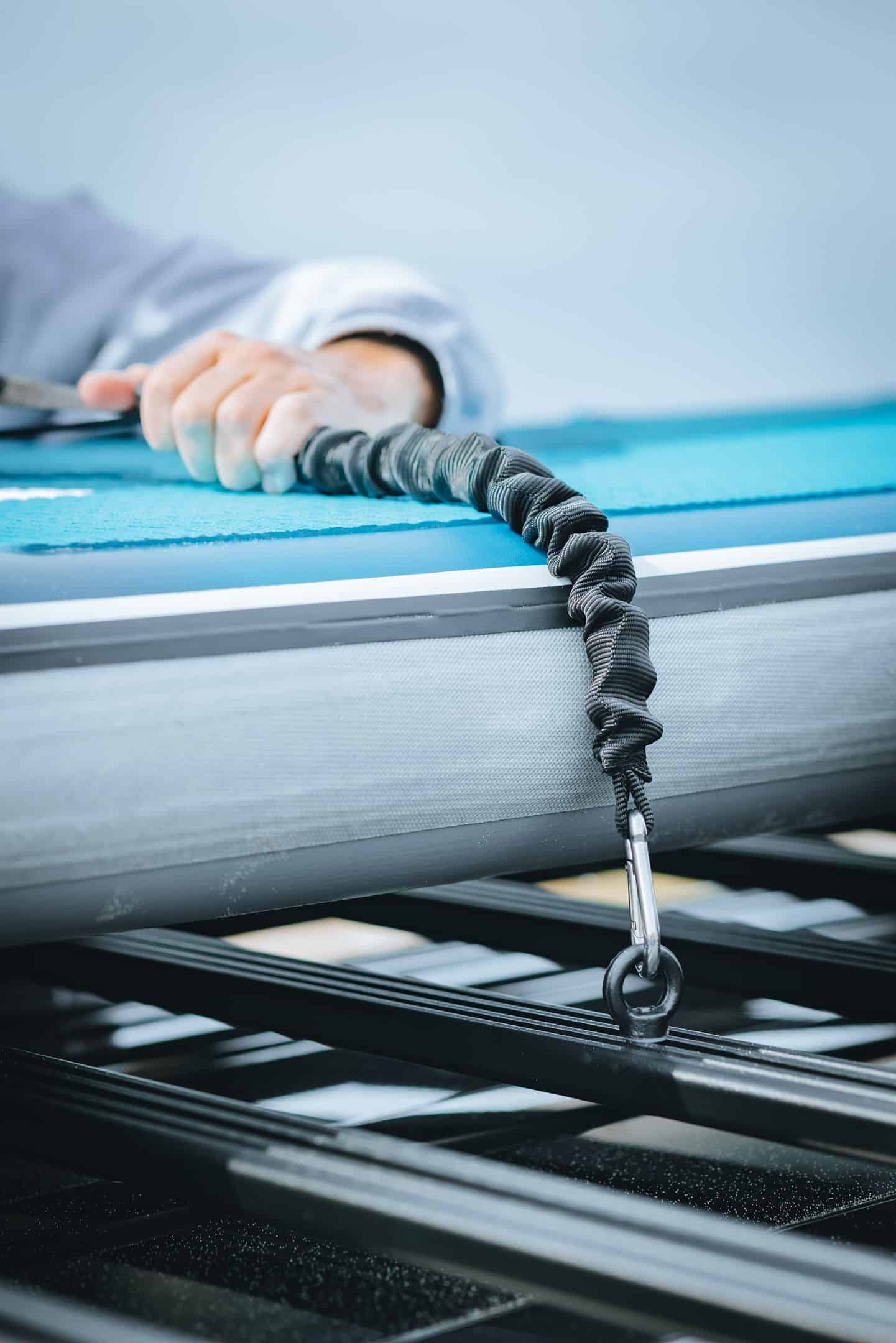 The wind deflector (called a Wind Fairing in the install manual) makes it completely silent on the road. He noticed no noise from the wind while traveling on the highway and even while traveling down the Gorge to Hood River where the wind speed got up to 50mph.
Front Runner Slimsport Accessories
The paddleboard/surfboard carrier has exceeded his expectations. At first glance, it seems kind of small and he wasn't sure if it would hold the board but Front Runner designed the perfect low profile SUP carrier system.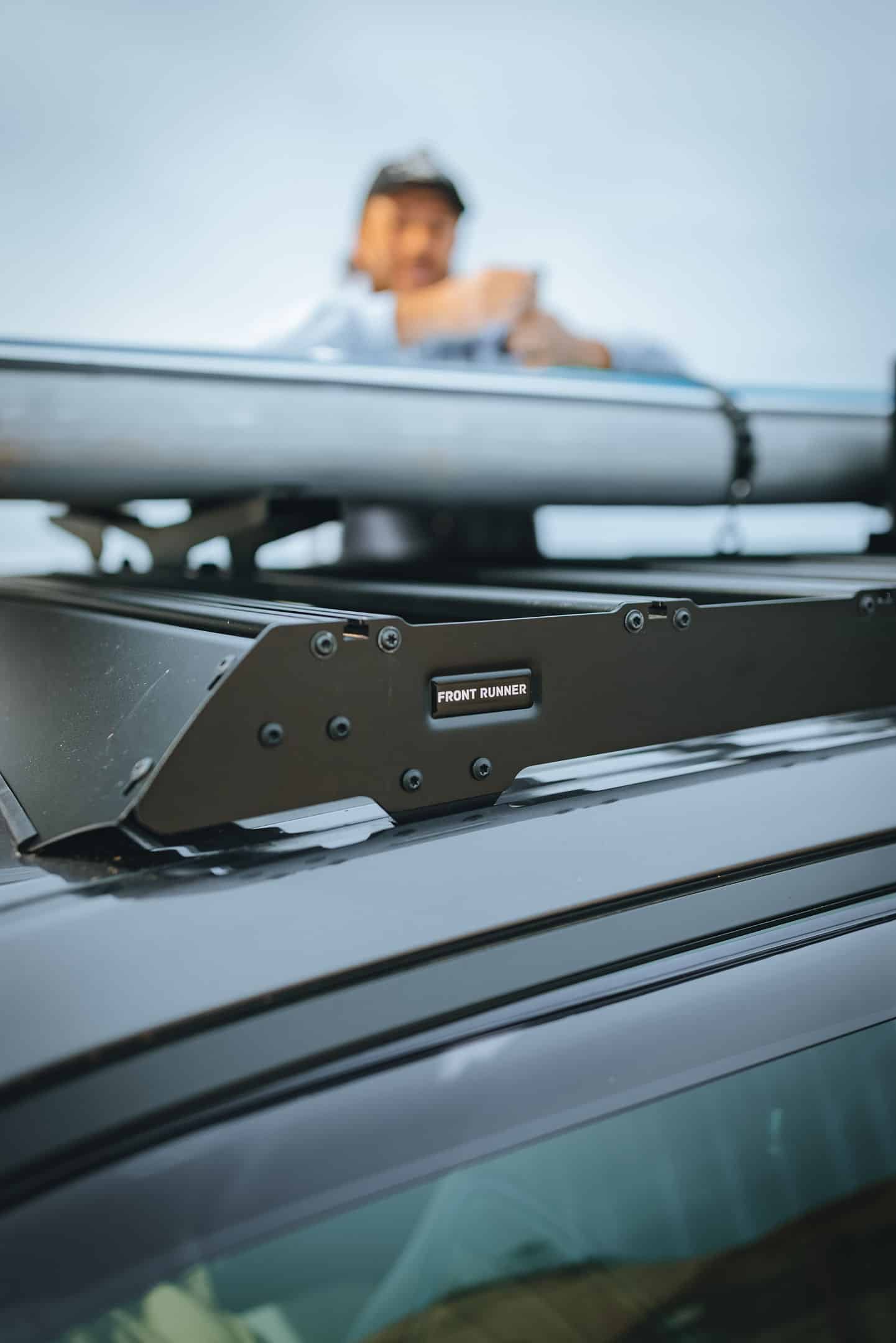 Due to the length of the paddleboard he's considering adding the Cargo Roller but haven't found that I needed it yet. It would just lessen the bounce of the SUP when I initially put it on the roof and might give me more peace of mind that it wouldn't rub against anything when I remove it.
Steve also put the new Wolf Pack storage system to use. It's a big box that can fit tie-downs, ropes, and PFDs, which saves you space inside your car or truck.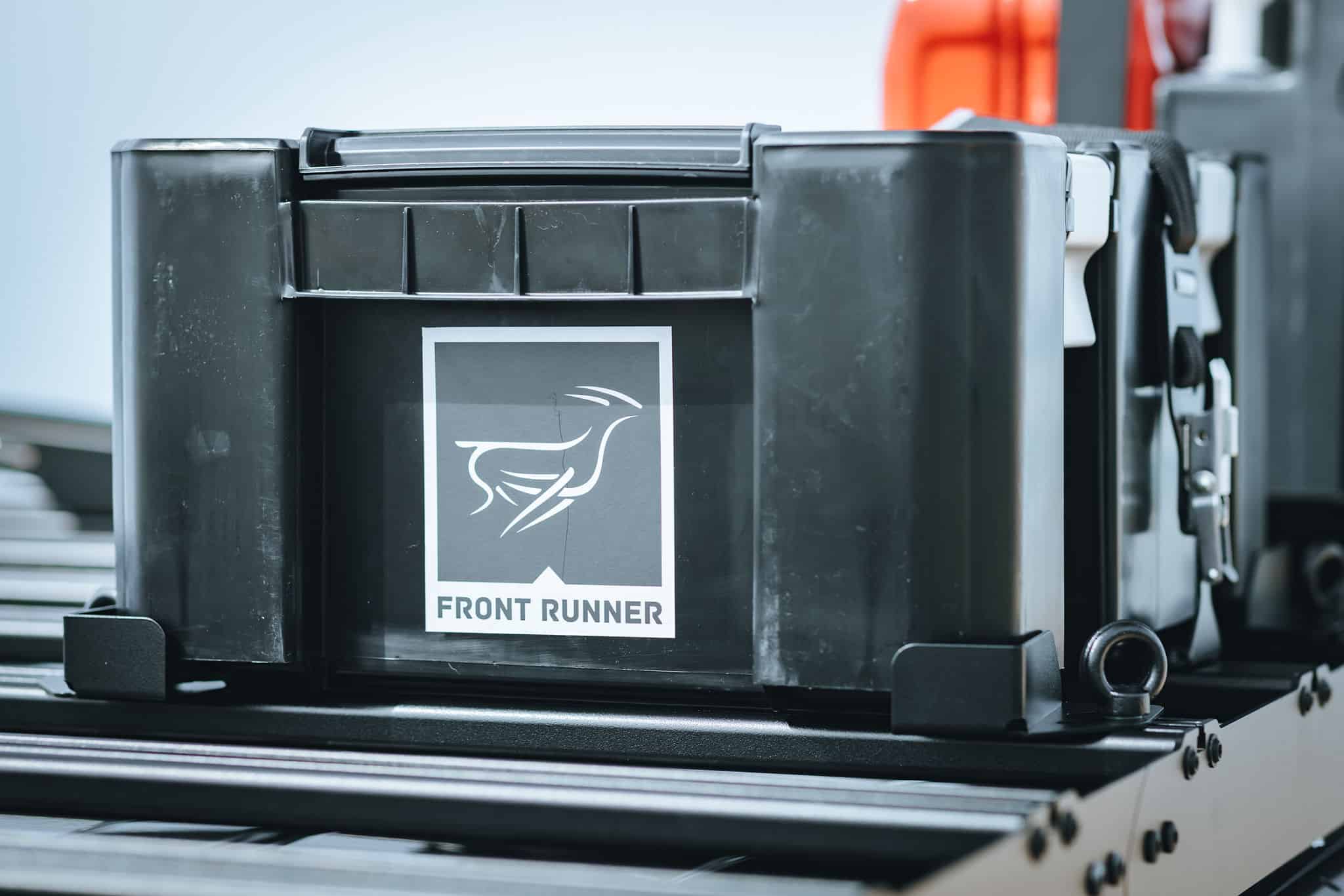 The Wolf Pack System is amazing. It's a big box and you can fit a lot in there. Stratchits, rope, PFDs (life jackets). He paired it with the Adjustable Rack Cargo Chocks AND the Lockable Storage Box Strap Down. It might be overkill but with this combo the box isn't going anywhere on long rides and I feel peace of mind knowing I can put a lock on it and leave it on the rack when I get to my destination and leave my vehicle.
The Slimsport should work with almost all of the Front Runner accessories, just make sure you give them a call to confirm before ordering.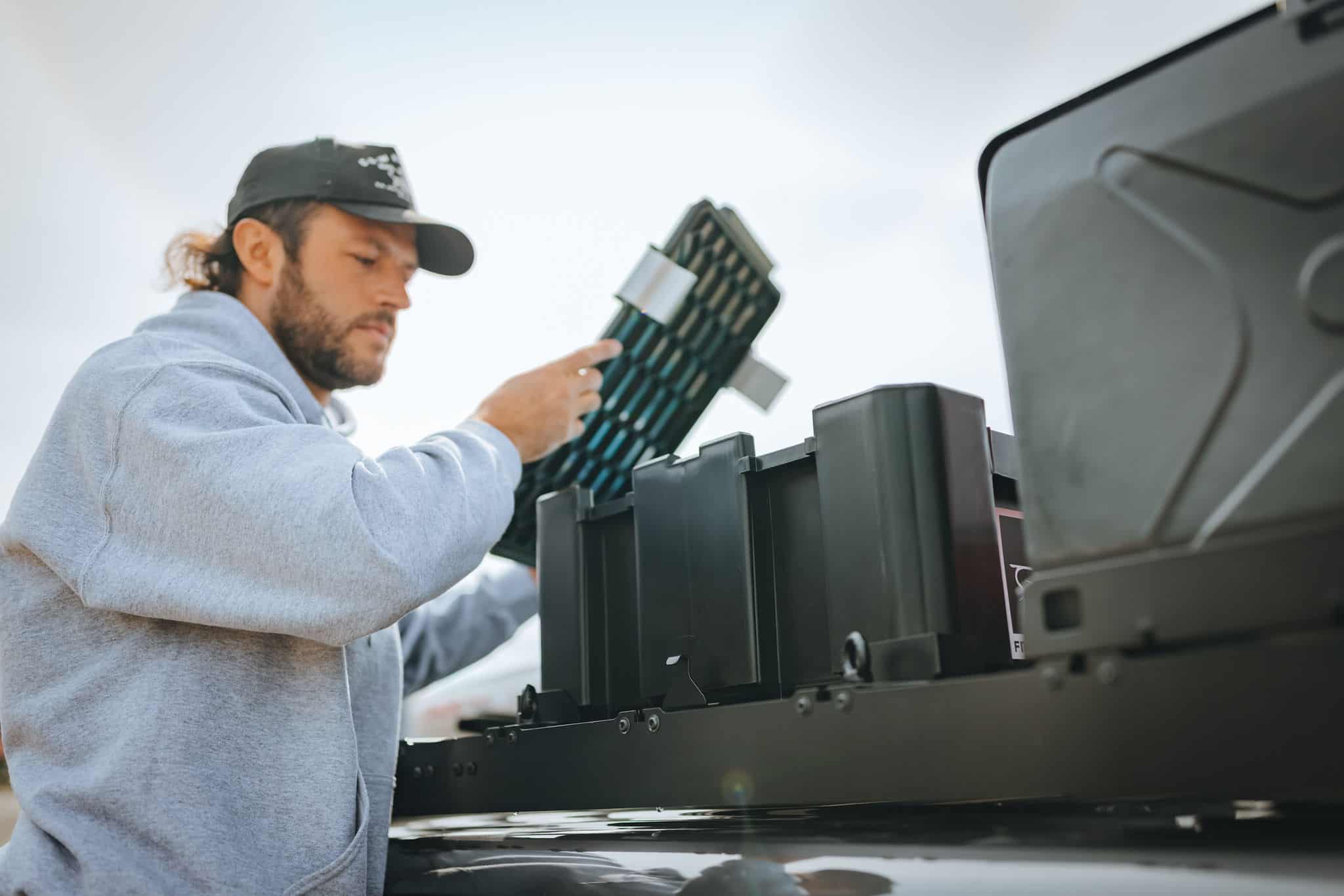 I believe Front Runner has hit a home run with the Slimsport roof rack. The lower profile, lighter weight, and reduced cost (compared to the Slimline II), make this rack very attractive to adventure seeking city-dwellers. I also think you'll find a lot of overlanders gravitating to this rack for these same reasons, knowing they've still got a Front Runner rack that is a proven company with decades of expertise behind it.