I've finally got my dream vehicle. A 1999 Land Cruiser 100 Series. Yes, I know this vehicle is known to many as a luxury mall crawler, but off-road enthusiasts will tell you that there is no better off-road/overland vehicle on the road today.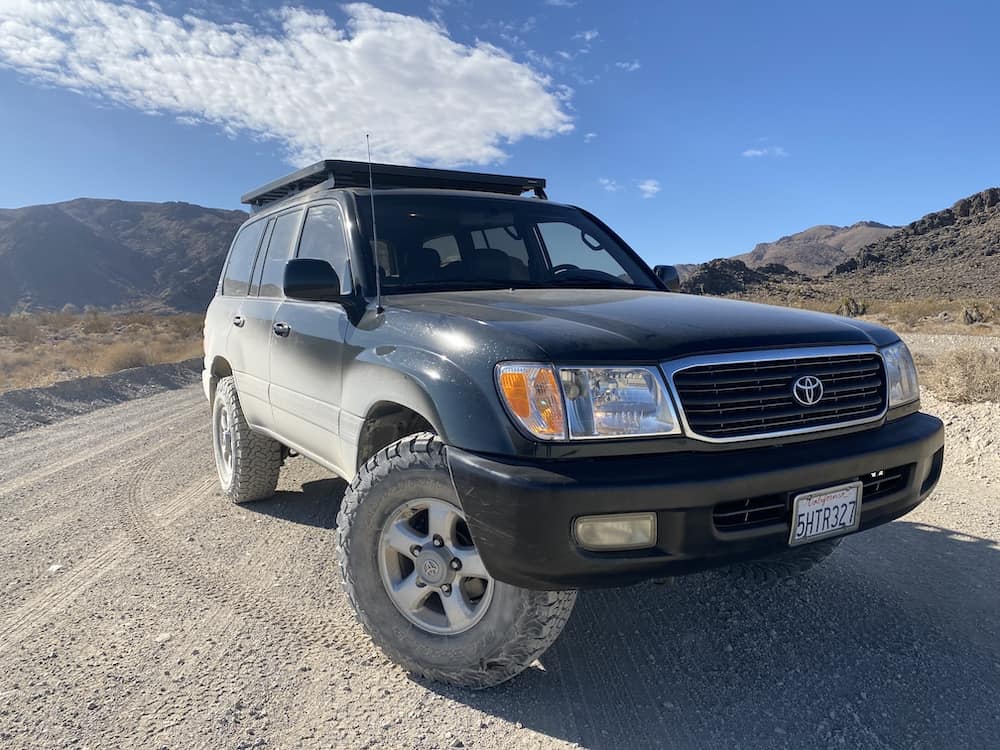 Here's why every generation of Land Cruiser is coveted by thousands of off-roaders, and what makes the 100-series so special.
The FJ62 and FJ80 Land Cruisers are Great But Limited
I recently had a 1989 FJ62 Land Cruiser, but the leaf spring suspension and primitive highway manners didn't lend itself to being an ideal long haul family road trip vehicle.
The next generation FJ80 Land Cruiser is considered by many to be the pinnacle of both on and off-road performance. It retains a front solid axle like all previous Land Cruisers, but features more creature comforts for long distance travel.
The FJ80 and FJZ80 have coil suspension front and rear which allows you to lift the vehicle and put on bigger tires, but it's still not as comfortable as a 100 series Land Cruiser for long distance driving.
The current 200-series Land Cruiser is the pinnacle of this platform, but current models are still beyond my budget. I did get a chance to check out the 2020 Land Cruiser Heritage Edition, which was sublime. It was the perfect mix of comfort, style, and utility.
Land Cruiser 100 Series UZJ100 Is The Best of Both Worlds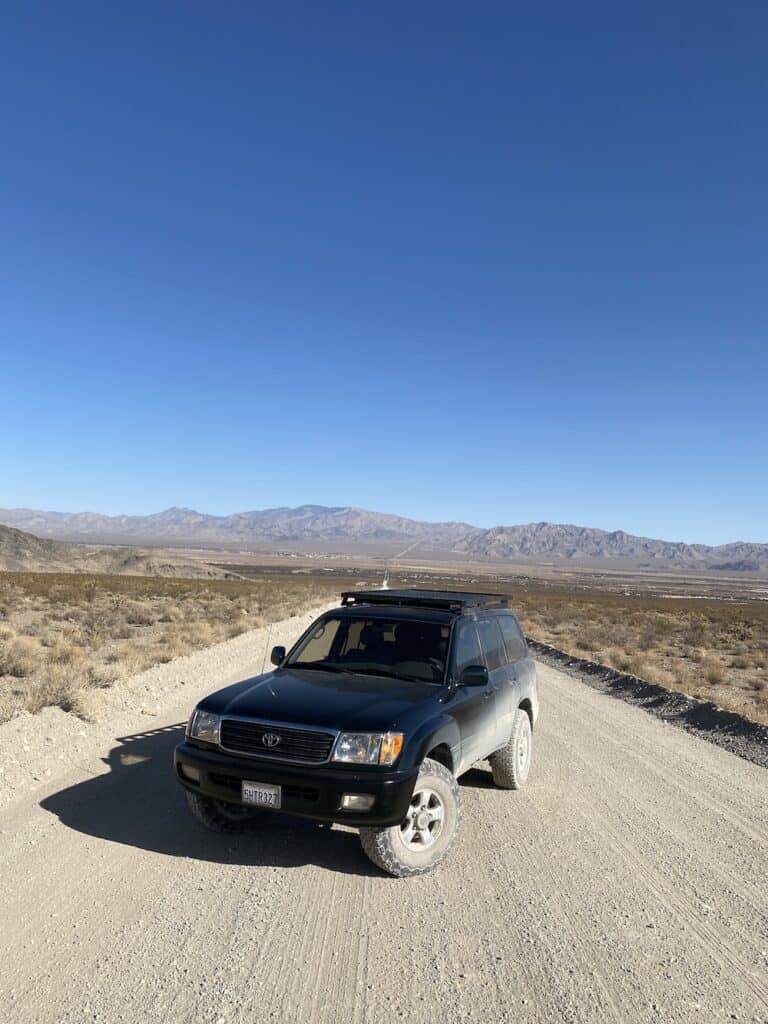 But I narrowed my search for my next Land Cruiser to the 100 Series which was produced by Toyota from 1998 to 2007 and was then replaced by the current generation 200 series.
2UZ-FE 4.7L V8 Engine
The 100 series Land Cruiser is special as it is the first Land Cruiser to offer a V8 (the venerable 4.7L) and independent front suspension (IFS). The V8 was a welcome addition as the 80 series is considered underpowered for modern day driving, but the IFS is met with mixed reviews.
Let's start with the 2UZ-FE V8 which is the same one found in the Tundra and Sequoia. The 2UZ-FE is considered by many to be the finest V8 that Toyota has ever produced. Its only flaw is that it requires a timing belt change every 90,000 miles, which can cost between $800-$1,400. With regular maintenance, this engine will last 300,000 miles or more.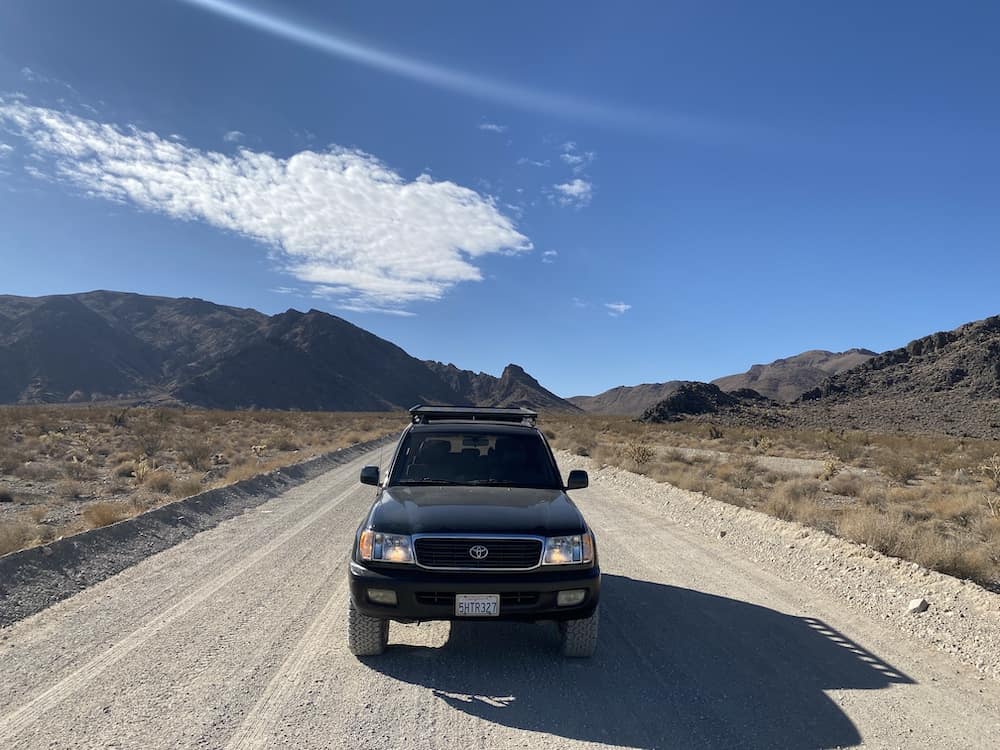 Independent Front Suspension (IFS)
IFS is found on almost every vehicle on the road, as it offers a comfortable ride and great handling both on and off-road. It's notable that the 100 Series Land Cruiser is the first to implement IFS as it is a departure from the heritage of a solid front axle which is known to provide the most articulation and traction in extreme off-road situations.
The 100 series utilizes front torsion bars and rear coil springs for suspension. The torsion bars limit the wheel travel on the 100 series, so the only way to truly lift the front is to "crank" the torsion bars a bit and add slightly larger tires.
The rear can be lifted using taller springs with high spring rates, but overall the suspension lifts on the 100 series are fairly mild compared to those found on FJ80s.
But, that doesn't mean a 100 series isn't capable on the trail. A 100 series Land Cruiser will be limited when rock crawling compared to a lifted 80 series, but that's about the only area where the 80 series will have an advantage.
Since I'm looking for a daily driver that can handle weekend trips to the mountains, beaches, and deserts, as well as overland excursions, a 100 series checks all the boxes. I do plan on making enough mods so that my Land Cruiser can handle the occasional rock garden, but not on a regular basis.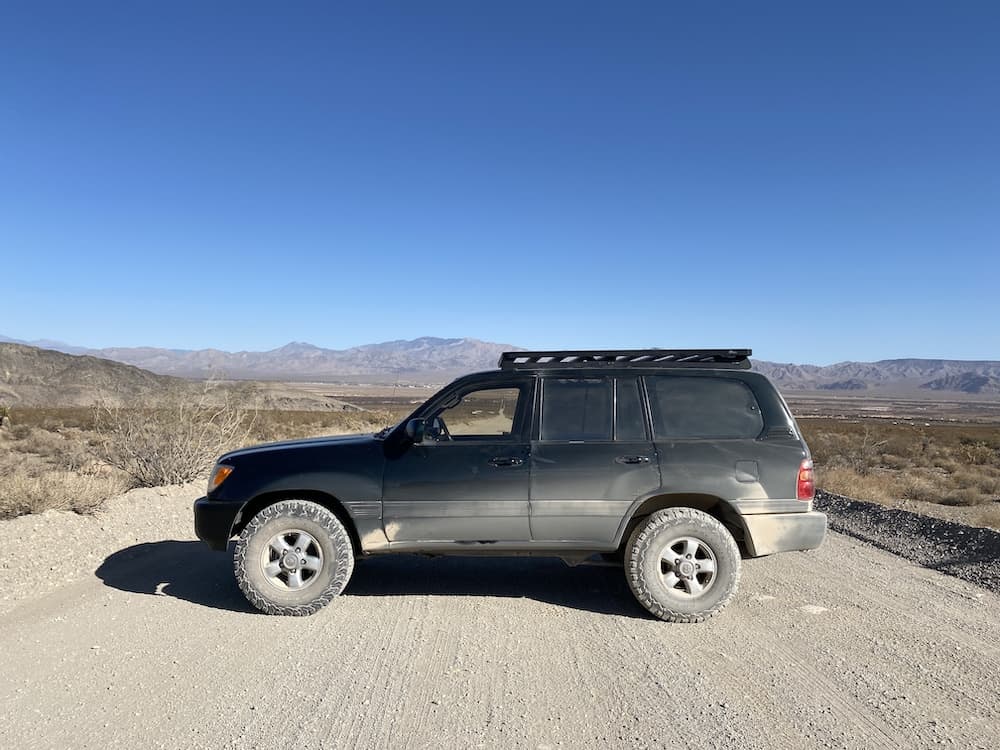 How to Buy a Land Cruiser
I spent almost a year scouring Craigslist, AutoTempest, and OfferUp, searching for a 100 series Land Cruiser or Lexus LX 470 equivalent. I'll write up another article about, How to Buy a Land Cruiser, but I will say that I flew up out to Albuquerque and flew right back after looking at a 2005 LX 470 that turned out to not be what the owner said.
I came across a one-owner 2000 LX 470 with 80K miles and I mistakenly thought it would still be there after getting cash for a deposit, but it was gone.
I also dragged the family up to Big Bear to look at a Land Cruiser that was really rough and I would have bought it, but the owner at the last minute said he didn't have the title.
A day later my 1999 Land Cruiser popped up on OfferUp and I ran up to the valley and snagged it on the spot.
When shopping for a Land Cruiser, it's helpful to have a buddy on-call who is a fellow Land Cruiser enthusiast and 100-series owner. My lifeline is Chris O'neill of Mountain West Car Spotter on Instagram. He's also got a great YouTube channel where he highlights the newest vehicles on the road.
Chris signed off on this cruiser and here's what I got.
My 1999 Toyota Land Cruiser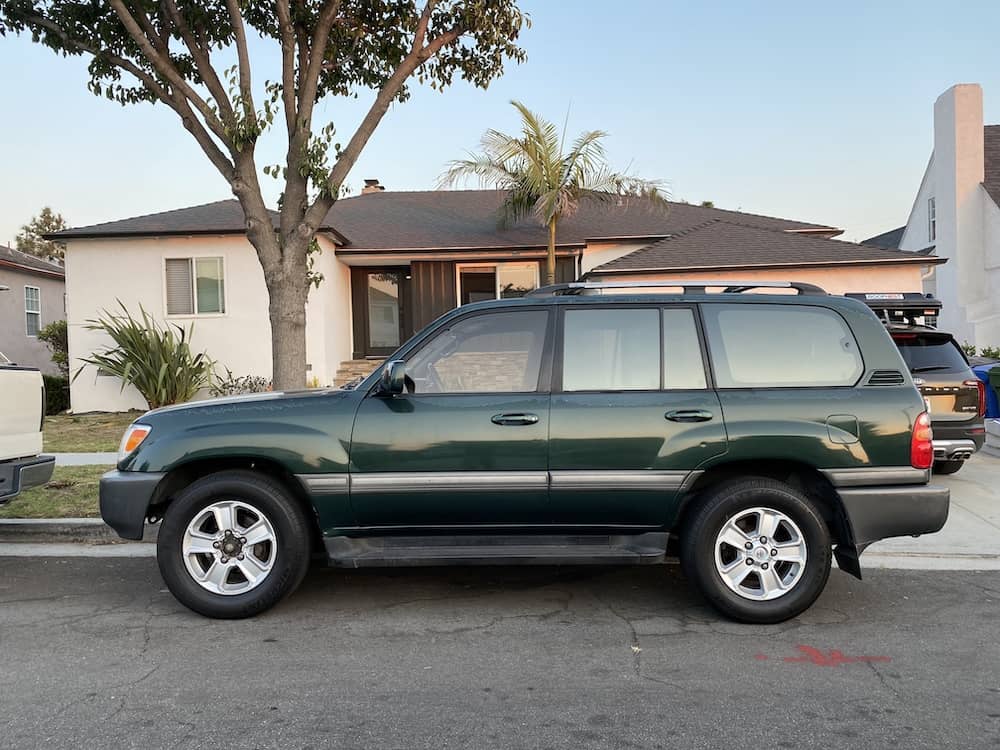 Here are the specs on my 1999 Toyota Land Cruiser.
2-owner
185,000 miles
No rust California vehicle
No modifications
Never Off-road
Imperial Jade exterior and grey interior
Factory rear locker
As long as a Land Cruiser is well-maintained, high miles are not an issue. But, this Land Cruiser came with zero maintenance records and there wasn't much to pull from the Toyota website or Carfax.
It all came down to my initial assessment and test drive and how much I believed what the owner said about the condition of the vehicle. It passed the eyeball test and drove well, so $8,000 and an hour later I was driving it home.
Here's what I knew it needed straight away.
New paint – The exterior had the classic peeling clear coat along the roofline, windows, and doors. It looks like the hood had been previously painted. So I figured a $1,500-$2,000 in paint from Maaco.
Timing belt – The owner wasn't sure when the last timing belt was done and there was no sticker, so I was looking at another $1,000 for that as well as the water pump.
The next week I had it into the shop for the timing belt, water pump, baseline all fluids, and give the vehicle a proper post-purchase inspection. Fortunately nothing major came up except for a lower ball joint that was leaking and the need for new shocks. The smog guy even commented on how clean the vehicle was and he didn't see any leaks or rust anywhere, just as I had noticed.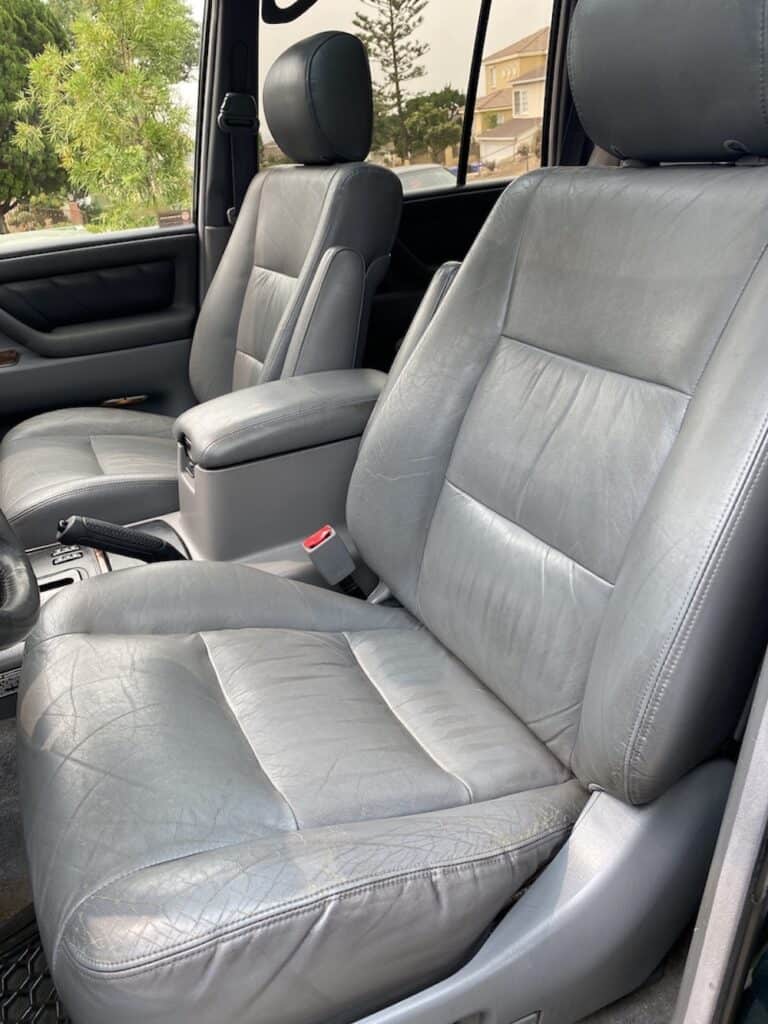 After the initial baseline it was time to start with mods and build this vehicle into the proper overlanding and family hauler that it was meant to be.
Land Cruiser 100 Series Modifications for Overlanding
When deciding what mods you want to make to your vehicle, you first need to identify how your vehicle is going to be used. I know that this Land Cruiser is going to be my daily driver in Los Angeles. My wife and kids are going to be hopping in and out of it on a daily basis and my wife will also be driving it on occasion.
This means that it needs to be set up for primarily street comfort, but have the ability to tackle any dirt road or mild trail with ease.
Tires Change Everything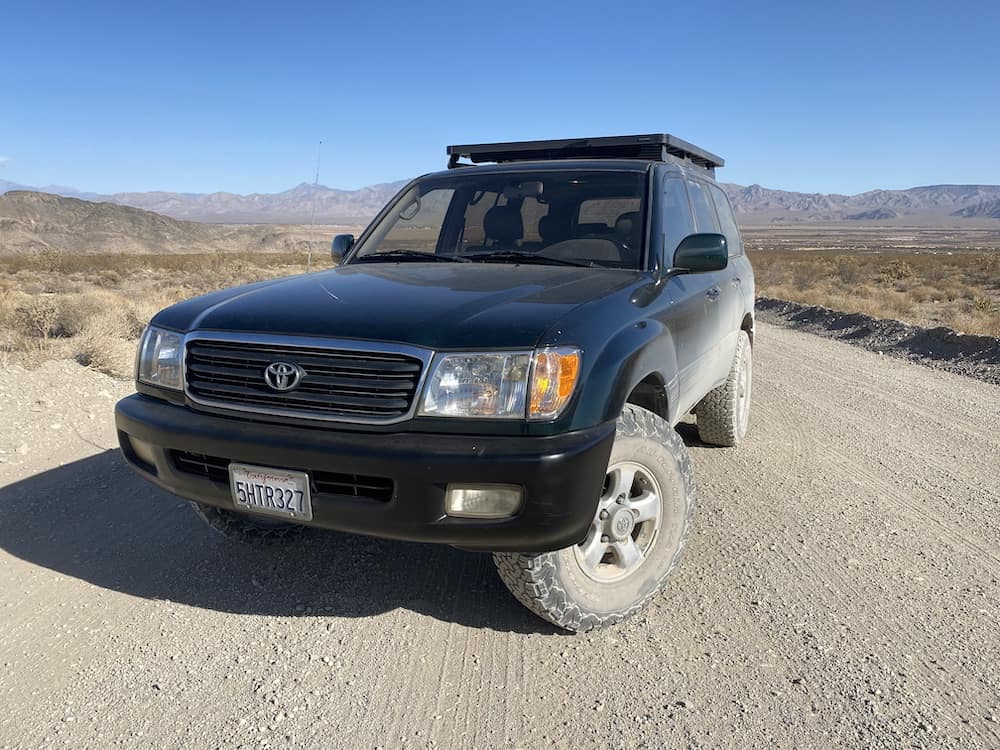 If I were to make only one change to this Land Cruiser from stock, that would make it off-road worthy, it would be replacing the aging Falken LTs with BF Goodrich All-Terrain T/A KO2 tires. I had these on my FJ62 and loved them!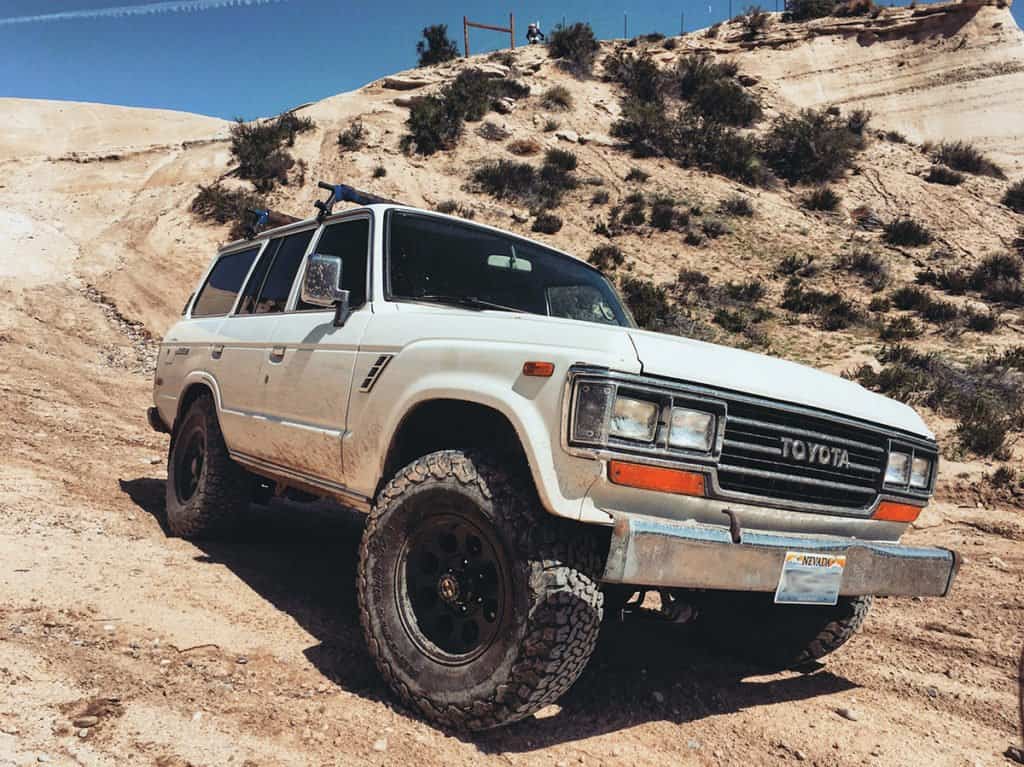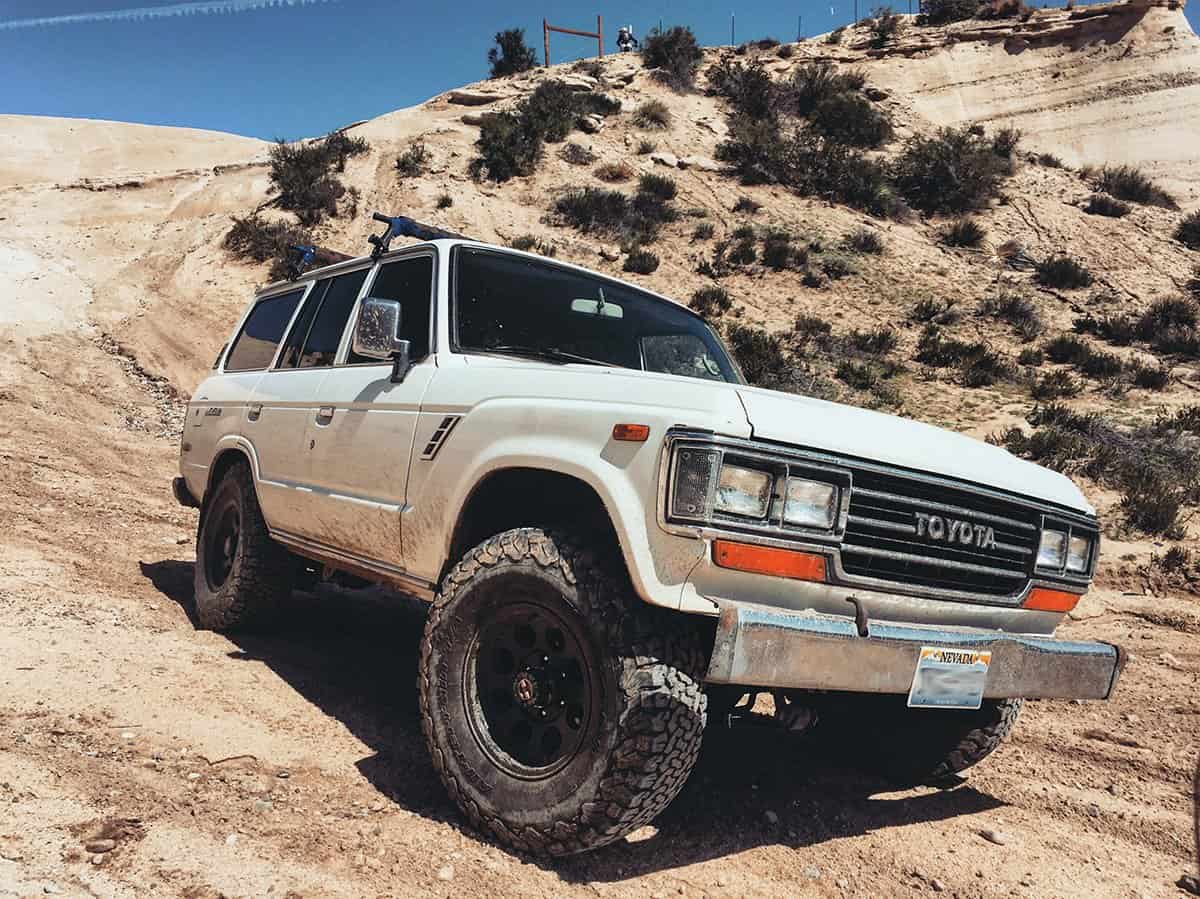 The KO2s are known for great on and off-road handling and wear, and I couldn't agree more. My experience with running KO2s was outstanding, so it was a no-brainer to go with them again on the 100 series.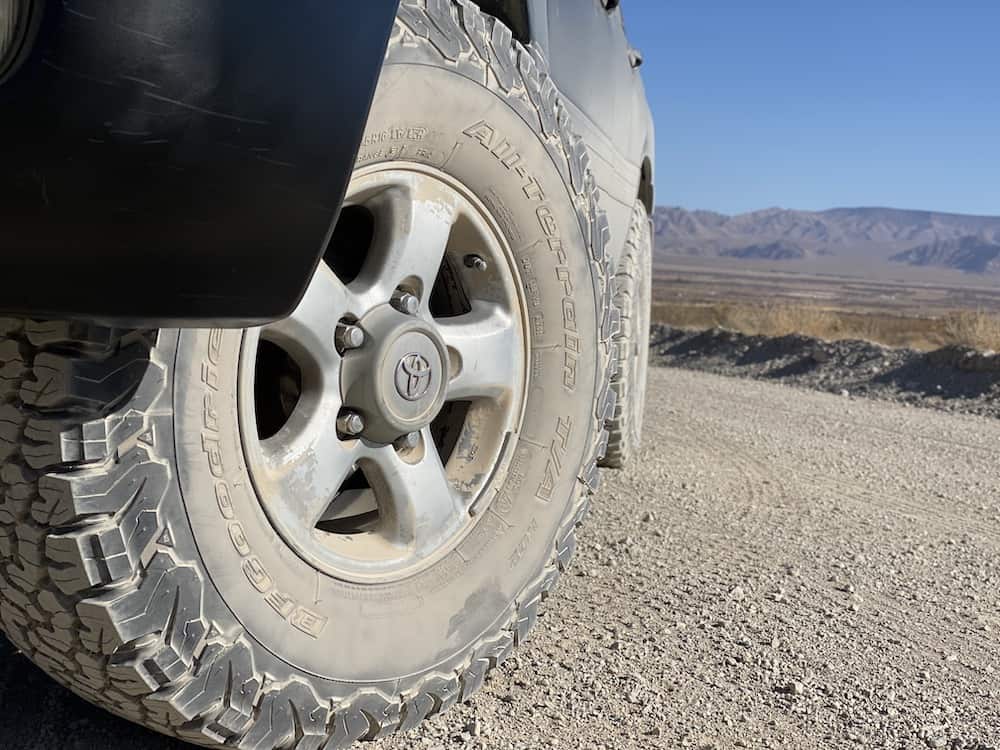 I sized up a bit and went with 285/75 R16 which are just shy of 33-inches tall and the largest tire you can fit on a 100 series without rubbing or making any modifications. A larger tire adds lift and with these, I gained about an inch of ground clearance.
The other benefits of having a great tire like the KO2s is that they can be aired down for off-roading, which provides for better traction and comfort. These BFG KO2s are also e-rated so they can take on plenty more weight if I ever decide to add a rear bumper or other heavy accessories.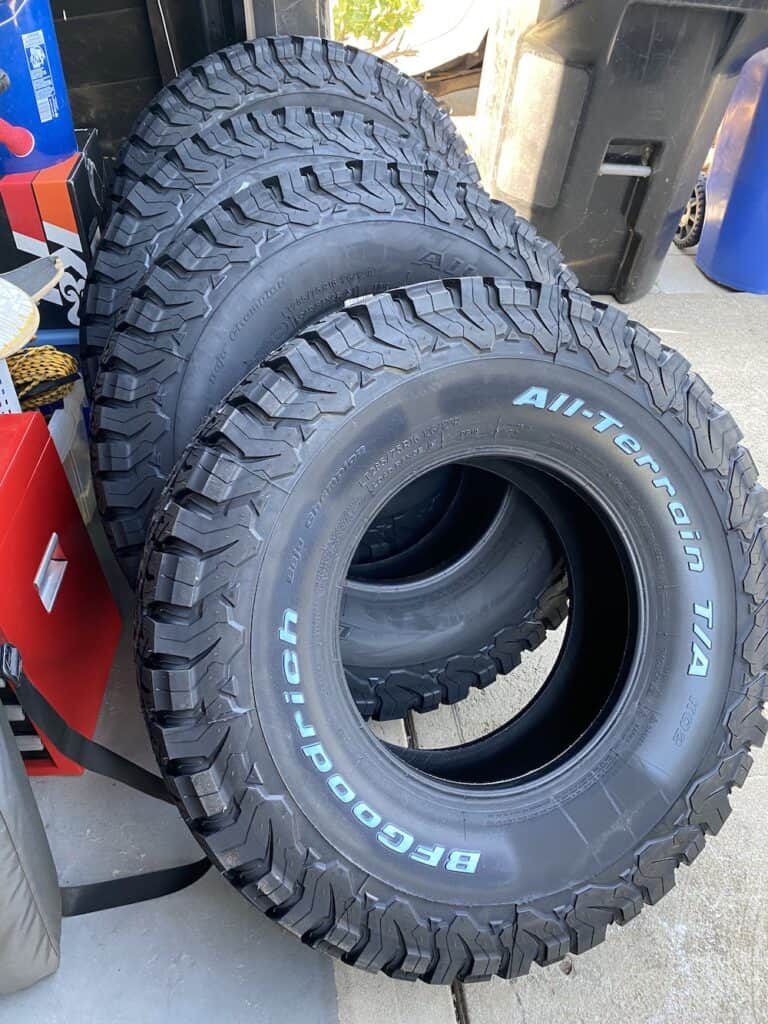 The BFG KO2s are revered in the world of off-roading and have proven their worth on rigs around the world. They are severe snow rated, but my tires will mostly see dirt, dust, and sand. They come with a 60-day guarantee and have a mileage warranty of 50,000 miles.
The tires shipped quickly and I had my local tire shop mount and balance them, as well as the spare. It's important to have a full-size spare.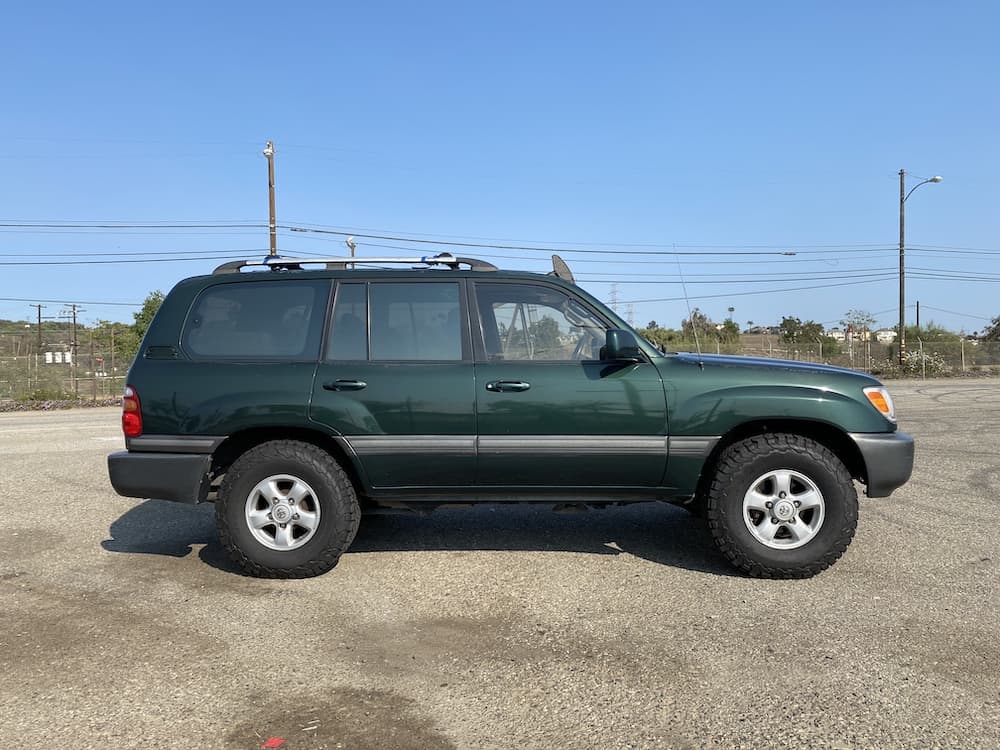 I also wanted them mounted on the stock 16-inch wheels which are forged aluminum, unlike the weaker and heavier cast aluminum found in almost all aftermarket wheels. They give the Land Cruiser a more vintage off-roader look which I prefer, but if a set of black TRD Pro BBS forged Land Cruiser, Tundra, or Sequoia wheels become available, I would jump on those.
Go Anywhere with an Expedition Style Roof Rack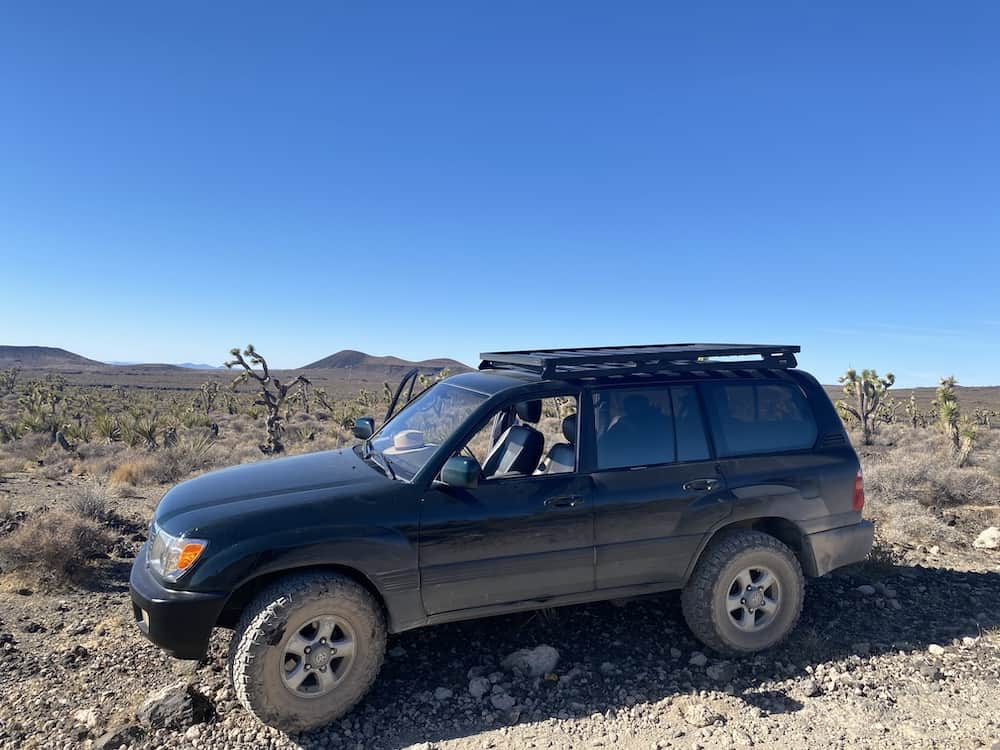 My previous Land Cruiser had a Front Runner Slimline II roof rack that performed superbly, so why mess with perfection.
Adding an expedition-style platform roof rack like the Front Runner Slimline II, instantly transformed my truck from an extremely capable car camping vehicle to safari worthy rig able to carry just about anything.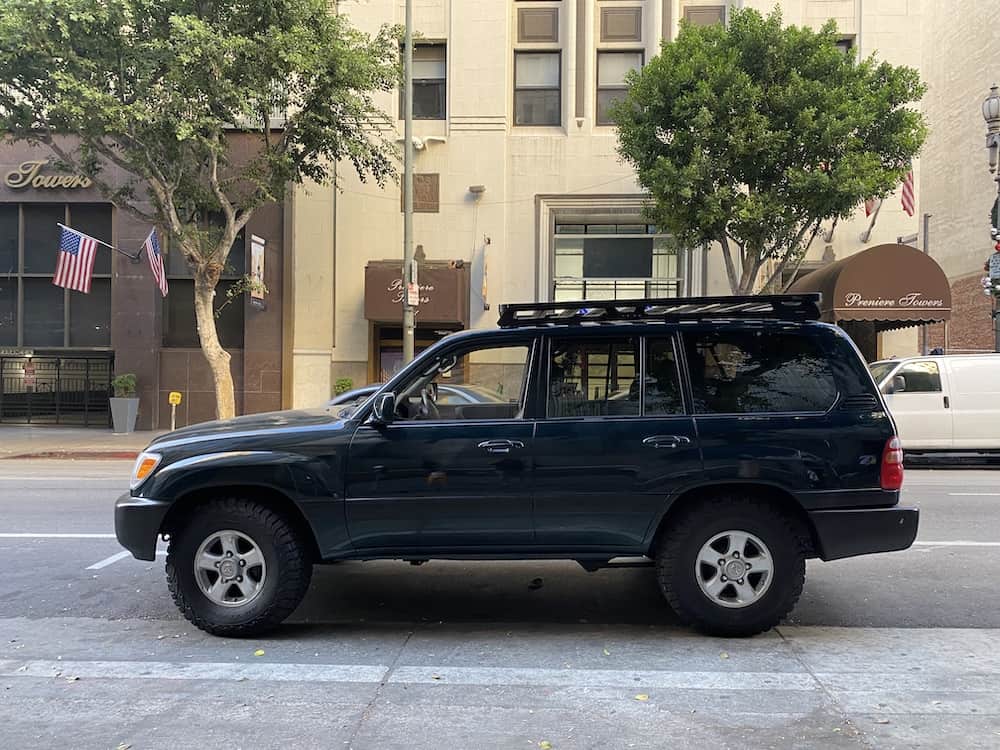 Unlike the Thules of the world, an expedition-style roof rack made of steel or aluminum is the best way to add more utility to your truck. The Front Runner rack is the perfect example of a roof rack that beautifully compliments your vehicle and allows you to pursue all of your outdoor pursuits.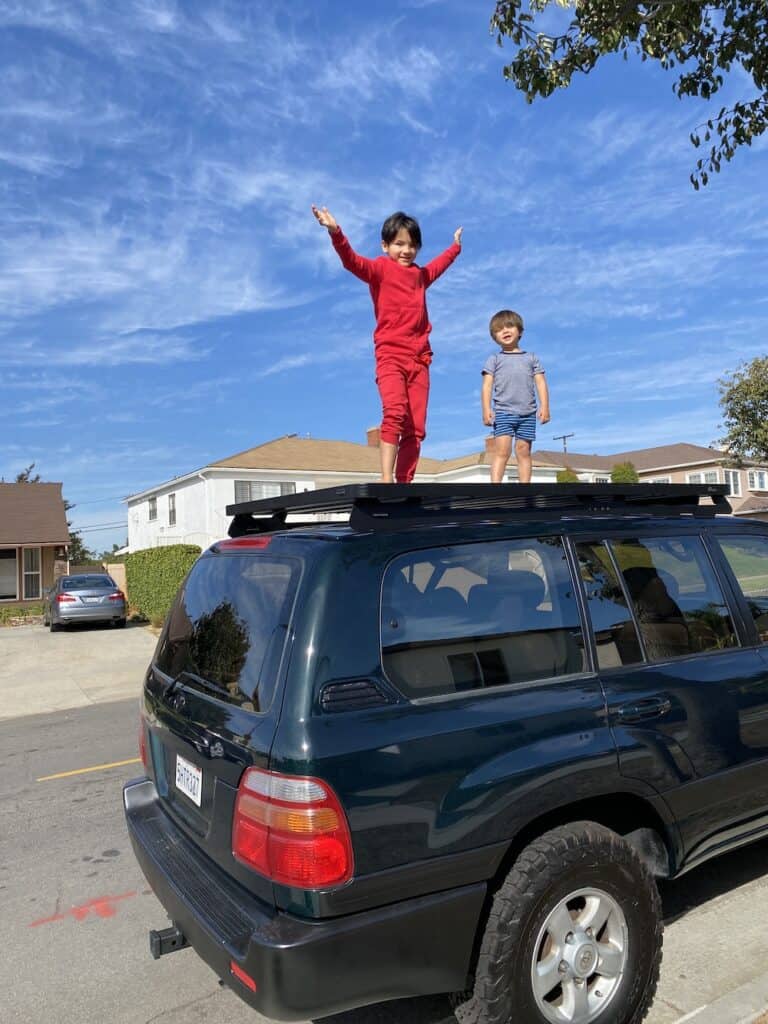 Front Runner has over 50 accessories available for their roof rack, that enable you to attach surfboards, SUPs, kayaks, skis/snowboards, and bikes. But where Front Runner really shines is their camping, overlanding, and off-road offerings.
I'll dive into my review and use of the Front Runner rack in a follow-up article, but it is a must-have modification for my needs.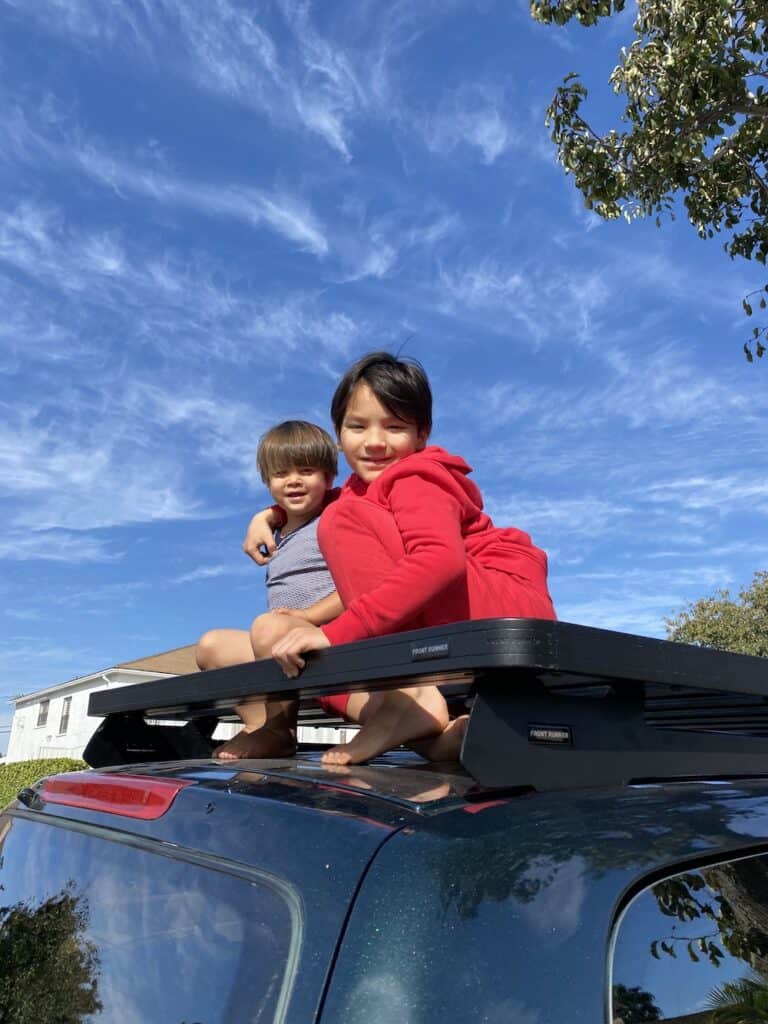 Additional Mods
The smaller additional mods started to add up quickly, and some made a drastic change while others were more subtle. To save money I have done almost all the work myself, which I suggest as labor adds up quickly.
Removal of the running boards/side steps adds an instant visual "lift", and prevents them from getting damaged from rocks or debris. It also makes room for future rock sliders.
Weathertech Floor liners
Philips HIR headlight bulbs
Interior LED lights (warm LEDs)
Cabin air filters (the Land Cruiser has a filter housing but often no filter was installed)
OME 2865 rear springs – The old springs were sagging badly, these new springs keep a factory height but have a higher spring rate.
OEM shocks all around to replace the worn out aftermarket shocks.
Bora 1.25″ wheel spacers – Widen the overall tracking of the truck and also bring the wheels even with the fenders for a much better look.
Rear mud flap eliminators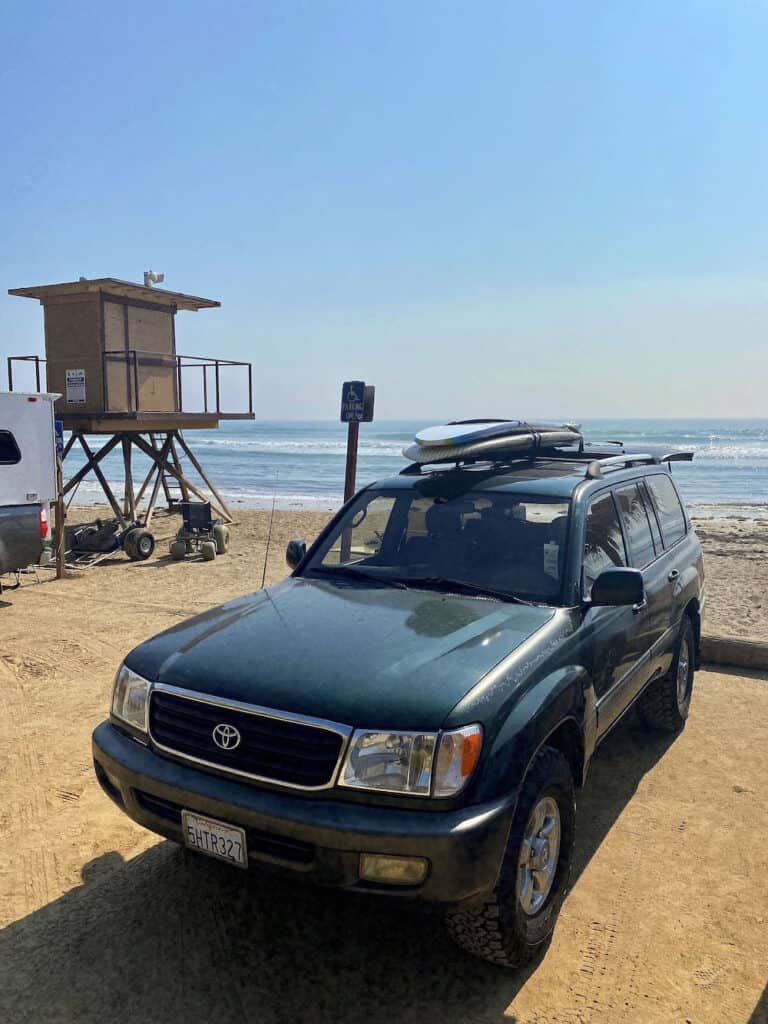 Future Mods
The list of future mods is long and will probably change over time, but for now these are the mods that make sense.
Hard shell rooftop tent. The Roofnest Sparrow was awesome and I'd love to add it to the Land Cruiser, but I don't want to keep it on all the time and I hardly have any room to store it. If I do add a rooftop tent I'll have to figure out these issues.
Upgraded suspension – I've heard great things about new OEM shocks, cranked torsion bars, and new rear springs, so I'm going with this budget setup for now. If I find it not capable enough of handling my off-road duties than I may consider a more robust setup from Ironman or Tough Dog.
Light bar – I'd like to add a 40-inch light bar to the roof rack and some LP9s to a front bumper if I upgrade that.
Rock sliders – I like the bolt on White Knuckle sliders to protect the rocker panels, provide steps for getting in and out of the cruiser, and a step for accessing the rooftop tent.
Front bumper – I really dig the old school look of the ARB bumper, but the low-profile offerings from Dissent and TJM also look great. A steel bumper would provide legit tow and lift points, offer extra protection, and mounting for lights.
Rear bumper – I don't want a swing out tire carrier as I need quick access to the rear area, but a new steel rear bumper would add tow and lift points.
Surfboard and Kayak carrying accessories from Front Runner.
Flowmaster muffler for more power and better sound.
Please follow along on Instagram for more updates to my Land Cruiser, as well as trip reports. I'm excited to spend more time with the 100 series and look forward to adventures big and small with my family. Creating memories out in the wild is what it's all about.