For homeowners, safety and accessibility are a main priority, particularly as it pertains to entry and exit points. Unfortunately, millions of homes are at risk, with 1 in 15 garages and 3 out of 4 gate systems lacking the latest safety features that ensure protection for everyone who comes into contact with garage door openers or automatic gates.
As National Safety Month comes to a close, here's some tips on keeping one of your home's more vulnerable entries safe whether you're on vacation or just running to the store thanks to the people over at LiftMaster: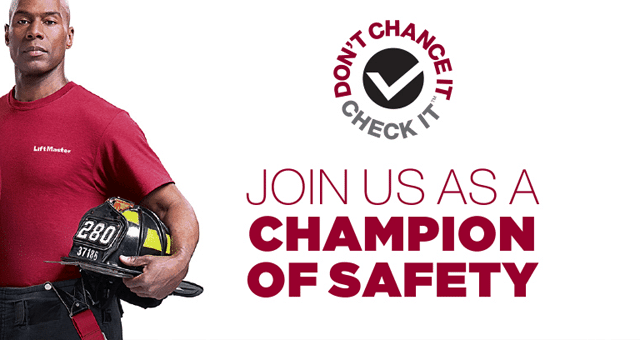 Don't Chance It. Check It.®: For more than 70 percent of homeowners, the garage is the main access point which makes it vital that garage door openers function safely and properly. "At LiftMaster, safety is our top priority," said John Villanueva, Vice President of marketing at LiftMaster. "To help those at home ensure their operators are working as they should, we developed a simple 3-Step Safety Check that can be done in a matter of minutes and should be conducted throughout the year when checking other home safety devices like smoke and carbon monoxide detectors."
Ensure devices are up to code: Whether you live or work within a gated community, it is equally important that automatic gates at entry and exit points have the proper safety equipment and are up to date with the latest industry standards, as indicated by Underwriters Laboratories (UL) – a global independent safety science company dedicated to promoting safe living and working environments. To ensure safety around automatic gates, UL standards require that in addition to safety devices such as photo eyes and/or sensing edges, gate operators bearing the UL label must stop working if the safety devices are not functioning properly. So keep your eyes peeled for any malfunction and take the appropriate steps to repair and update your safety devices as soon as possible.
Installation and maintenance: As both garage door openers and automatic gates are heavy pieces of machinery, professional installation is recommended. While garage door openers can be inspected at home, automatic gates should always be inspected by a safety trained dealer to ensure they are operating properly.
With these helpful tips, homeowners can ensure their garages and automatic gates are safe and functional.
Thanks to Liftmaster for these great tips!