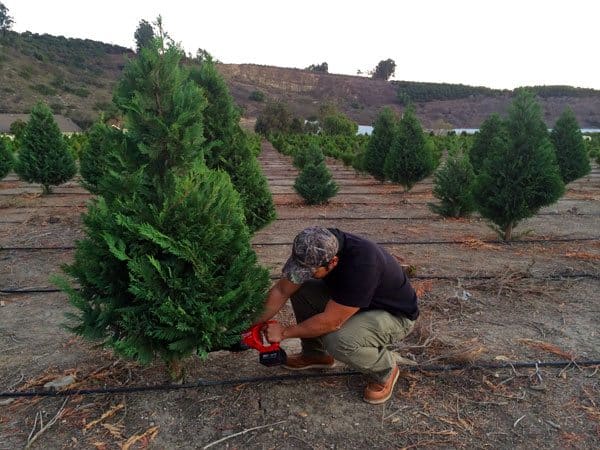 We always enjoy the experience of cutting down our own Christmas tree and taking the drive out to Fillmore, CA to check out the tree farms has become a yearly tradition for our family. Most of these tree farms have Monterey Pines and Leland Cypress but if that's not your thing they also import Noble firs from Oregon and Washington.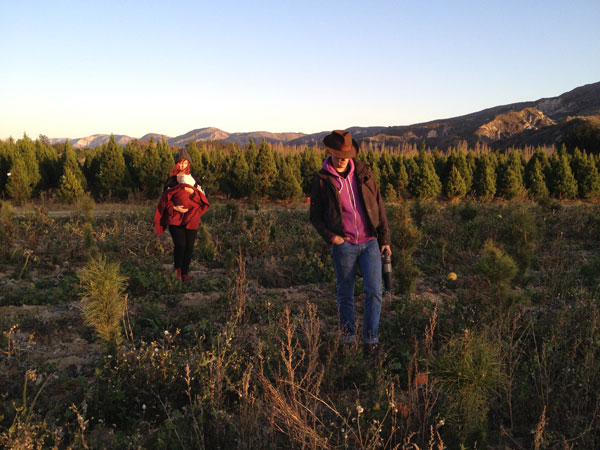 Most Christmas tree farms will provide all the tools you need to cut the tree which means a selection of dull hacksaws, but with some foresight we brought along our own cordless recip saw (a Sawzall) and gloves.
The recip saw makes quick work of cutting the tree especially being bent over and at an awkward angle next to the ground. You can spend quite long time cutting away with a regular saw. Make sure you select a long enough blade that is made for wood. Gloves and long sleeves will also help reduce blisters and the risk of stabbing yourself on bark and pine needles.
I recommend cutting at a downward angle instead of straight across to release pressure off the the saw blade and allow it to cut through easier.
You should also have a friend holding the tree as you cut so it doesn't fall on you.
And finally make sure you give the tree one last straight cut across when you get home as it will make it work in the stand better.
If you are transporting the tree on top of your car or in your car then opt for the net but if you are dropping it in the bed of your truck you won't need one.
Do you cut your own tree? What type of Christmas trees do you have in your area?