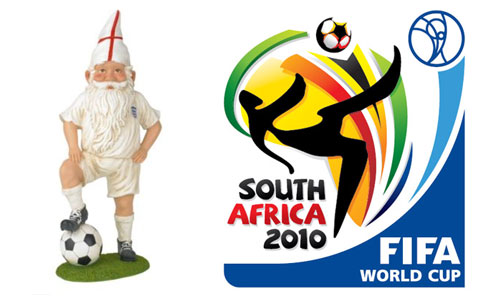 The world is abuzz literally with World Cup fever. Despite the audio during the opening game that played an annoying buzzing sound emanating from the crowd, the first match started out well as host country South Africa and Mexico played to a highly competitive and entertaining 1-1 draw.
If your celebrating the World Cup this year and plan on watching some games at home, check out our Super Bowl party prep tips which should apply to your favorite sporting event.
Our UK readers can head to B&Q to sort out the perfect football party housewares. From an outdoor grill, lighting, chairs to your very own English football playing Gnome.

Tomorrow is the opening match for the USA and we're kicking off vs. England. It should be a great one! If you need some help getting into the spirit we suggest watching these videos from NIKE and Adidas. Adidas is the official World Cup sponsor but we think NIKE gets the goal for best commercial. What do you think?
NIKE World Cup Commercial – Write the Future

Adidas – Star Wars Cantina Commercial