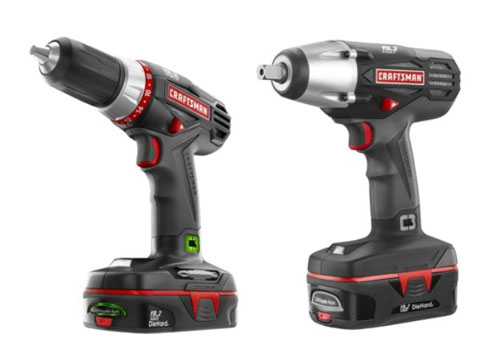 Our Giveaway this week is courtesy of Craftsman and it's a hot one!
You must be on Twitter to be eligible and believe us, this giveaway is worth the two seconds it takes to sign-up. We will also notify and announce the winner on Twitter.
One winner chosen at random among our followers will receive a Craftsman 19.2V C3 Mechanics Combo which includes a 1/2 in. Compact Lithium Drill and an Impact Wrench.
We've taken a close look at the drill and it's got some sick features that you won't find anywhere else and the styling of the C3 line of power tools is awesome.
Details:
The 1/2 in. compact drill offers a lightweight, ergonomic design with a robust motor offering up to 340 in-lbs of torque when powered by the compact 19.2V Lithium Die-Hard battery. It is equipped with a 2-speed gear box and 24 position adjustable torque clutch along with an LED light that illuminates when the trigger is pulled.
The impact wrench has a powerful motor generating 0-3000 RPM no load for tightening or loosening various nuts / bolts along with its impact mechanism that allows you can focus on heavy duty applications producing up to 200 ft-lbs of torque. It has a 1/2 in. socket anvil for easy and secure socket connections. Included is a socket extender for use in hard to reach areas.
Both the full size and compact lithium Die-Hard batteries are equipped with two energy indicators, one on front and one that illuminates the C3 Logo within the handle of the drill. Energy indicators turns from green to yellow to red indicating the battery's energy level.
*****THIS GIVEAWAY IS NOW CLOSED – Thanks for entering and make sure you receive our newsletter for the latest giveaways*****
HOW TO ENTER
tweet. tweet. tweet.
To enter this contest you must follow @craftsmanclub and @Charles_Hudson on Twitter and let us know by tweeting this contest with the words "Just joined the @craftsmanclub for a chance to win a Craftsman Mechanics Combo from @Charles_Hudson http://bit.ly/dBw2l9"
GIVEAWAY DEADLINE
After all the entries have been tabulated the random winner will be chosen at 12 midnight EST on Aug 15th, 2010 and will be notified immediately (via Twitter).

Join our Email Newsletter for more Giveaways and Home Improvement Tips.
(we do not sell our lists to third parties and you can unsubscribe at any time)
We take no responsibility for the function or use of the this product.
This product will be shipped in new condition.
Only residents age 18+ of the U.S. and Canada are eligible to win.
All rules are subject to change without notice.
Please review our Giveaway policy.