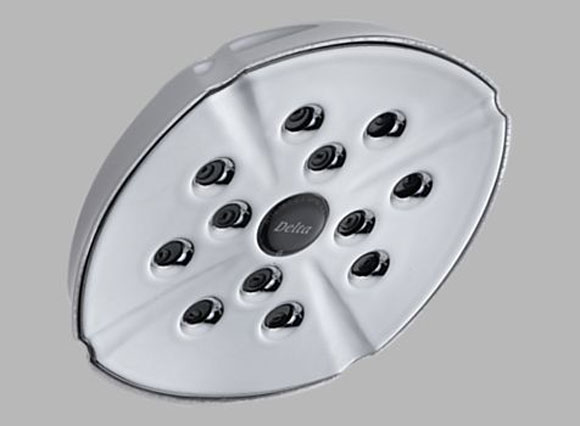 Last week we spent a day at Delta Faucet headquarters as they shared their latest designs and the innovative technology behind their products. At the end of the day they presented us with a complimentary Delta Raincan Showerhead and we'd like to pass it along to one of our regular readers in this weeks Giveaway.
This isn't your run-of-the-mill showerhead. Beyond it's beauty at 6″ across and a sharp chrome finish, the technology behind this showerhead is unique. It's got 3 Smart features that will make your shower experience even more enjoyable.
H2Okinetic Technology
Delta's proprietary H2Okinetic Technology®delivers 36% less water than standard showerheads. H2Okinetic Technology uses larger water droplets, which not only retain heat better, but also create a warmer, more luxurious spray that blankets the body.
Watersense and Water Efficient
Delta is a partner in WaterSense, an EPA-sponsored certification program that ensures the performance of water-efficient products. Water-efficient showerheads allow you to use less water and still have a satisfying shower experience, while still maintaining a stylish appearance.
If you're ready to amp up your shower experience then read on for giveaway guidelines.

*****UPDATE: THIS GIVEAWAY IS NOW CLOSED – THANKS FOR ENTERING*****
HOW TO ENTER
You've got two options! Enter both ways!
1. Leave a comment below saying "see what Delta can do".
2. Tweet this contest on Twitter with the words "Ready for my @deltafaucet shower from @Charles _Hudson giveaway http://bit.ly/a8cxgU"
GIVEAWAY DEADLINE
After all the entries have been tabulated the random winner will be chosen at 12 midnight EST on Aug 24th, 2010 and will be notified immediately.
Join our Email Newsletter for more Giveaways and Home Improvement Tips.
(we do not sell our lists to third parties and you can unsubscribe at any time)
We take no responsibility for the function or use of the this product.
This product will be shipped in new condition.
Only residents age 18+ of the U.S. and Canada are eligible to win.
All rules are subject to change without notice.
Please review our Giveaway policy.