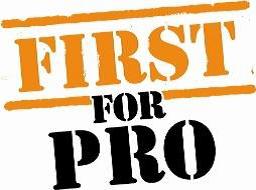 We've got some info that all of our pro readers will appreciate and that includes: contractors, house-flippers and serious DIYers.
While only four percent of The Home Depot's customers are Pros, more than 30 percent of the company's sales are generated by Pro customers! With last year's development and implementation of the FIRST for Pro program, The Home Depot is able to provide a new level of convenience and efficiency to Pros and we'd like to share this program to help you maximize your shopping experience. The goals of the program align with your business which is getting the product you need quickly and at the best price.
Some of the top features of Home Depot's FIRST for Pro program include:
Power Hour
The Home Depot FIRST for Pro Power Hours feature extra staff on the floor during the morning rush, including dedicated loaders, to get Pro customers in and out fast.
Two-Hour Pickup
To make Pro shopping even quicker, The Home Depot FIRST for Pro program offers Two-hour pickup – call in an order and The Home Depot will have it ready to go within two hours.
On-site Delivery
If you can't make it to the store, The Home Depot FIRST for Pro program can arrange free on-site delivery for paint and appliance shipments via Pro Direct, or even help coordinate large shipments directly from the vendor.
Volume Pricing
Pros shoppers at The Home Depot can take advantage of volume pricing, with quantity, bulk and large item discounts.
VIP Parking
Where permitted, The Home Depot offers FIRST for Pro dedicated parking areas close to the store.
For more details visit Homedepot.com/Pro

The Home Depot partnered with bloggers such as me to help promote their FIRST for Pro program. I did not receive compensation in exchange for this post. The Home Depot believes that consumers and bloggers are free to form their own opinions and share them in their own words. The Home Depot's policies align with WOMMA Ethics Code, FTC guidelines and social media engagement recommendations.