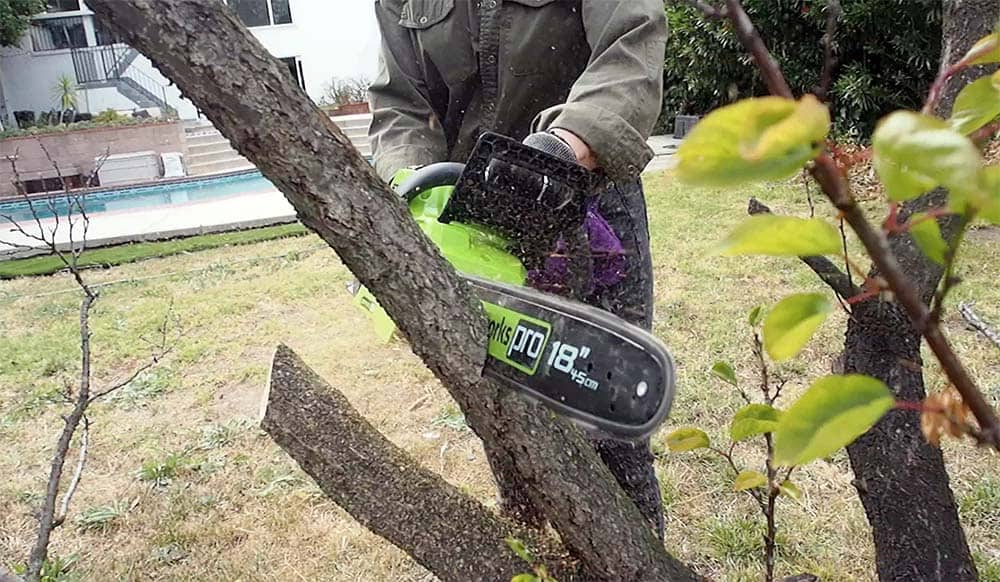 One of our major spring projects is cutting down a diseased apricot tree in our back yard. We considered using an ax or hatchet for the job, but it turns out that an electric chainsaw is an ideal tool to get the job one.
Despite our best efforts to water, fertilize, and prune the tree, it's time to say farewell. The tree stands about 8 feet at its tallest, and the trunk is approximately 2 feet in diameter at its widest.
We've got a new Greenworks 60V chainsaw that is designed for homeowners who need a tool that is comfortable enough to handle on weekend projects but also durably constructed for occasional heavy-duty jobs. This saw is perfectly suited for cutting down a tree of this size.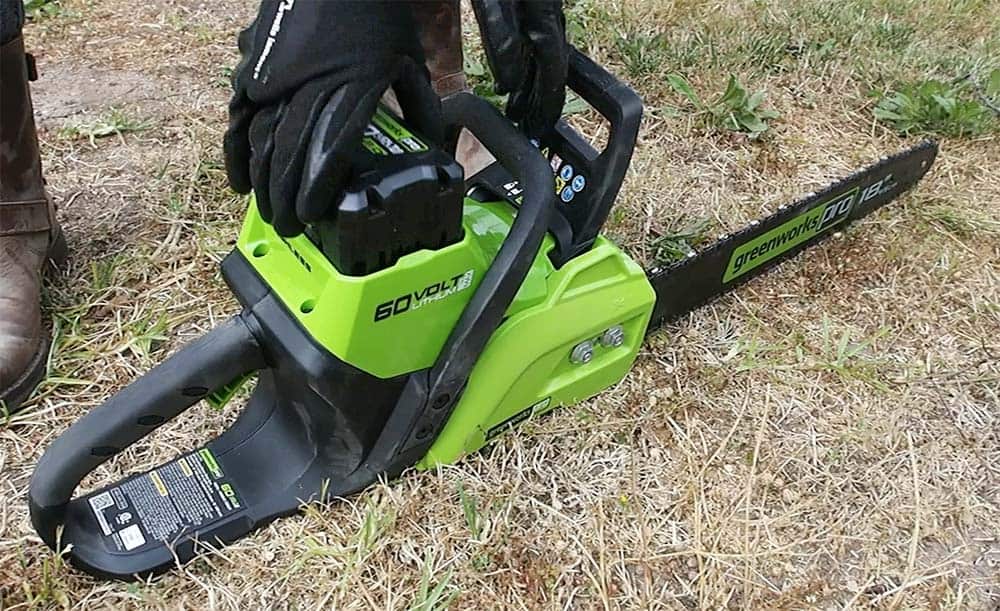 Despite its intimidating name, anyone can use an electric chainsaw. Like with all cordless outdoor power equipment, you simply drop in a charged battery and pull the trigger to get started. A chainsaw does require a few more cautionary steps.
Personal Safety Equipment
For light-duty work such as limbing and clearing light brush, you should wear work gloves and eye protection. If you plan on using the saw for extended periods of time and in awkward situations, you should wear protective chainsaw chaps, hearing protection, and a face shield.
Chain Maintenance
In addition to a charged battery, you'll want to check the level of bar oil and add some if needed. Chainsaw bar oil keeps the chain lubricated which extends the life of your chain and allows it to move freely along the bar. The oil cap on the Greenworks saw is translucent so you can check the level without removing the cap.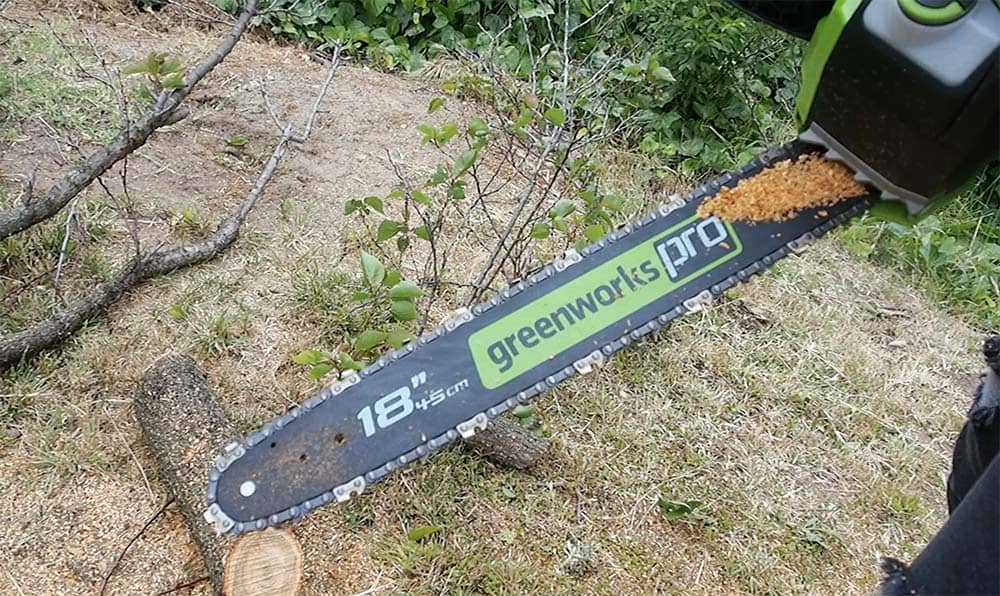 Over time your chain will start to stretch, but it's easy to check for any slack in your chain by pulling at it from the top. It should lift easily but still feel snug. You can also lift the chain from the bottom of the bar and when you release it the chain should snap back into place. If it sags or feels loose you can easily adjust the chain tension with the provided tool.
How to Use a Chainsaw
For a larger tree you would simply cut it down from the trunk and then limb it, but with this smaller tree it was easier to cut the branches first and set them aside and then cut off firewood sized pieces from the larger branches and trunk.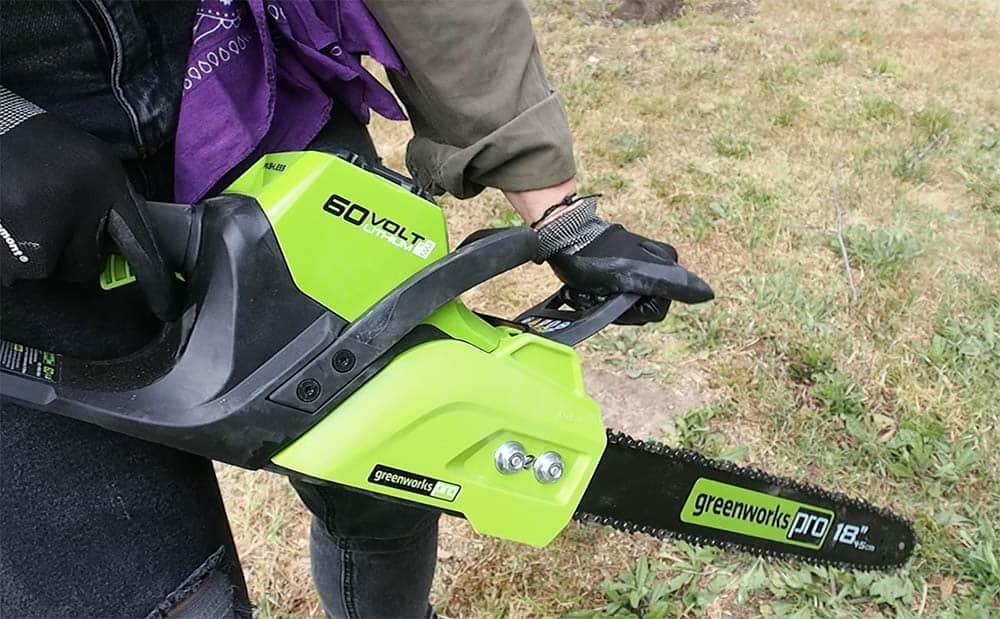 To operate the saw make sure the chain brake located at the top of the saw is pulled towards you. This safety feature is designed to stop the chain if the saw kicks back towards you. Then depress the safety button pull the trigger to start the saw. You'll want the chain to be moving before you touch it to wood. Never let your chain hit the ground, as dirt and rocks can be thrown and it can immediately damage your saw.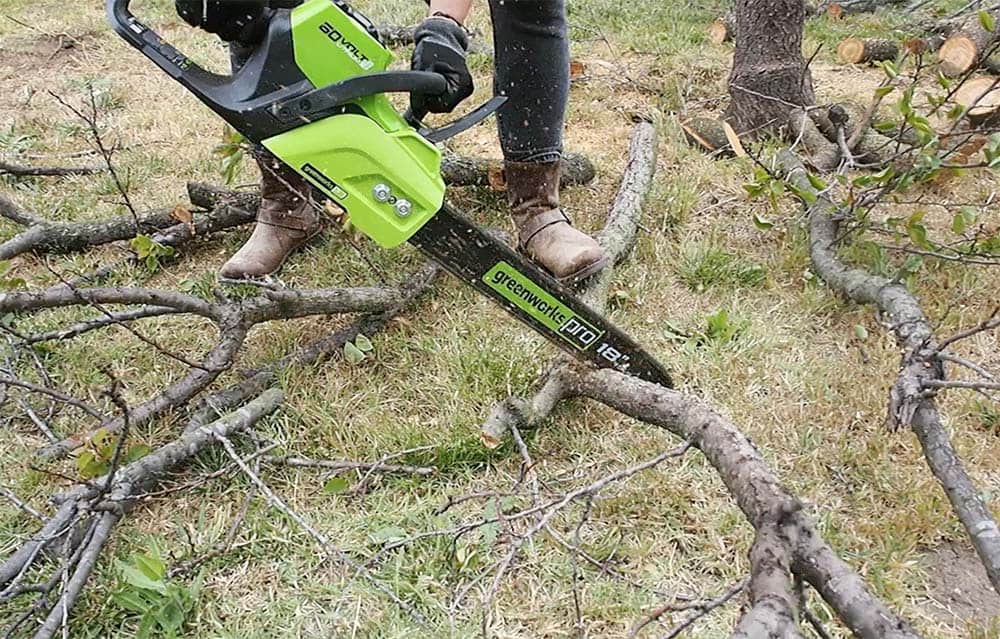 To cut a branch, use light pressure and allow the chain and weight of the saw to do the work. There is no need to move the saw back and forth or place excessive downward pressure on the saw. A sharp chainsaw will do the work for you.
Go Electric
The top-rated Greenworks 60V cordless saw offers plenty of power for all homeowner needs. We recommend that you should immediately replace your gas-guzzler for one of their cordless models. Going electric means no more fumes, no more gas/oil hassle, and way less noise. You'll also have zero startup issues and much fewer maintenance problems to deal with.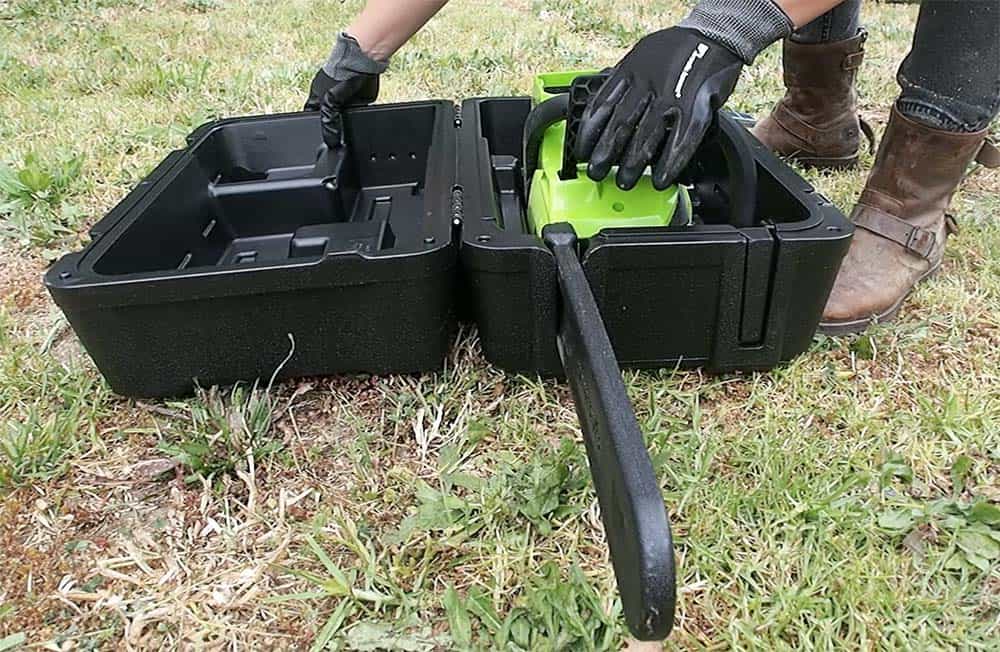 In addition to all of the benefits of this electric chainsaw, you'll also be able to take advantage of the Greenworks universal 60-volt battery system that works across multiple outdoor power tools, like their string trimmer and blower.
Greenworks tools are available at your local Lowe's or on Amazon.
This post is sponsored by Greenworks but all opinions are 100% those of Timothy Dahl of Charles & Hudson.