Building a picnic table is the best way to enjoy the great outdoors in the summer. Eating outside seems to take even the most ordinary of meals to something special, and your backyard is a great place for entertaining, too.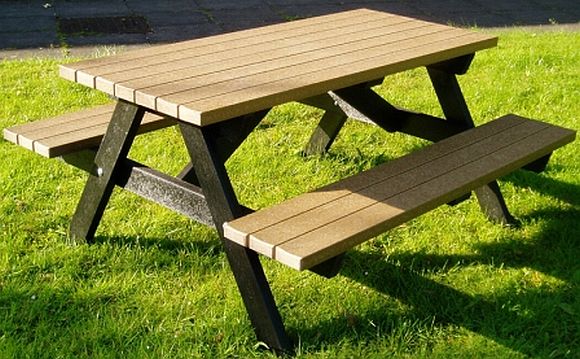 Of course, if you're going to eat outside, you'll need a table. How about a DIY picnic table? We'll give you some highlights of a project plan from The Home Depot. First up? Supplies and materials.
Supply list
Tape measure
Ratchet and socket wrench
Framing square
Combination square
C-clamps
Bar clamps
Circular saw
Saber saw
3/8-inch drill and bits
Screwdriver
Paintbrush
Safety goggles
2x4s
2x6s
2x8s
3/8 x 3-inch carriage bolts
No. 8 2-1/2, 3 and 4-inch deck screw
Sandpaper
Steps
First things first: You'll need to cut and assemble the table's slats and supports. The legs will then be screwed on, and supports screwed to the legs will help hold the bench slats in place.
From there, you'll assemble the top by first cutting the 2×8 table slats to length using the circular saw. Cut the table supports and cut a 60-degree angle on each end of the two end table supports, then cut a 60-degree bevel on the end of the center table support. Clamp the table slats together, separated by spacers, and drill holes with a combination countersink bit.
For now, only drive screws into the two outermost slats–this will give you room to adjust the inner slat if necessary as you finish the project. Use No. 8 4-inch deck screws to screw the two end table supports to the slats. Attach the center table support to the slats with 8 2 1/2-inch deck screws.
After that, you'll add the legs and supports, attach the bench slats and apply any final touches such as sanding and paint. This is where you can really have fun and customize your table. Consider painting the legs and supports a contrasting color, as pictured at the top of the post. Or try a rich stain to bring out the natural beauty of the wood. Check out The Home Depot's complete project tutorial, available in a printable PDF, that also includes a cutting list for the slats and legs.
Photo courtesy of HisAndHersDIY.com