New homeowners are often faced with repairing and maintaining a home for the first time in their lives.
I assembled a list of six essential tools perfect for home improvement newbies that will make a great gift. With these items, you will be well on your way toward a comprehensive workshop that can help you tackle an array of challenges.
A few comments on the selection criteria:
I have used all of these tools myself (or perhaps a slightly older model) and find them impressive.
My selections are based on VALUE. I don't like pointless product features; they only appeal to people who don't know what they are doing. My selections are not top-of-the-line, with all the bells and whistles, have-to-take-out-a-loan-to-purchase tools. They get the job done for a great price.
I will share the product link, but I won't explain every last facet of the tool. I figure Amazon does a better job at this. I simply tell you why I find the product to be such an impressive buy.
So, here we go!
Zircon StudSensor A100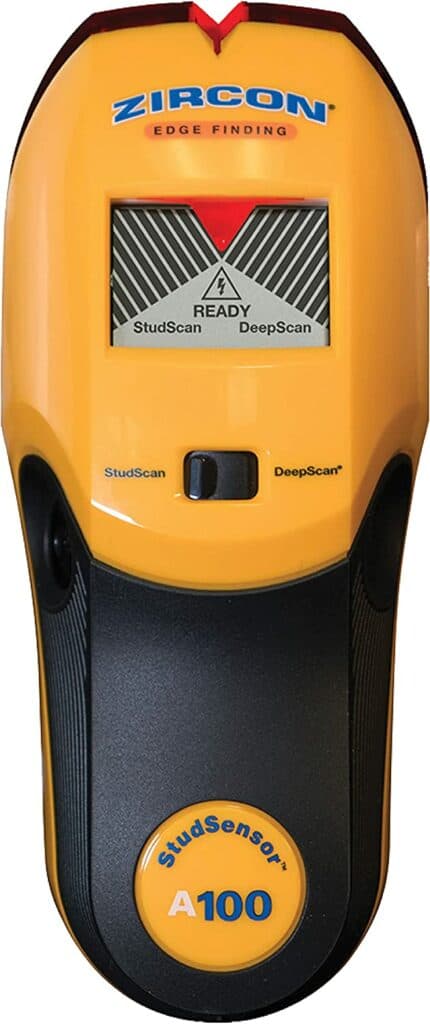 What It Is
A stud finder is, quite simply, a tool for pinpointing the location of wood (and in some models, metal) structural elements behind drywall, tile, or most other wall surfaces.
When You Use It
A stud finder is essential for many home improvement projects. Installing crown molding, baseboard, chair rail, putting in closet inserts, and hanging heavy items on the wall; all require identifying solid backing.
Why I'm In Love With The Zircon StudSensor A100
The Zircon A100 is lightweight. Since you will be holding it to a wall or ceiling repeatedly, lightweight and maneuverability are essential for comfortable use.
The Zircon A100 notifies the user when an electrical current is present in the wall, allowing you to avoid penetrating wiring when installing the fastener.
The Zircon A100 has a deepscan mode which scans beyond 3/4″ depth drywall to locate studs and electrical that isn't near the surface of the drywall.
Bessey D-BKWH Quick-Change Folding Utility Knife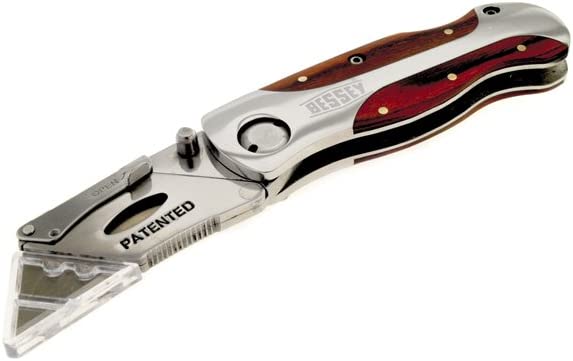 What It Is
A utility knife is an all-purpose cutting tool that uses removable, disposable razor blades.
When You Use It
Ummm, any time you cut something? I use mine to sharpen a pencil, cut through plastic sheeting or cardboard, open a tube of caulking, etc.
Why I Am In Love With The Bessey D-BKWH
Extremely quick blade change. I mean, I can change a blade in under 6 seconds, no joke. (I actually timed myself. I admit, I am a total tool nerd…) Simply unsnap the lock bar, slide out the main clasp, change the blade, slide the main clasp back in and snap the lock bar in place. Done. No need for a screwdriver or any other tools.
Safety. Throughout the blade-change process, you are never exposed to difficult movements that create a cutting danger. I have used utility knives that force you to slide locks adjacent to the blade. Can't tell you how many times I nearly severed tendons trying to open a stuck slide lock.
The Bessey D-BKWH folds in half when not in use, allowing for safe and simple storage in a pocket or a tool belt. When working on my projects, I simply slide this knife into my jeans pocket at the beginning of the day, and never think about it again until I need to use it. When a need arises, I just grab it from my pocket, flip it open, and I'm ready to go.
Once flipped open, the knife is ready to go. I can't stand the knives that force you to slide the blade in and out. So often the slide gets stuck, creating great annoyance when you have to disassemble the knife just to fix the sliding mechanism. No hassle like this with the Bessey D-BKWH.
Newborn E-Z Thrust Skeleton Hex Rod Cradle Caulk Gun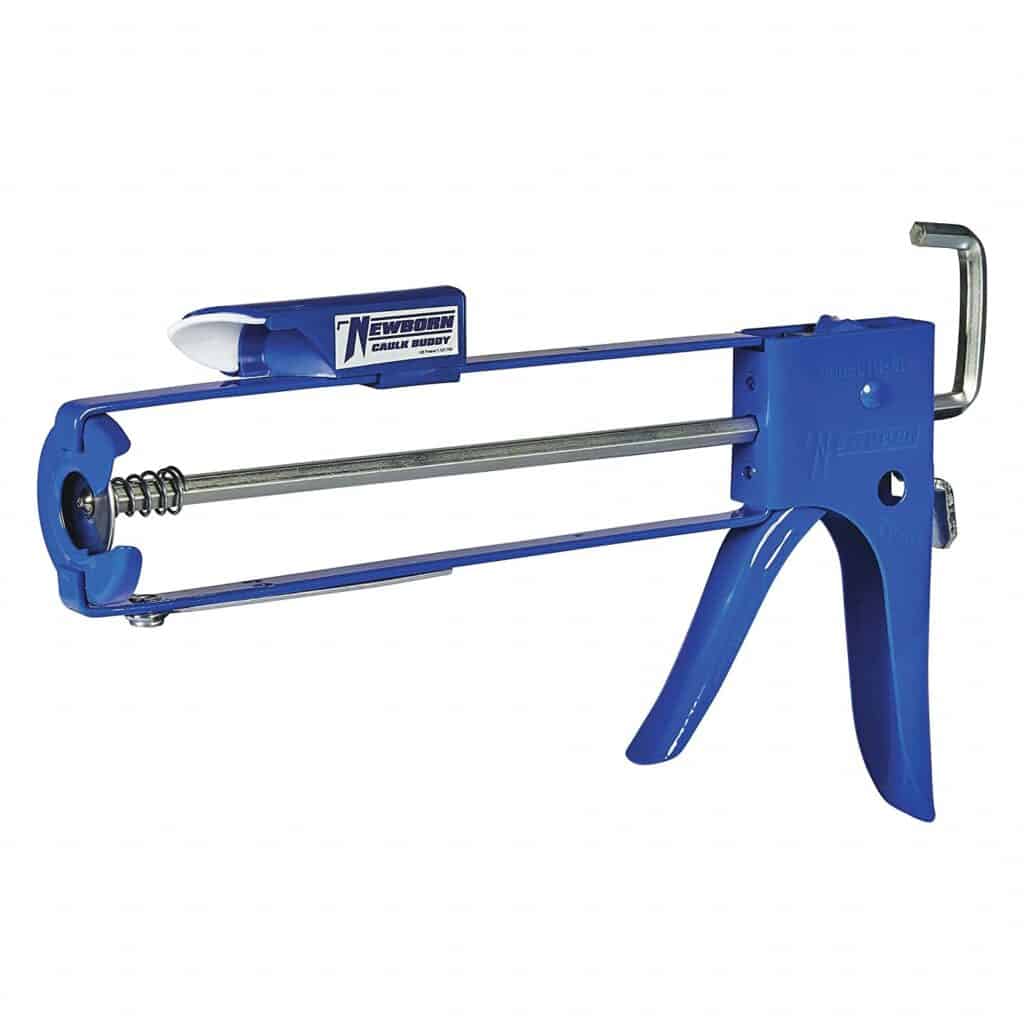 What It Is
A caulking gun, or caulker, is a tool used for dispensing any product out of a tube container.
When You Use It
Use a caulking gun for an array of projects that require caulking or adhesive. I use mine mostly for caulking paint-grade trim and adhering wall paneling.
Why I Am In Love With The Newborn Bros Caulker
Durability. I dare you to break it. It's more durable than Tiger Woods' image. Oh, wait…
It showcases a whopping two features: A puncture tool and a spout-cutter. Both are used to open a new tube of caulking or adhesive.
I love simple tools, and this is the poster boy for simple and effective tools.
DEWALT DW929K-2 18-Volt 3/8-DEWALT 20V MAX Cordless Drill / Driver Kit, Brushless, 1/2-Inch (DCD791D2)Inch Cordless Compact Drill/Driver Kit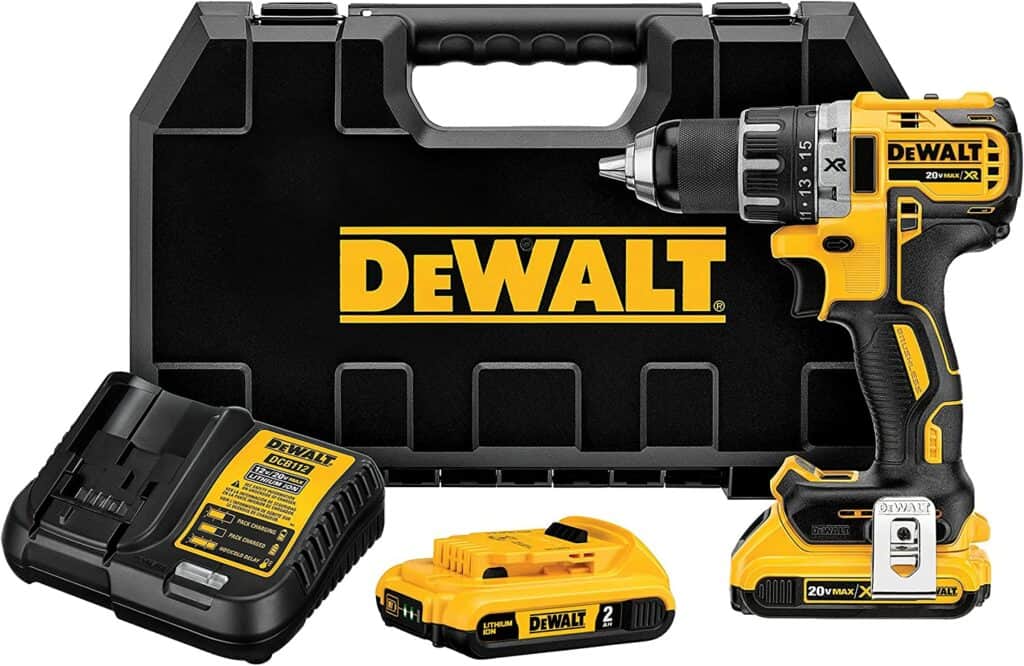 What It Is
A drill/driver is the workhorse of your toolbox. It runs on a rechargeable battery and allows you to install different drill or screwdriver bits.
When You Use It
Use it any time you need to screw or drill on a project.
Why I Am In Love With The DEWALT DW929K-2 18-Volt 3/8-DEWALT 20V MAX Cordless Drill / Driver
A drill/driver is all about balance. This drill simply "feels" right in your hands. Not top-heavy, not bottom-heavy; just right.
The 18-volt battery gives you plenty of power and charge duration for almost any project.
The extra battery charges quickly to keep your project going.
At 4.5 lbs., this drill/drive is lighter than the standard 18-volt version.
I have had my model for almost 8 years and have never, ever had a problem.
PORTER-CABLE PCFP3KIT 3-Nailer and Compressor Combo Kit
What It Is
A combo kit features everything you need to dispense either finish nails or brads. The power source (compressor), hose, and the actual finish or brad nailer. A finish nail is usually 1.5″-2.5″ in length and 16-18 gauge, whereas a brad is smaller, usually 0.75″-1.25″ in length and 16-18 gauge. The two guns in this kit both use 18 gauge products. A 23 gauge pin nailer is also included.
When You Use It
In all types of finish carpentry, from building furniture to installing trim and molding.
Why I Am In Love With The Porter-Cable Combo Kit
Cost savings. Buying these products in a kit saves you at least $50.
Guaranteed to function well together. After all, they are the same brand and specifications.
Rugged, to say the least. I have had this combo kit for nearly 5 years. I can't tell you how many times I have dropped my nailers with no effect. In fact, the only issue in 5 years was the eventual failure of the hose. This is to be expected.
Simple. The compressor has only two adjustments: On/off and air pressure. That's it. I love it.
Note: You may want to pick up an extra hose or two so you don't have to place the compressor in the same room with you. It is loud.
DEWALT Miter Saw, 12-Inch, Double Bevel, Compound, XPS Cutline, 15-Amp (DWS716XPS)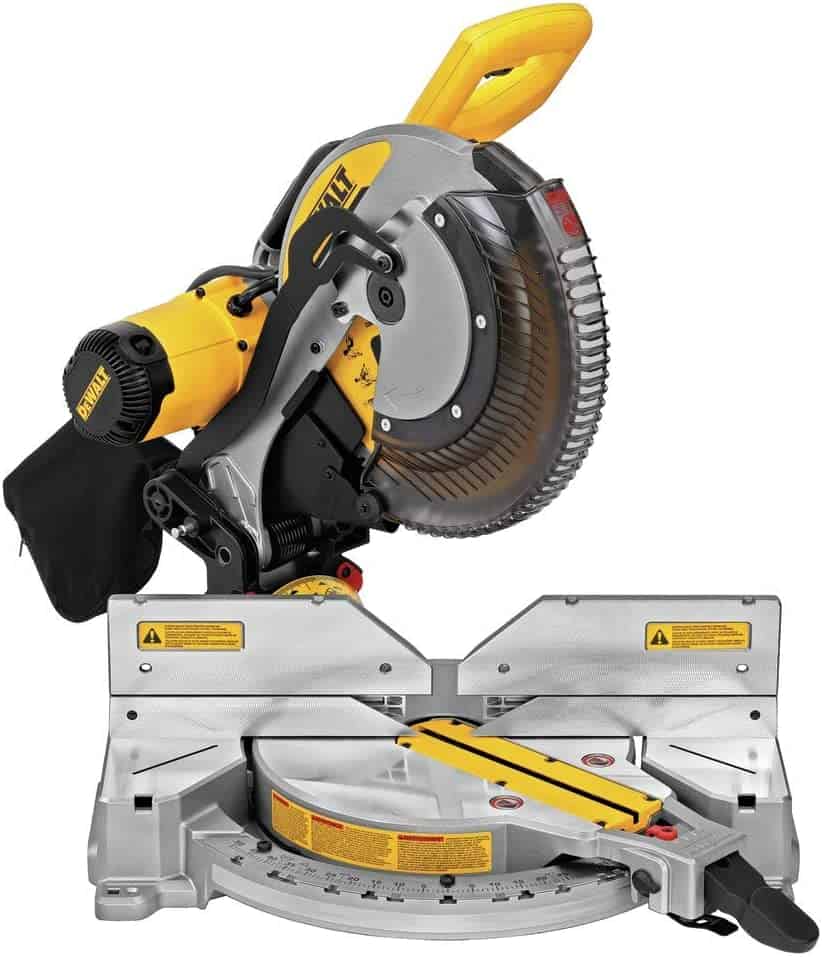 What It Is
A miter saw is a single-blade, fixed-cutting tool used to cut an array of materials (depending on the blade you are using) at an array of angles.
When You Use It
Any time you need to make a cut and you can bring the material to the saw. I have used mine extensively for finish carpentry and general household projects. I even used it to cut salami once, but that was a joke during a Christmas party and it really gummed up my blade.
Why I Am In Love With The DEWALT 12-Inch Double-Bevel Compound Miter Saw
Like a good friend, this saw is always there, ready to go to work, without complaint or fuss. It just works, over and over.
I prefer the accuracy of a hinged miter saw over a sliding miter saw.
The fence configuration and 12-inch blade allows you to cut almost any material against the back fence instead of laying flat. This significantly improves accuracy.
Set-up and calibration is a breeze.
Blade change is simple and quick.
This article was written with the help of Deren S. Monday who has spent over a decade in the residential and commercial construction industry, and is a graduate of the Construction Management Department at California Polytechnic State University, San Luis Obispo. All this talk of tools makes him want to upgrade his workshop… Deren is the author of Your Cheap Kitchen Remodel: A Guide to Your Affordable Dream Kitchen.