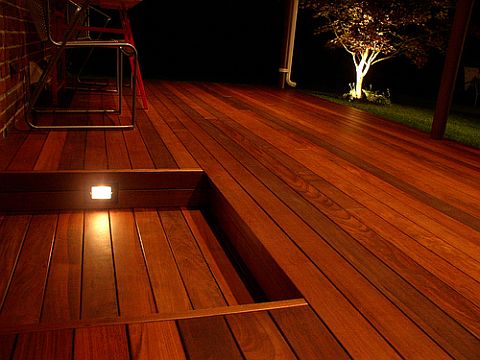 Ipe wood decking came on the scene quickly and it seemed the whole world went wild. Once consumers get a feel for it, the hype didn't let up and now demand for Ipe wood decking is fierce.
A fairly new phenomenon (compared with what's out there today) in the outdoor construction and decking industry, Ipe is growing ever stronger with each season. So what's with this wonder deck board? Is it all just hype?
The Basics
First of all, say it with me. Ee-pay. That's right, it's not like pipe without the first "P." Now that we have that all settled, you'll be interested to know that Ipe decking comes from Brazilian Walnut (or Lapacho species) trees. They grow in the tropics of Central and South America and have a long history of use.

Ipe is known for its strength. The U.S. Forest Products Lab rates it as "very durable," set to last over 25 years. Other ratings state that you can easily get 40 years out of this decking with no treatment and up to a century using an oil preservative. Ipe also had a very high Janka hardness rating (over 3,000) and is three times stronger than cedar, a wood commonly used for exterior projects.
It's pricey, don't be fooled. But you're investing in a hardwood that will be extremely durable, resist termites and do all of that without the need for treatment.
How and Where to Use It
Because Ipe is so strong, you'll need to pre-drill all of the holes. When you hire a decking contractor you can expect slightly higher labor costs. DIY deck jobs using Ipe will take more time –and maybe a few more cold drinks– in between duties.
The wood also works fabulously for Adirondack furniture, benches and as flooring for boats and other vehicles. Kiln-dried Ipe can be used inside for cabinetry and flooring, but most exterior Ipe is simply air-dried.
Quick Comparison With Treated Lumber
Ipe is strong, but treated wood works well for exterior use, too. You'll be paying a fair premium to have the Ipe, but you can also count on this lumber being a green alternative (no chemicals, often harvested from sustainable forests and little need for replacement over the years) and being around for decades.
The color and appearance are high class as well. A rich brown color without the need for stain, this hardwood is stunning.
While the hardness is great for durability, it may add some work and cost to the installation. Be prepared for this, but don't let it scare you away. Ipe is still a winning option for many homeowners. And with the longevity of this product, it's pretty certain that the interest and hype won't die down any time soon.
Photo courtesy of