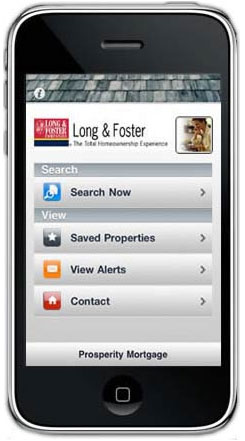 With the conditions of real estate today it remains very much a "buyer's market," yet that doesn't mean it is easy to actually be a buyer. But Long & Foster Real Estate, the largest independently-held residential real estate firm in the country might just have a way of making it a bit simpler to find that dream home. The company has announced the release of its iPhone/iPad apps.
From the palm of the handheld users can use this free downloadable app to search listings anywhere and more importantly anytime. Customers can search for nearby properties, refining searches based on property type, price range, number of bedrooms and other "must have" desires for their dream home. The app can be set to notify users whenever a property matching the search criteria comes on the market.
Plus users can save notes, photos and even videos about their favorite properties, while retrieving information about the demographics of the neighborhood including population characteristics, education and even average income of local residents, along with school date – both public and private.

"Long & Foster has always demonstrated a commitment to being on the leading edge of technology and providing consumers with the tools they need to make informed real estate decisions," says Jeffrey S. Detwiler, president and chief operating officer of The Long & Foster Companies. "Our iPhone and iPad apps were designed to pack maximum information into a user-friendly app that includes valuable add-ons to make the on-the-go home shopping experience more streamlined and organized."
Once a dream home is located users can then make the next step and get in touch with a sales associate via the app. While currently available for the Apple iPhone and iPad, Long & Foster is currently developing apps for other mobile platforms including Android smartphones. Isn't that clever?
Long & Foster