Off-roading usually requires the occasional engine revs to get the RPMs up, but when you've got instant torque in electric mode with the Jeep Wrangler 4XE, you've opened up an entirely new world of wheeling.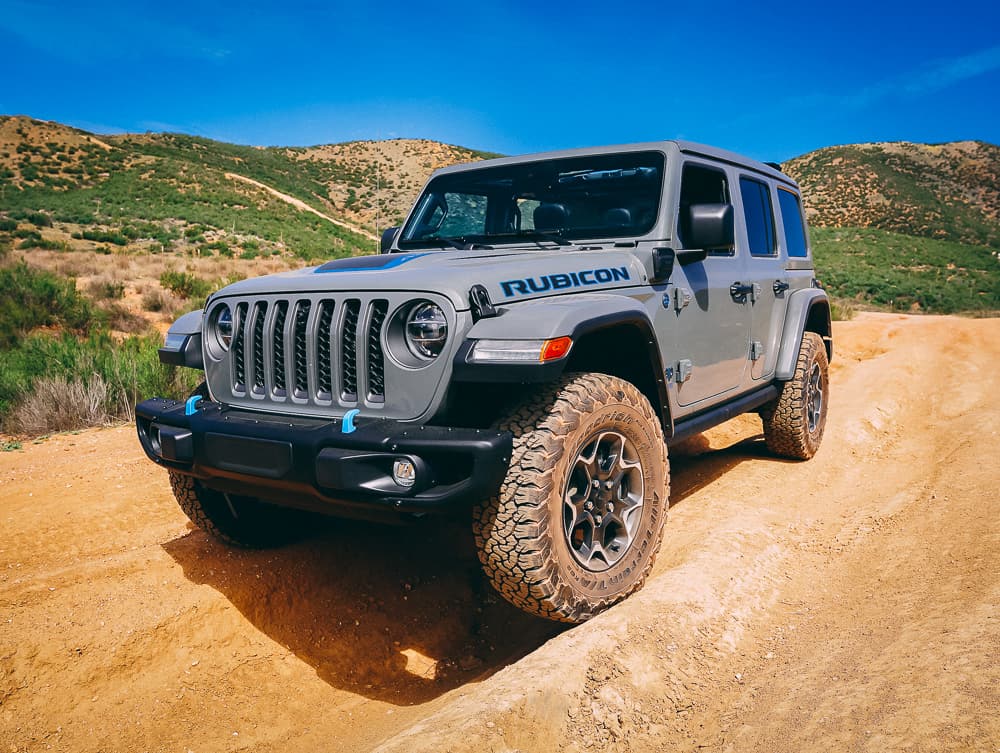 I've been off-roading in some form or another since I was 12 years old. I started with a mini-bike then graduated to an Honda 110 ATC. My first 4×4 was a first-generation Mitsubishi Montero and have since had early Broncos, F-150's, and Land Cruisers.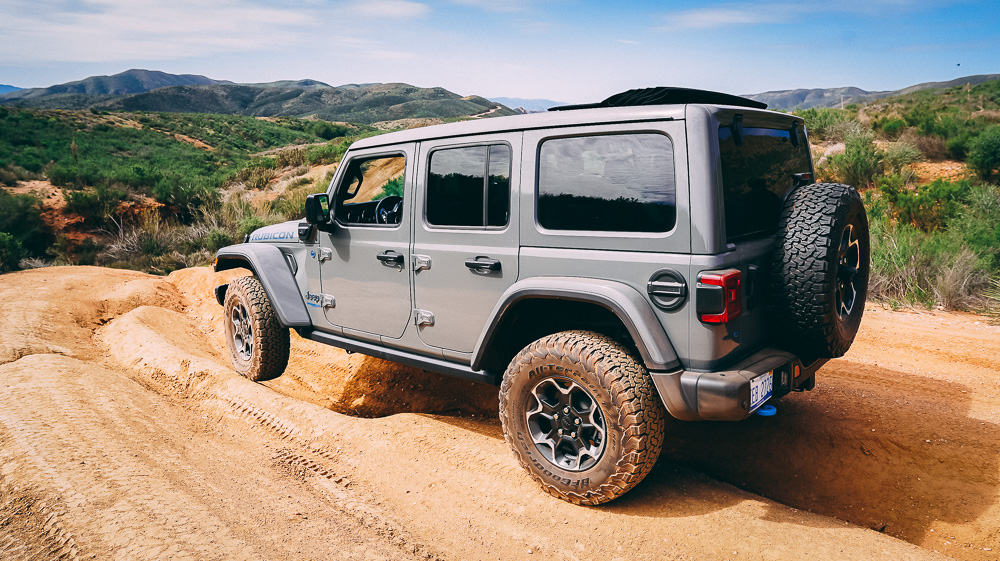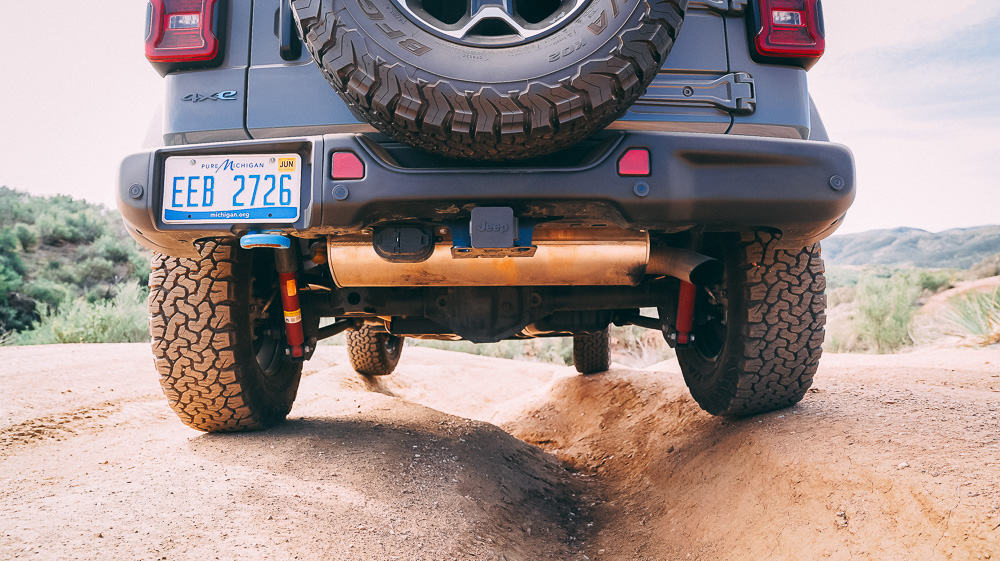 Getting Closer to Nature
All of these modes of transport run on gas and the smell of exhaust and constant hum of the engine have always been part of the charm of wheeling. But it wasn't until I did more hiking and mountain biking that I came to appreciate the outdoors I was traveling through.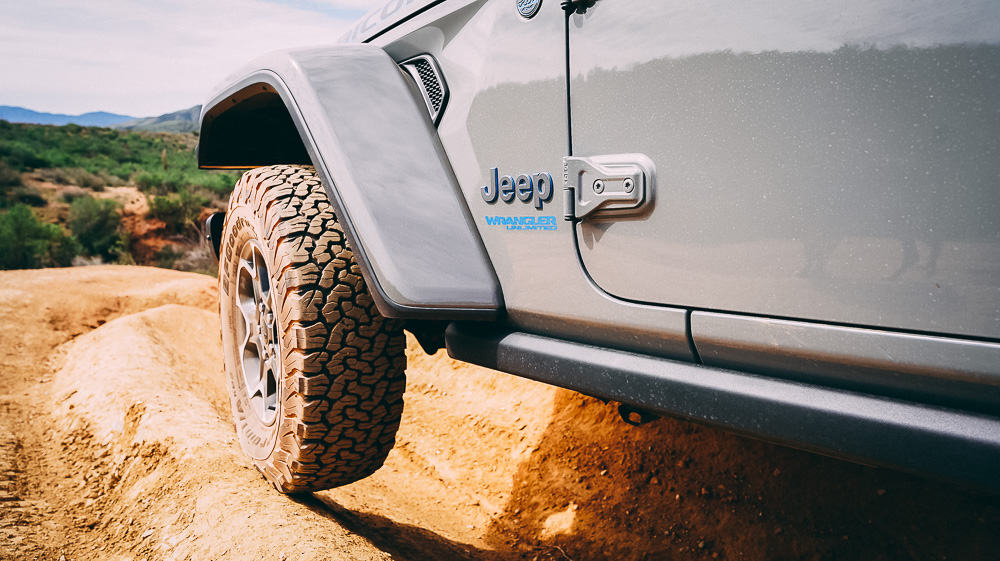 From hearing birds chirping to the wind rustling through trees, when you remove the sound barrier of an internal combustion engine, you've gotten one step closer to nature.
Jeep Wrangler 4XE Plug-In Hybrid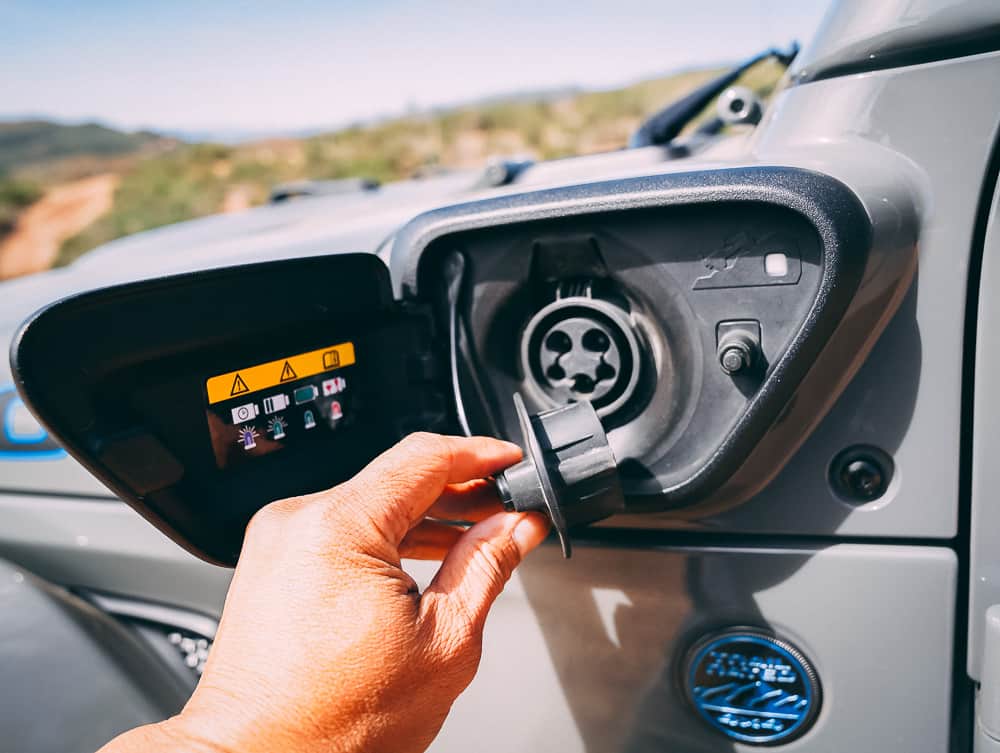 This is why I was stoked to go off-roading in a 2022 Jeep Wrangler 4XE. This plug-in hybrid has a driving range of 370 miles (combined electric and gas) which is important when considering any off-road adventure.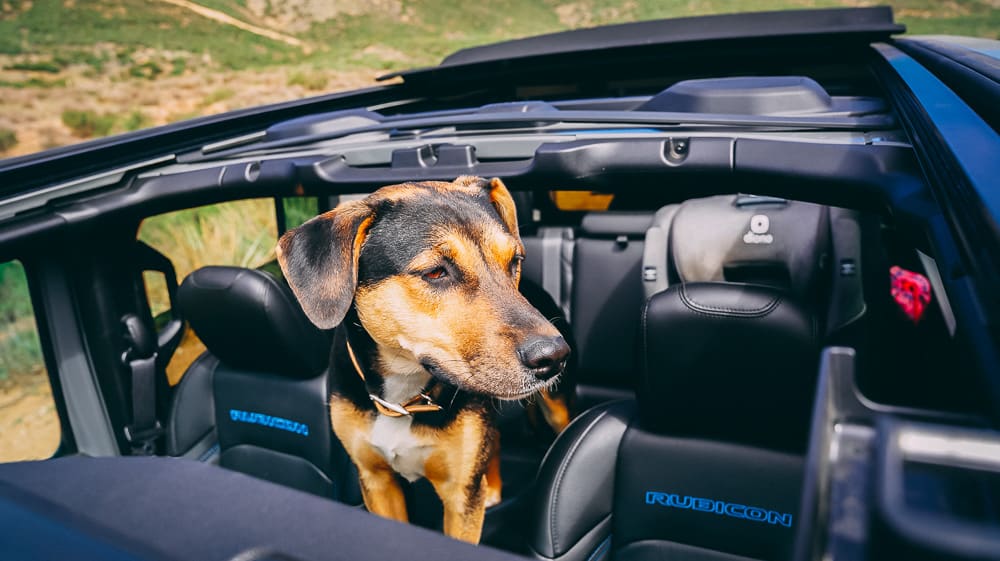 Going Electric Only
But, where the Jeep Wrangler 4XE really shines is when you switch it into electric mode only which nets you 21 miles with just the battery. I drove an hour to a local hill while in gas mode (e-save) which saved my battery, and as soon as I hit the dirt I switched to battery electric-only mode.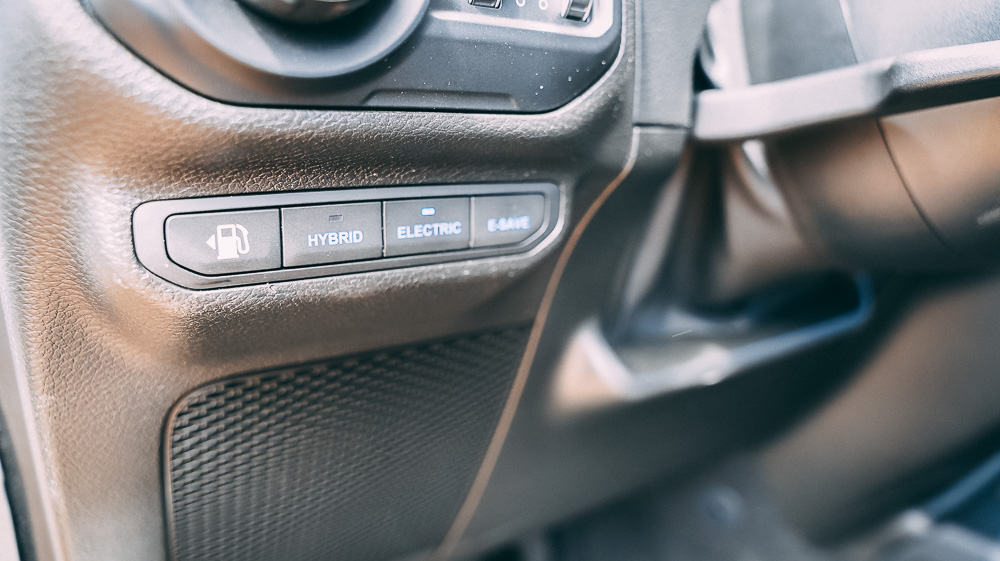 This small change made a world of difference in my driving experience.
The Jeep Wrangler 4XE Rubicon which is the vehicle I tested, is virtually indistinguishable from the standard gas-powered Rubicon. With the 4XE Rubicon you still get the locking differentials, larger tires, and sway-bar disconnect, but you have the added ability to off-road in near silence and truly leaving no-trace.
When off-roading in a 4XE in electric mode, the only sound you'll hear from the vehicle are the beefy BFG tires crawling along on the dirt.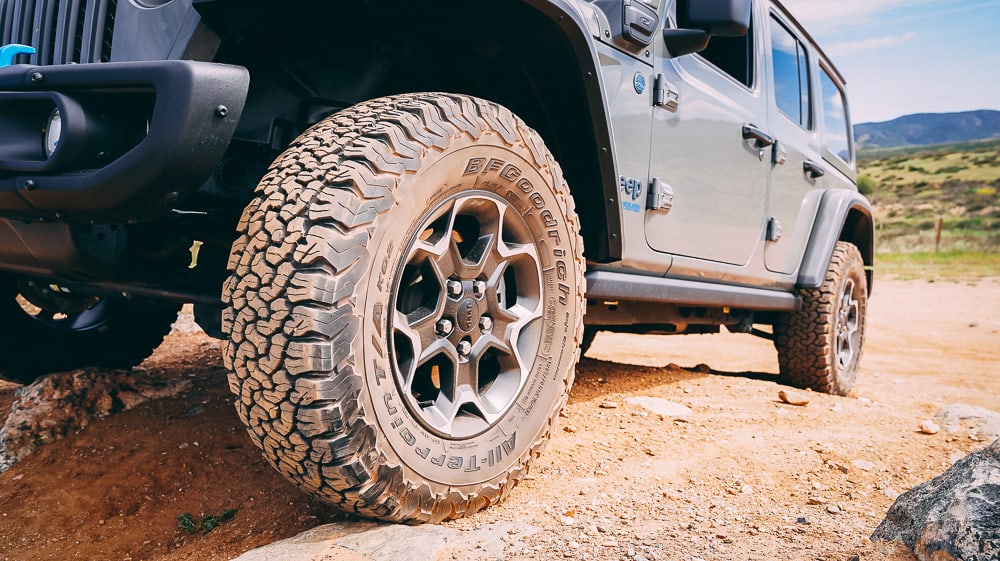 Driving Impressions
Jeeps are extremely easy to drive off-road, even for newbies. But Jeep has made it even easier with the 4XE. In hybrid and electric mode the powerband is easy to locate and throttle response is instant but forgiving.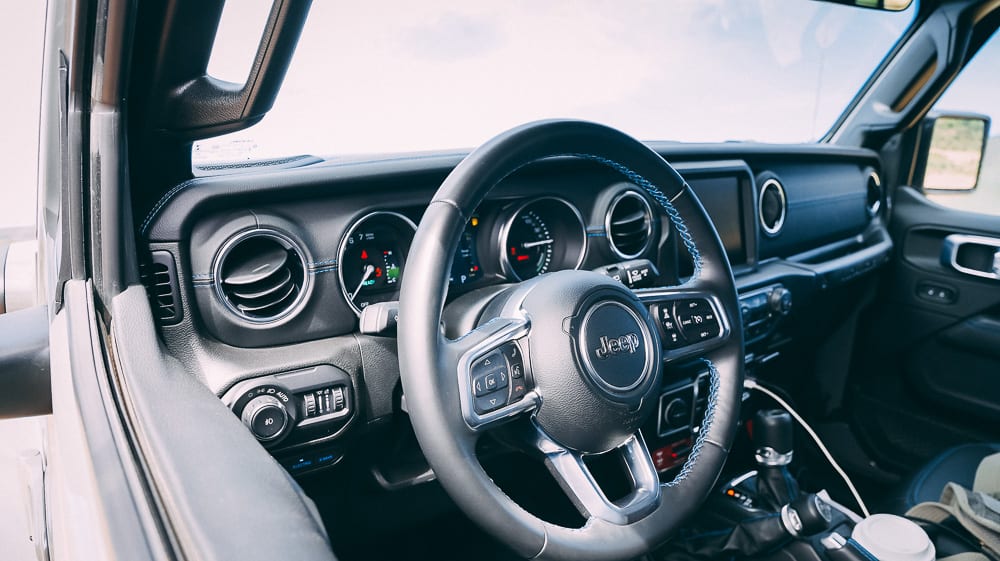 Switching to electric mode and pulling the top back, will truly immerse you into your environment.
There is no substitute for hiking or biking a secluded single-track trail, but the 4XE will get you as close as you can without walking.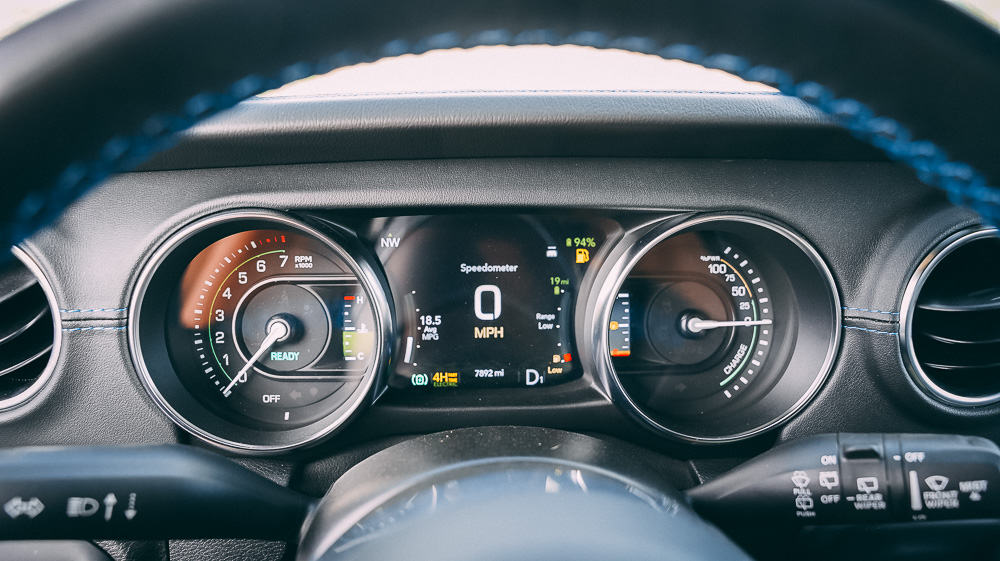 Jeep Wrangler 4XE Photos