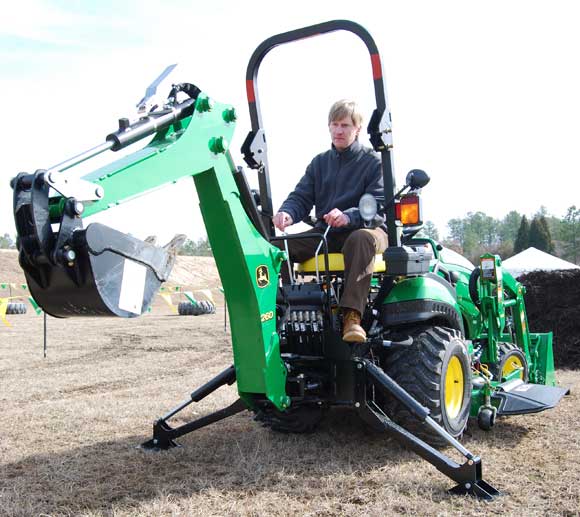 Our tour of the John Deere manufacturing facility in Augusta, GA was amazing and testing the latest tractors and riding mowers was definitely the highlight. Our photos and videos from the event have been getting a lot of attention so we wanted to share a bit more detail regarding some of the new products from John Deere including a review of the top of the line 1-series 1026R sub-compact tractor.
The new 1026R is very similar to the base model 1023E but there are some significant changes that at the end of the day can make a world of difference when deciding which tractor to purchase.
Features
The 1026R has been built with a wide-stance for better stability, and a standard folding ROPS system for roll-over protection. The 1026R also features a deluxe lighting system to enable work in low-light conditions, cruise control for mowing in open fields, tilt steering, a tool box, a 12-volt outlet, and a position control 3-point hitch which allows the operator to return to the hitch to the same height with precision and ease.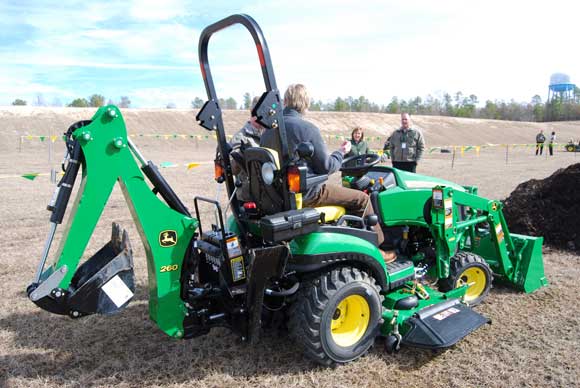 The 1026R has a bump in horsepower at 25.2-hp and can accept dozens of attachments and implements, such as front loaders, mower decks, rotary tillers, and a backhoe. Using exclusive AutoConnect technology, operators simply drive over the top of the mowing deck to attach it to the tractor. In addition, iMatch AutoHitch compatible 3-point hitch implements can be attached or removed from the tractor's 3-point hitch in minutes without ever leaving the seat or using a single tool.
Ride Test
The 1026R rode a bit rough but fortunately the seat is upgraded in this model with a higher backrest and included armrests which make a huge difference when spending hours in the saddle. The added lights would also make a difference when working at dusk and night as you often need more than just the headlights.
The AutoConnect feature performed flawlessly and we likened hooking up the mower deck to driving into a car wash. Just follow the guide on your left front tire and the rest takes care of itself as the deck automatically hooks up and the AutoConnect engages.
Here are some videos of the the AutoConnect and iMatch AutoHitch in action.


The mowing height adjuster is now easy to reach from the seat and you can adjust the deck quickly and easily.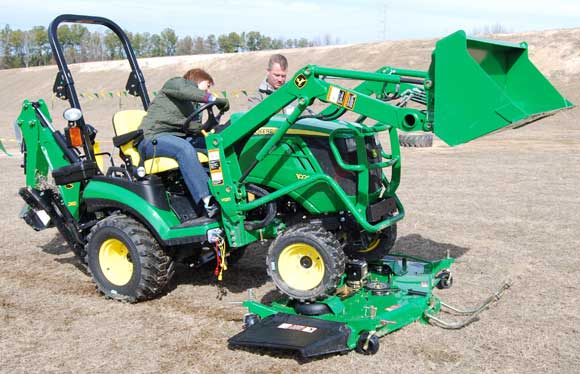 This top of the line sub-compact tractor will have a ton of buyers this year and with the new features that make it so much easier to use your attachments we see this becoming extremely popular with the older folks who no longer want to lug around heavy attachments.