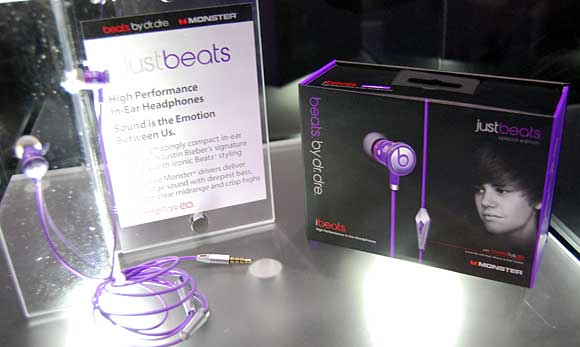 Last year Justin Bieber blew up and unless you live under a rock you've at least heard of him. That fact didn't get past some exhibitors at CES this year and we thought we'd share only two of the many Justin Bieber licensed products at the show.
The product with the best tie-in is the Beats by Dr. Dre headphones from Monster. The Beats headphones are almost as popular as Bieber himself so why not go for it all and make the most popular headphone in the world by slapping Justin's face on the box. They probably sound pretty good but they were under glass.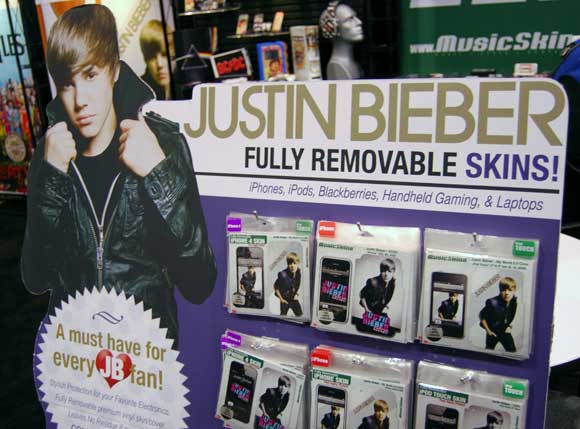 The iPad and tablet accessory area at CES was huge and the skins/covers for all types of phones and portable devices could have had a show of their own. Of course there were Justin licensed product among various vendors but this one seemed the most legit. If you need a photo of Justin on the back of your phone then these are "a must have for every JB fan".
Hands down Biebs was the biggest celeb at the show even though he wasn't at the show. Lady Gaga did make an appearance for Polaroid but she was much more reserved about her image being used as we didn't really see it anywhere on any products in particular. Polaroid must have paid an arm and a leg for the Lady Gaga endorsement but unfortunately they didn't even the product she was endorsing at the show. Fail for Polaroid. Go to CES if you can – it's fun and maybe you'll even spot a celebrity on the show floor but most likely on a show product.