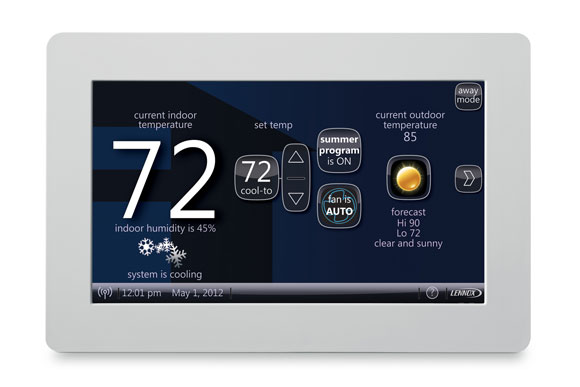 The smart home revolution is taking hold and one area of constant innovation is the thermostat. Having complete control over the heating and cooling is vital to saving energy and money and a new breed of thermostats does more than just maintain a constant temperature.
The iComfort from Lennox is one of the first Wi-Fi enabled thermostats that hooks directly into a homes HVAC system and can be controlled from any desktop computer, smartphone or tablet that is connected to the internet.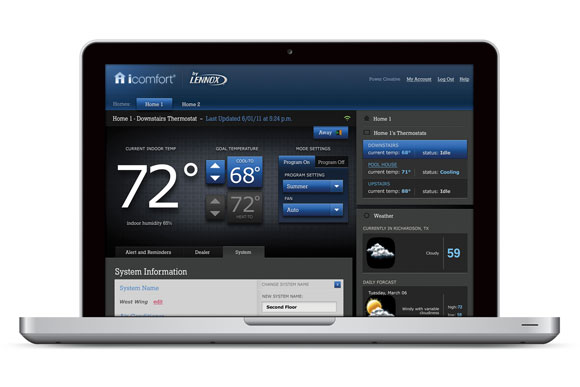 One feature we really like is that is monitors the outside climate and you can set your thermostat according to the next 5 day forecast.
The iComfort also has some design sensibilities as it can be "skinned" to match the decor of a room and you can also upload a photo or image to be displayed on the screen.
Key Features and Benefits

+ Remote access capabilities allow energy savings anytime, anywhere via smartphone or other web-enabled device.
+ Energy-saving, one-touch "Away" mode.
+ Customizable "skins" allow thermostat to blend into any décor or become a family portrait.
+ Simple touchscreen interface works like popular consumer electronic products like tablets.
+ Weather feed right on homescreen providing today's weather and access to 5 day forecast.
+ Remotely provides alerts to consumer and service provider regarding repair or maintenance needs.
Check out the Lennox website for a video demo.