The new MEATER Block will inform you and help you maintain a consistent cooking temperature, which is the key to great BBQ.
Low and slow is the name of the game.
A smoker that fluctuates in temperature will result in uneven results that could possibly ruin a perfect piece of meat.
A probe thermometer is the best way to determine how far along your meat has cooked. You simply stick it into the deepest part of the meat (near a bone if possible), and the thermometer will provide an instant temperature readout.
The problem with traditional probe thermometers is that you have to keep checking the meat every 15-30 minutes to make sure it doesn't get overcooked. This is a bummer when you're watching the game or during a very long smoke.
The solution to this problem is a Bluetooth meat thermometer. A lot of high-end smokers include a standard probe thermometer and a select few even have a Bluetooth enabled thermometer, but what if you are cooking more than one type of meat or have multiple pork butts on the smoker?
Enter the MEATER Block.
The MEATER Block is a set of four MEATER probes that allow you to cook different meats at various temperatures. Each MEATER probe is stainless steel and water-resistant. The Block stores and charges up the probes which are connected via Bluetooth to the companion app. It includes smartwatch support and access to MEATER Link Wifi and MEATER Cloud.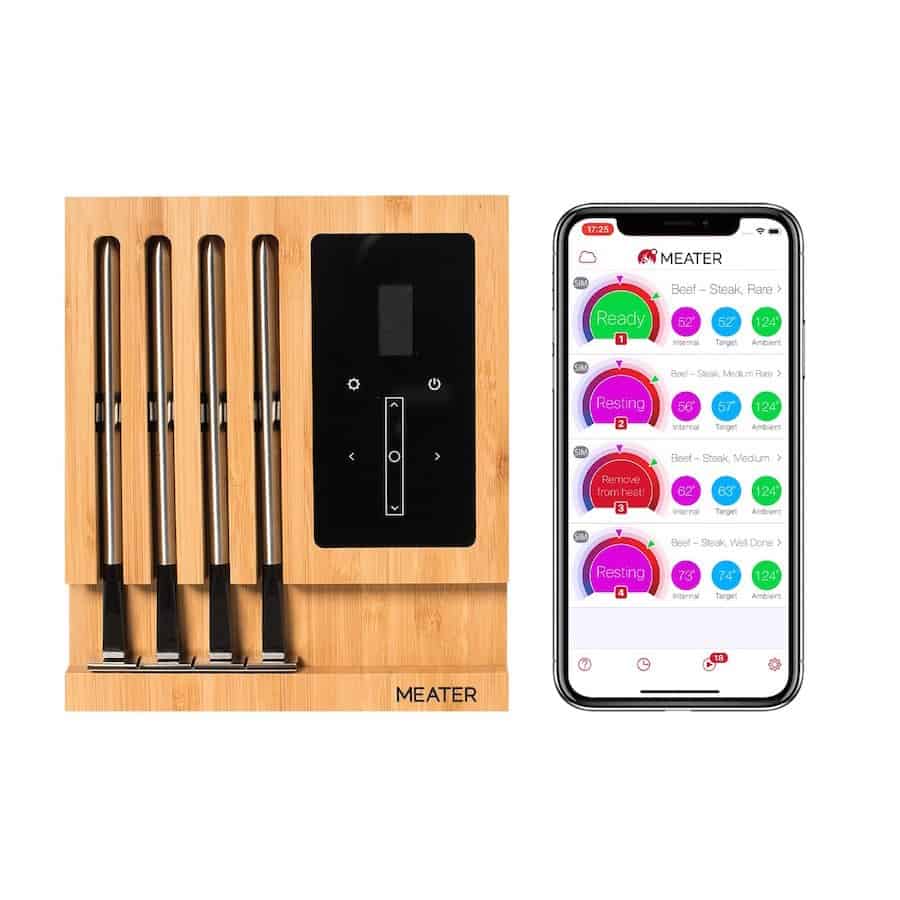 For added flexibility, the device is designed with a fully customizable experience, allowing users to access Stand-Alone Mode in order to cook without the use of a smartphone, as well as experience long-range connectivity with a built-in Bluetooth to WIFI range extension in the charging dock.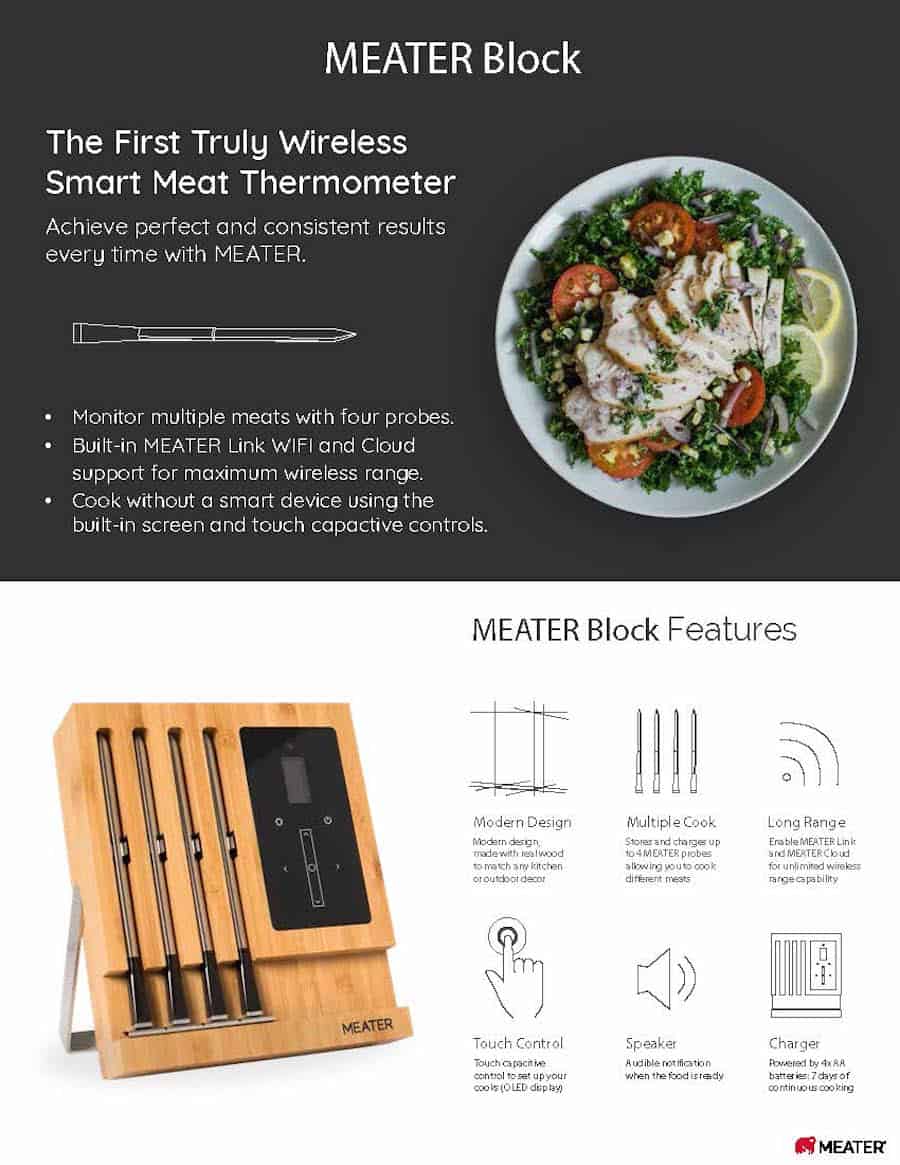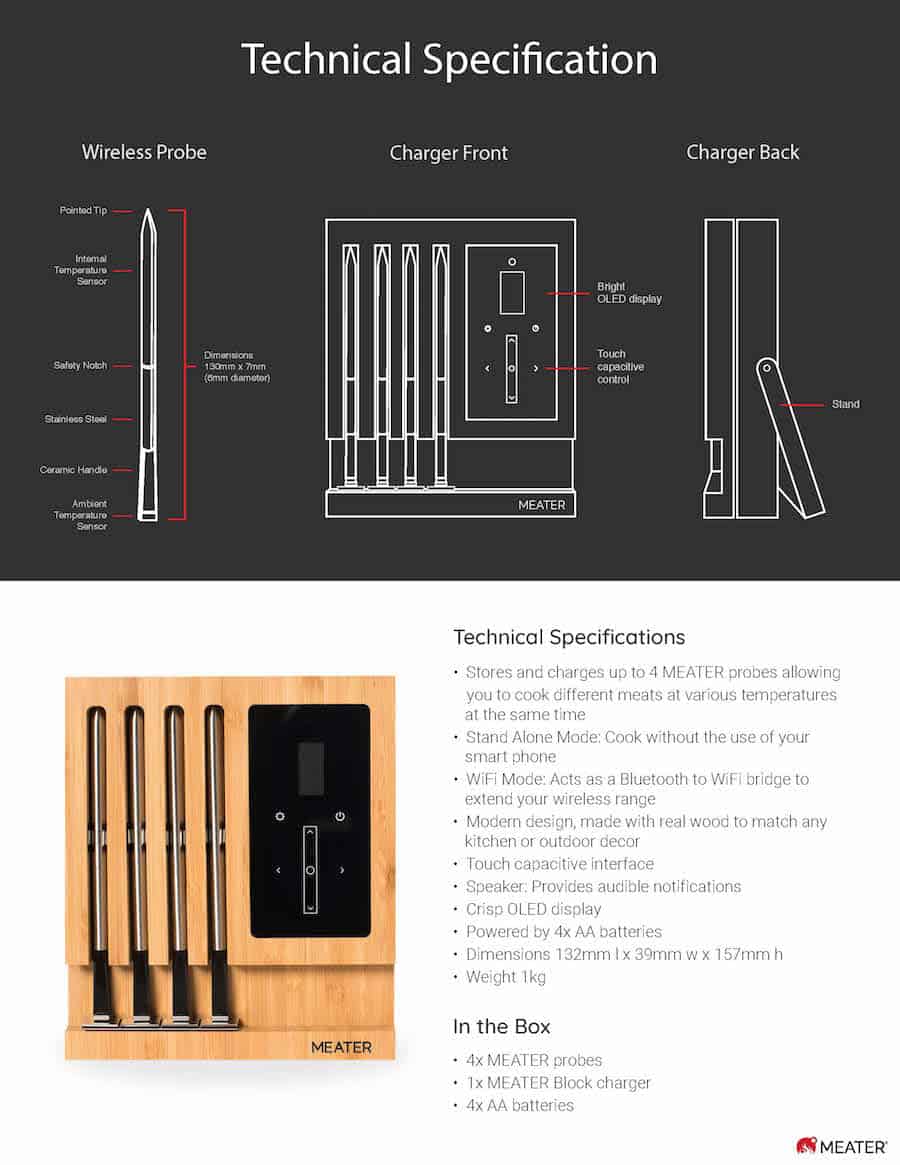 MEATER probes provide an estimate on remaining cook time and each probe can be set to different taste preferences such as medium-rare and well-done.
MEATER Block Review
I had an opportunity to use all four MEATER probes when cooking for our fantasy football draft. Feeding 12 guys for an all-day event is a tall order, and the MEATER Block came through and made the process much easier. But I did encounter a few hurdles.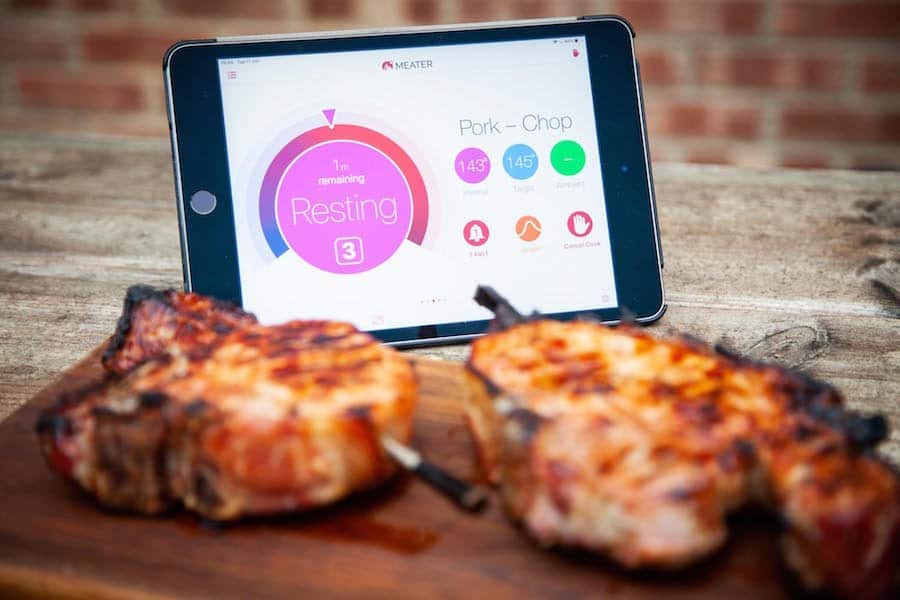 Pros
Wireless Probes
I hadn't really ever realized how much cords on the probes get in the way; being freed from that was an even bigger plus than I anticipated. It was very convenient to be able to place the probe in and forget about it.
Accurate Readings
I tested the MEATER readings of food and ambient temps against other probes that I know to be accurate and found the MEATER readings to be spot on. It was also nice to have both an internal and ambient temp sensor on one probe (two fewer cords and one less probe than otherwise needed).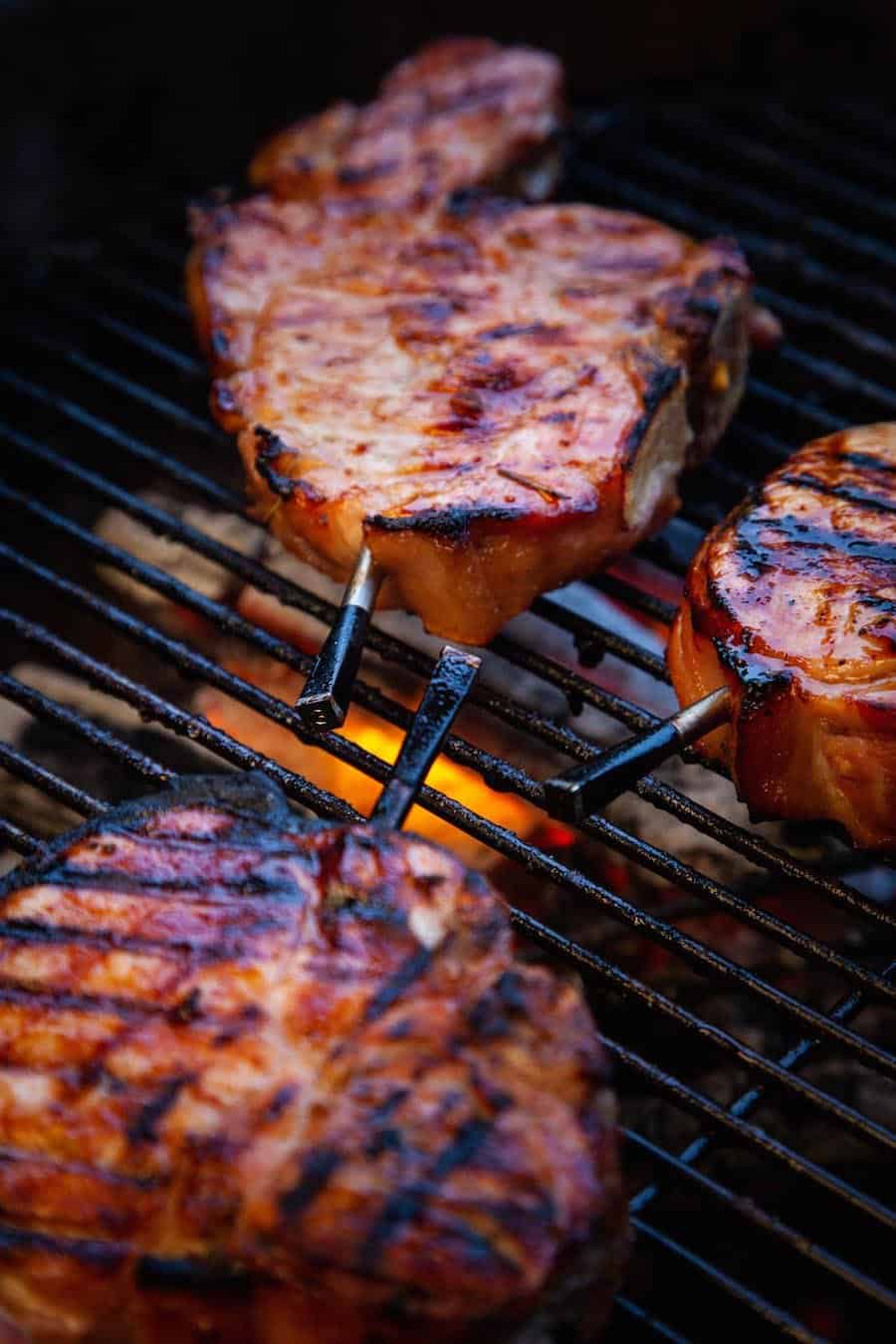 Design
The sleek look and minimalist design are sharp. It reminds me of a knife block and is worthy of being displayed on the counter.
Numbered Probes
The probes are numbered at the top. A small detail but really handy when you can't remember which probe is which.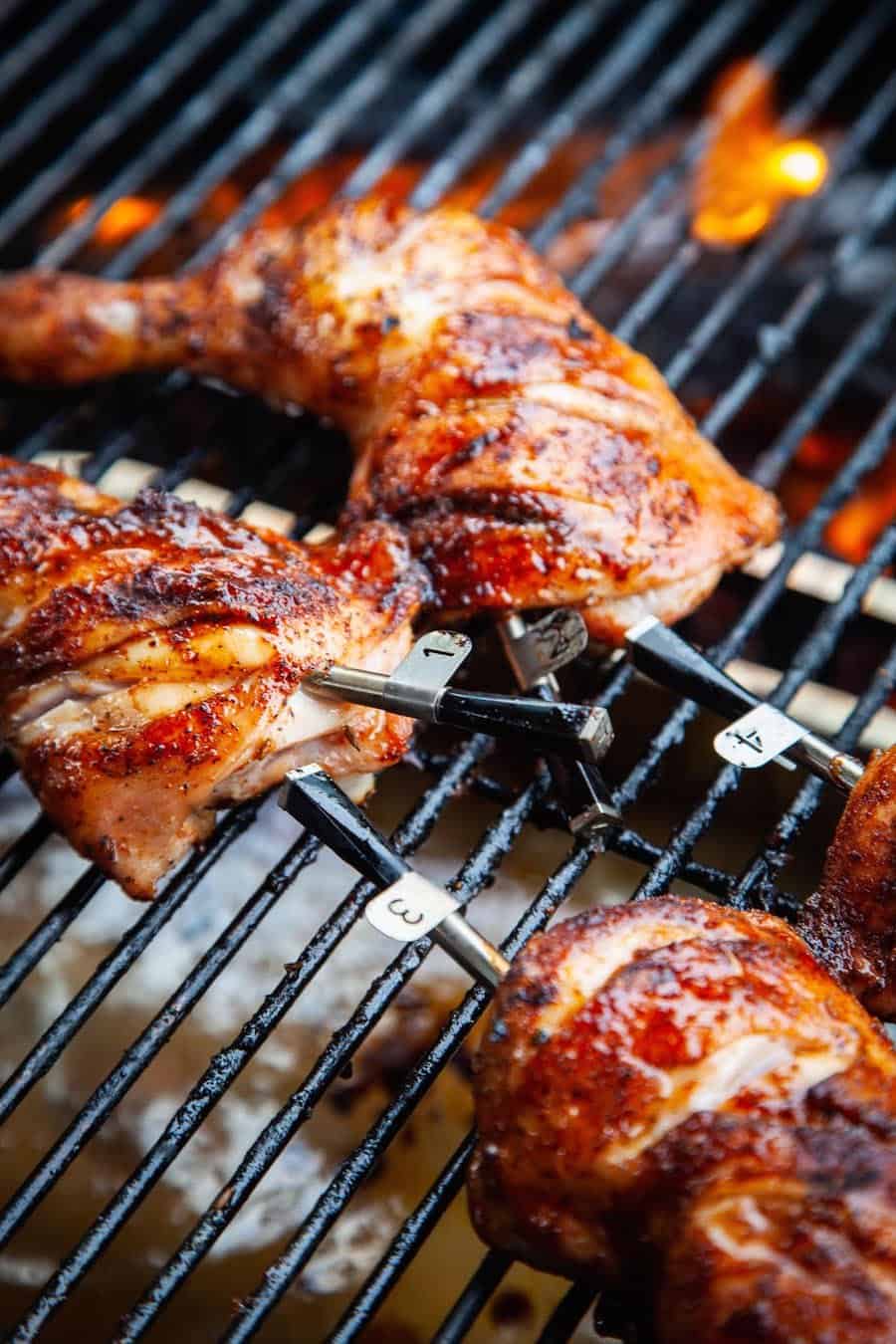 Easy Setup
It took less than 5 minutes to be ready to use. I downloaded the app, got a quick tutorial, and linked up the Bluetooth and WiFi
Extended Range
The MEATER links Bluetooth up to your WiFi to achieve a range of around 100ft. Add the cloud account and you can track the cooks from anywhere. My experience with Bluetooth probes is range cuts out around 35 feet. Not ideal for me, since my outdoor cooking space is quite a distance from where I sleep so I frequently lose connections on overnight cooks. The MEATER solves this problem with the WiFi link and having the ability to track the temps while away from the house was a bonus.
Amazon Alexa
The ability to link MEATER with Amazon Alexa was very handy. Once the skill is learned Alexa can tell you what the temperatures, time remaining on the cook, or just an update on the MEATER. This unique feature comes in handy if your hands are dirty and your phone is in a pocket.
Cons
In my experience, the 'time remaining' feature was all over the board and inaccurate. Fortunately, the temperature readings were extremely accurate, which helped me determine when the meat was done and I didn't have to rely on the displayed time.
Premium products come at a premium price. This set will put you back $269 but does include 4 probes and 8 sensors, the freedom from wires, and loads of features. I think it's worth the cost for a power user like myself.
The customer service was not very helpful. I encountered issues with maintaining a connection through the cloud feature. After navigating the help tabs through the app and finding no assistance the only option was to email for help. A day or so later I received a response and after a week and 5 emails back and forth I was left with no resolution from the MEATER team.
Fortunately, I found a fix after doing my own online research, but I expected better service at this price point. The MEATER is working well now with no connectivity issues.
Overall
Being totally free from wires really is a game-changer, and in this aspect, MEATER hits a bullseye. While it's nice to be wireless on large cuts of meat like brisket and pork the MEATER really shines with smaller proteins like steak, chicken, and fish. You can freely cook, flip, and rotate with no issues and still nail the perfect doneness.
The app is easy to use and the temperature readouts are accurate. Having 4 probes ensures that you'll always have the ability to track everything. Using the MEATER helps to take the guesswork out of the cook and will elevate your game.
I give the MEATER Block 3.5 out of 5 meat hooks.
The MEATER Block is now available on Amazon.