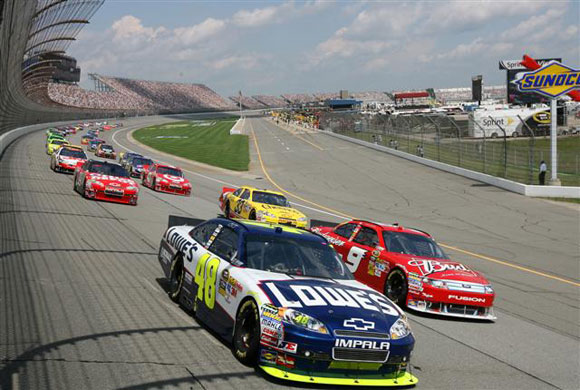 Tomorrow is the final race (Richmond) of the regular NASCAR season before the Chase for the Cup begins. We thought we'd have a little fun and lineup some of the big guy sponsors in the home improvement world and see how their NASCAR teams fared this year.
Jimmie Johnson of Lowe's is again in contention for a Cup series championship which would be his 5th straight and he's already locked up our Home Improvement Cup series as he enters the Richmond race in 7th place overall. Lowe's is certainly getting their money's worth with Jimmie Johnson and his team as JJ stood atop the podium 5 times this year.

If DeWALT were still sponsoring Matt Kenseth they'd also have a driver in the top 10 as Kenseth sits at 9th place and will probably race for the Cup this year. Unfortunately DeWALT ended their long-standing relationship with Kenseth last year and have yet to jump back into the NASCAR game.
At 21st overall is Joey Logano of Home Depot. The dude is just turning 20 years old and is in his third year of NASCAR racing! He had 9 top 10 finishes this year and will be a force to reckon with for a long time. You can follow his progress on Twitter @HomeDepotRacing
Close behind is Paul Menard of Menards/Pittsburgh Paints racing. They in 23rd place which is a decent showing and the best they've finished in the past 4 years.
Who are you pulling for in this years Chase for the Cup?