Last month while enjoying the exploits of the Tool Race we also had a chance to tour through the Columbus Idea Foundry, the host of not only the race, but the birthplace of many of the modified tools that careened towards victory.


On display were a bevy of awesome artworks, from paintings and photography to sculptures and interactive displays made by the resident artists. The space was also open to tour the gallery spaces (which were VERY industrial chic) to expereince more forms of creative expression and to watch some of the masters at work.

Two pieces that caught our eye was this replica engine constructed completely of cardboard: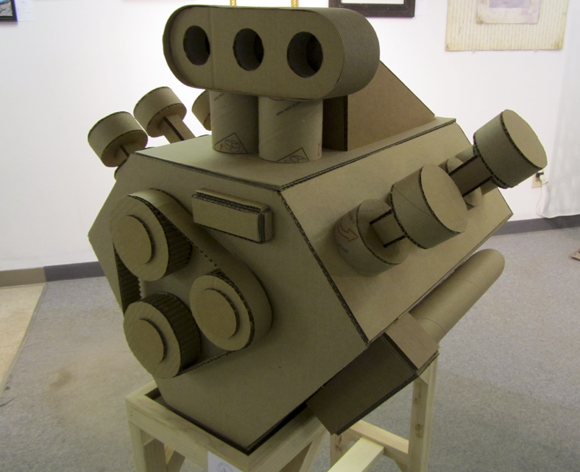 And this giant whisk (which was stationed next to a piano that played itself based on the body heat in the room, which was equally awesome but didn't translate to a photo very easily):


How great would that be in someone's kitchen?
Per their Facebook:
The Idea Foundry is a community workshop, learning center, and occasional art gallery located in Columbus, OH. Monthly memberships are available to the general public for use of our tools (woodworking, metalworking, welding, plasma cutting, and CNC), as well as our computer lab (internet, electronics, embedded control, digital arts software, and more). Exhibitions of work created at the Idea Foundry and elsewhere are displayed once a month or so at our workshop showspace, the Gaslight Gallery.
Through their page you can see the hours of operation, a list of classes, and a link to three(!) full albums of photos from the Tool Race.
The Columbus Idea Foundry is certainly a place where DIY skills and art perfectly meld into creativity and wonderment — so if you find yourselves in the middle of the Buckeye State, make sure to stop on by Corrugated Way and say hello (and start making your plans for next year's race)!